12 Days of Edible Gifts: Chicken Liver Pate
Rich, creamy, and luxurious, pate is one of my favorite foods. However, it's not something I consume or make on an everyday basis. In fact, before Saturday, I had never made pate. That's why I thought it would be an excellent gift for myself (I would learn the process of making pate) and my girlfriend Erica (she loves pate too).
Although the recipe is simple and straightforward, you will need a food processor. The hardest part is pushing the chunky pate through a fine sieve — don't skip this step though, it's required for a silky, smooth texture. If you're a fan of pate, you'll love this homemade variation. I gave two jars to Erica and kept one for myself! To look at the recipe, read more.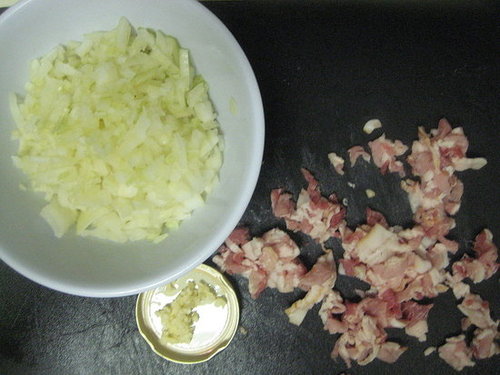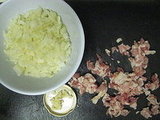 Ingredients
3/4 cup (1 1/2 sticks) unsalted butter, room temperature, divided
4 bacon slices, chopped
1 1/2 cups chopped onion
1 garlic clove, minced
12 oz chicken livers, trimmed
1 large Granny Smith apple, peeled, cored, cut into 1/4- to 1/3-inch cubes (about 1 1/3 cups)
1 tablespoon chopped fresh marjoram*
2 hard-boiled eggs, peeled, quartered
2 tablespoons dry Sherry, bourbon, or Cognac
1 1/4 teaspoons salt
Fresh parsley sprig
Rye bread slices, toasted or crackers, for serving
Directions
Melt 1/4 cup butter in heavy large skillet over medium-high heat. Add bacon and sauté until translucent, about 3 minutes.
Add onion and sauté until pale golden, about 5 minutes.
Add garlic and stir 1 minute.
Add chicken livers, apple, and marjoram; sauté until livers are no longer pink inside and apple is soft, about 8 minutes.
Transfer warm liver mixture to processor. Add hard-boiled eggs, Sherry, and salt; puree until almost smooth.
Transfer mixture to fine to medium sieve set over large bowl. Using sturdy rubber spatula, press mixture through sieve into bowl.
Mix in remaining 1/2 cup butter. Season pâté to taste with freshly ground pepper. Transfer to small serving bowl. Garnish pâté with parsley and serve with toasted rye bread or crackers.
Makes about 2 cups.

Make ahead: Can be made 4 days ahead. Cover and chill.

*My grocery store was out of fresh marjoram. I used parsley because it's what I had on hand, but oregano is another nice option.
Information
Category

Appetizers, Spreads