Dec 18 2008
While it might be too late for you to make Kahlua and gift it next week on Christmas — it takes three weeks for the coffee beans to infuse the vodka and rum mixture — I highly recommend you make this and give it to someone as a hostess gift in early January.
People are always surprised that liquors can be homemade, so it makes for an unexpected gift. What most don't realize is that the best bartenders are busy mixing up everything from homemade Baileys to fresh grenadine. The techniques they use to make these superior mixers are easily adaptable for the home.
A few weeks ago when I decided to make this, I spoke with friend and master mixologist Scott Baird of 15 Romolo in San Francisco. Although most recipes call for simply a clear spirit like vodka or light rum, Baird insists on a mixture of vodka and dark rum for a rich flavor and thick syrup-like liquid. To look at his recipe, read more.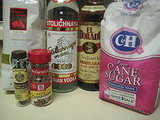 Ingredients

1 750 ml bottle vodka or white rum (I used Stoli)
1 1/4 cups dark rum (Scott recommended Pampero, but I couldn't find it)
1 1/2 cups sugar
3/4 pound whole coffee beans
1 tablespoon cocoa nib (optional)
1 vanilla bean
cinnamon stick, slice of orange peel (optional)

Directions
Combine all of the ingredients in a sealable container. Shake hard to combine.
Label with the date and let sit in a cool, dark place for three weeks. Shake or stir the mixture several times of week.
Strain through cheesecloth or a fine mesh strainer into a clean vessel. Use like you would Kahlua or any other coffee liquor.
Makes 1 bottle of Kahlua.