Sure, there are many elements to a couple's big day, but if there's anything I'm excited about this wedding season [1], it's the cake! Since cupcakes are still going strong, I'm seeing a lot of small cakes surrounded by either those, or homemade treats like pies and cookies. And adorning these cakes are a variety of cake toppers, many of them DIY [2] or handmade with a twist on the traditional. See some surprising toppers when you read more.

Start sharing your big day [3] with our community. Just head to the Wedding Talk [4] group, click "new post," and check the wedding content box [5].

Photo by He and She Photography [6] via Source [7]
Bells and Whistles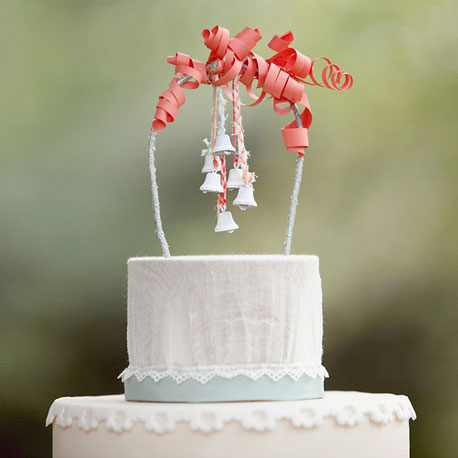 This custom Wedding Bells Cake Topper [8] has just the right amount of whimsy.
Animal Instincts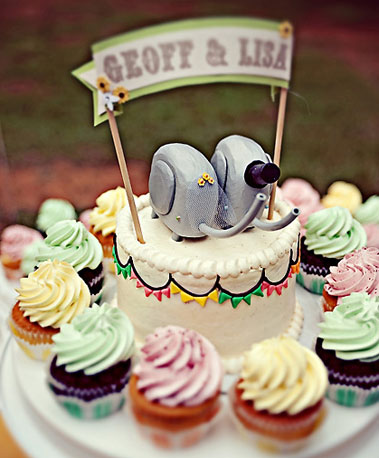 These circus-y elephant toppers [9] by Bunny With a Tool Belt [10] are one of many types of animals you can choose from.

Photo by Sarah Maren [11] via Source [12]
DIY Delight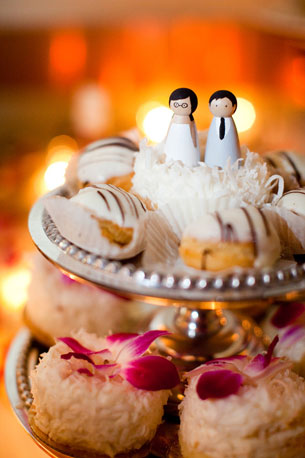 These little wood versions of the bride and groom were handmade by the bride.

Photo by Picotte Photography [13] via Source [14]
Wave a Flag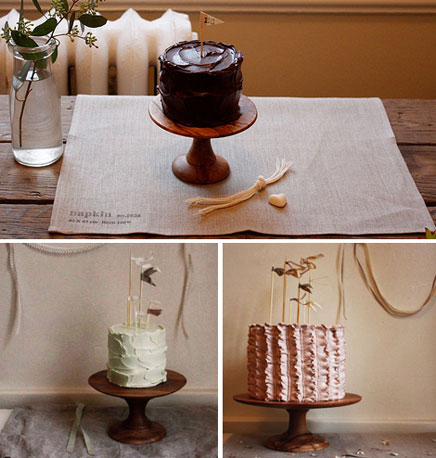 Adding some dainty flags to a cake transforms the dessert into something magical.

Photos by Herriott Grace [15] via Source [16]
Cup of Tea?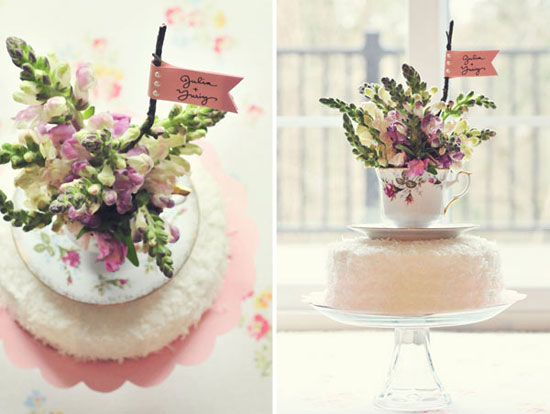 This DIY teacup topper [17] is pretty and dainty — it would also be sweet for a bridal shower!

Photo by Julia Lukomsky [18] via Source [19]
Munny Love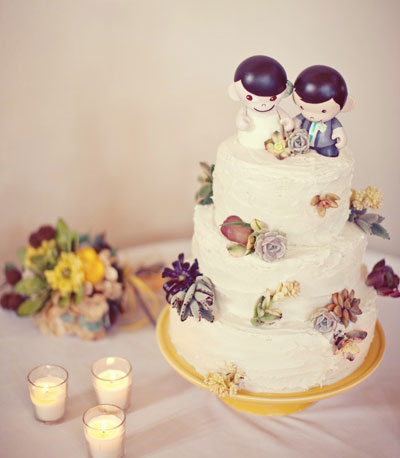 This crafty couple handpainted their Munnys [20] for a spin on the bride and groom topper.

Photo by Sarah Yates [21] via Source [22]
An Apple a Day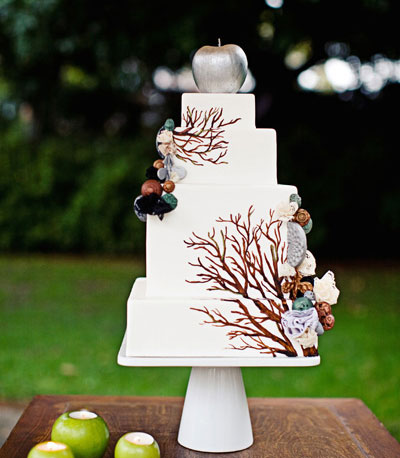 This Twilight [23]-inspired wedding [24] had an apple-topped cake for a fitting tie-in to the movies and books.

Photo by Meg Perotti [25] via Source [26]
Birds of a Feather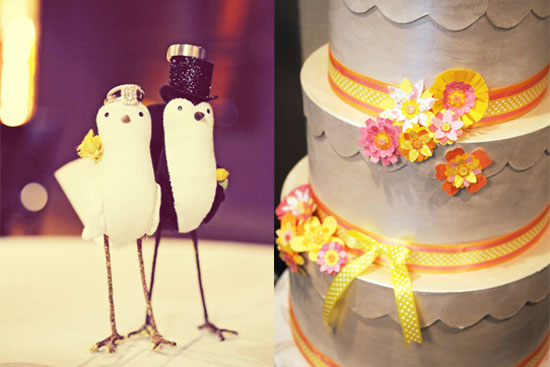 A gorgeous pair of handmade birdies [27] for a funky cake.

Photos by Kris Kasperek [28] via Source [29]
Paper Perfect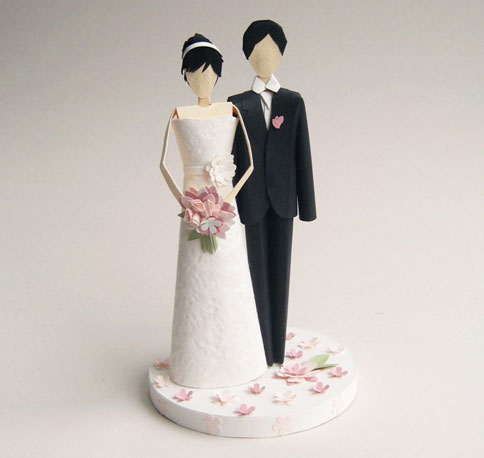 If you want the traditional couple but want a fresh take on it, these intricate paper sculptures [30] may be just what you're looking for.
Customized Cuties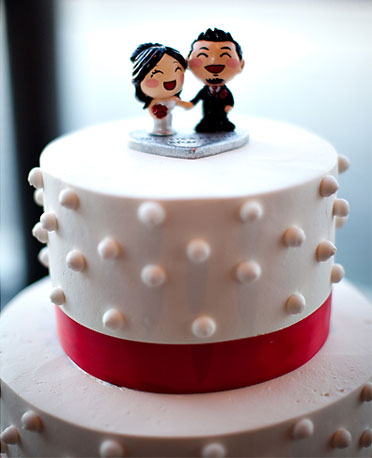 This cartoon-y rendition of the wedded duo is so fun — you can't help but smile!

Photo by Stephanie Fay [31]
Lovebirds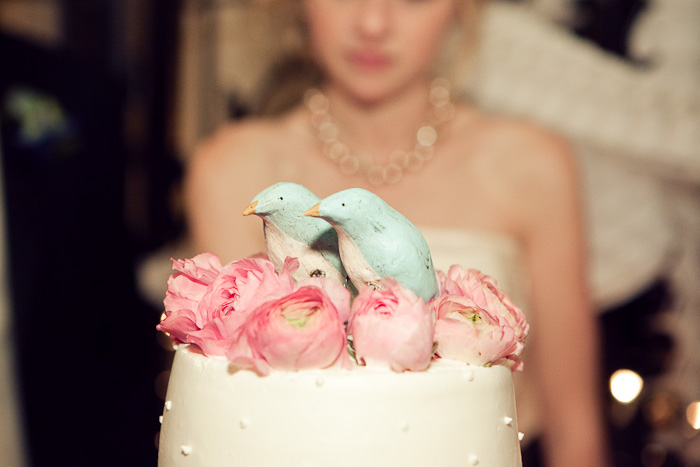 These sweet blue birds are perfect nestled in pink flowers.

Photo by Erin Hearts Court [32] via Source [33]
One Lump or Two?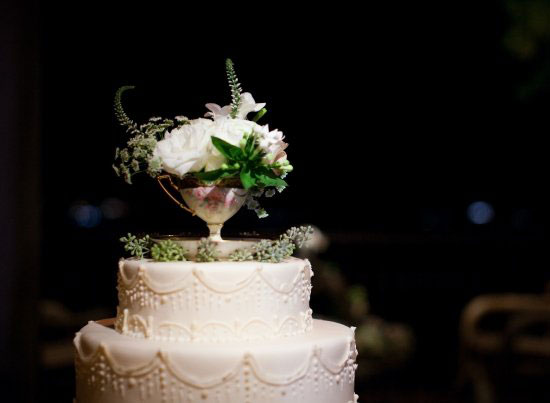 Another teatime topper steals the show.

Photo by Jasmine Star [34] courtesy of Source [35]
And Doggie Makes Three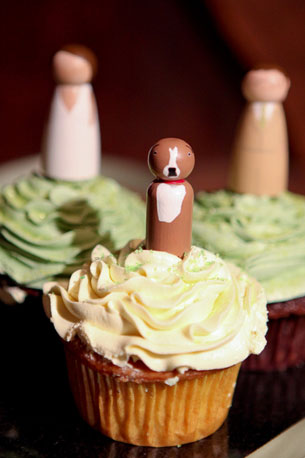 I love the simplicity of these little wood toppers by Goose Grease [36].

Photo by IRIS Photography [37] via Source [38]
Flights of Fancy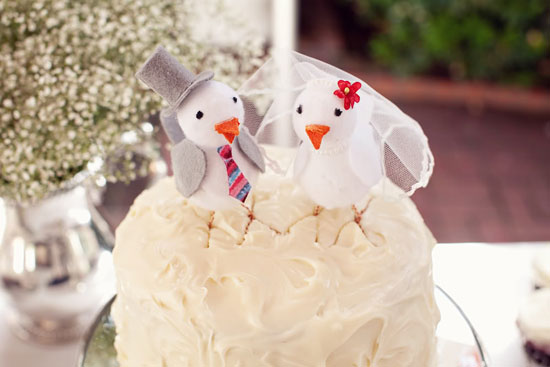 This topper was a labor of love by the groom, and the flower in the bird's hair matched the bride's! How cute?

Photo by He and She Photography [39] via Source [40]
A Bicycle Made For Two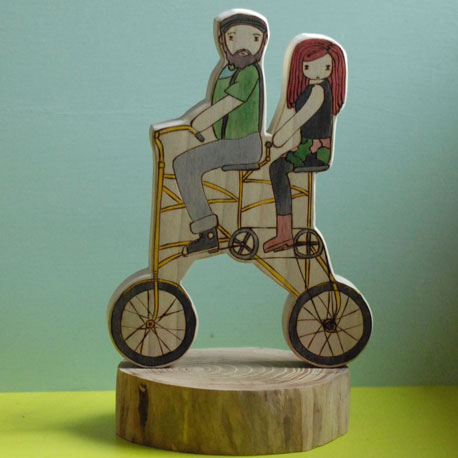 What's great about this customized wooden topper [41] is that you can keep it out long after the big day is over!