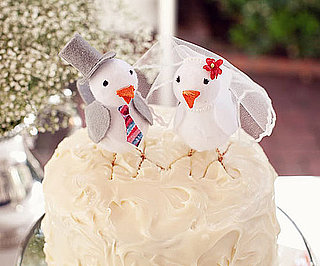 May 26 2010 - 10:15am
Sure, there are many elements to a couple's big day, but if there's anything I'm excited about this wedding season, it's the cake! Since cupcakes are still going strong, I'm seeing a lot of small cakes surrounded by either those, or homemade treats like pies and cookies. And adorning these cakes are a variety of cake toppers, many of them DIY or handmade with a twist on the traditional. See some surprising toppers when you read more.

Start sharing your big day with our community. Just head to the Wedding Talk group, click "new post," and check the wedding content box.

Photo by He and She Photography via Source