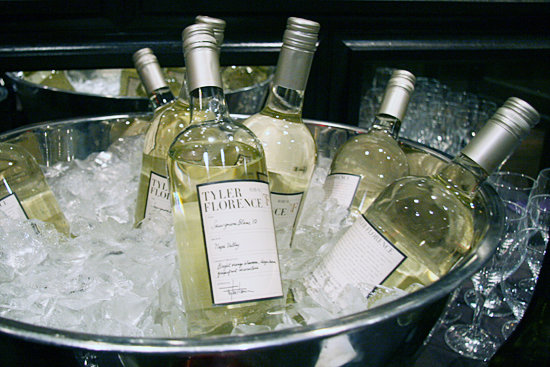 After tremendous success with the Food Network, several restaurants, a baby food line, and a handful of cookbooks,
Tyler Florence is focusing his attention on wine
. At a party in New York celebrating the national distribution of his labels, I had an opportunity to talk to Tyler personally about his venture into the winemaking world.
Despite his interest in wine, Tyler had no prior experience with blending, so he partnered with the Mondavi family, who helped create his signature wines. The chef also used his perceptive palate to guide him: "After years of experience [working with food], I know what tastes good," he declared. This led to the creation of two wine lines: Tyler Florence Wines, a casual, everyday line, as well as TF, a limited-production line.
Tyler worked with a "less is more" philosophy when designing the wine labels, because he claims winemakers put too much on the label, and then "the essence of the wine becomes lost." For the limited-production line, everything is abbreviated; Tyler kept it bare bones to evoke a sense of nonfussy sophistication. A 1930s library card inspired his Tyler Florence wines, as a reminder that these were handcrafted, and features the chef's own handwritten wine notes. Learn more about the wines.