Any American can finagle a batch of pancakes in the morning, but crepes, the French equivalent of pancakes, are regarded highly because making them requires good technique and a lot of practice. However, don't be discouraged. You too can produce paper-thin, lacy, semicrisp crepes, and
Julia Child
's recipe for dessert crepes is a great way to become acclimated to crepe-making.
Julia Child's batter for dessert crepes is shockingly easy — just measure out the ingredients and whirl them around in a blender. The tricky part is the actual cooking. Luckily there is a
video of Julia cooking crepes
for the faint of heart. Notice the crepes should be spotted brown with a smooth consistency.
If your pan is too hot, the crepes will bubble as they cook and become craterlike, as pictured on the left. They are still edible (and delicious!), but lower the heat slightly so the rest of the crepes will be smooth, as pictured on the right.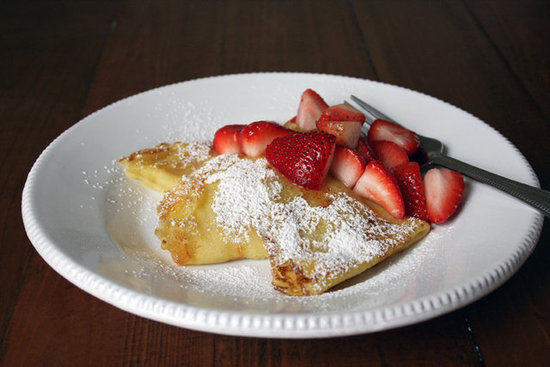 Crêpes suzette is one of Julia's most notable preparations of dessert crepes, but the sauce is pretty heavy and the dessert crepes themselves are already saturated in butter. For a lighter, fresher topping to complement the buttery crepes, try marinating strawberries (or another fruit) in orange liqueur and granulated sugar. The orange liqueur adds an indescribable depth and richness to the berries without weighing down their fruity, ripe flavor. It's about time you swallow any trepidation, pull out that nonstick pan, and
start making Julia's crepes now.