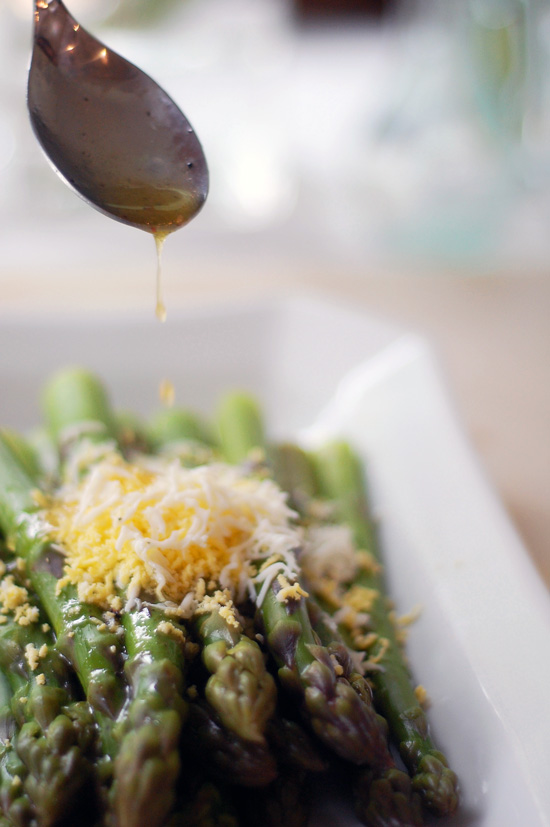 Asparagus is the quintessential Spring vegetable. Every year when grocery shelves begin to fill with bundles of green spears, it signifies that the warm weather is on its way (and boy, are we excited about that!). Asparagus makes a festive appearance each year on my family's Easter table, as it is a wonderful complement to a
meaty lamb roast
. The tender spears are steamed and topped with a grated hard-boiled egg and a drizzle of vinaigrette.
The recipe comes together in under 20 minutes and only requires a handful of ingredients. For more, keep reading.
From Camilla Salem, YumSugar
Asparagus With Grated Egg and Vinaigrette
Directions
Chances are you won't want to use the entire hard-boiled egg, so toss the rest on some toast and enjoy a snack. You deserve it.
Hard-boil the egg. Peel and set aside.
While the egg is boiling, steam the asparagus over medium-high heat for about 10 minutes, or until tender when pierced with a fork.
Place the asparagus on a serving dish. With a hand-held fine grater, grate the whole peeled egg over the asparagus. Grate as much of it as you like.
Drizzle vinaigrette over asparagus and let sit at room temperature until you're ready to serve.
Serves four to six.
Information
Category

Side Dishes, Vegetables