BLT Salad Recipe
Bacon Lovers: Meet Your New Favorite Salad!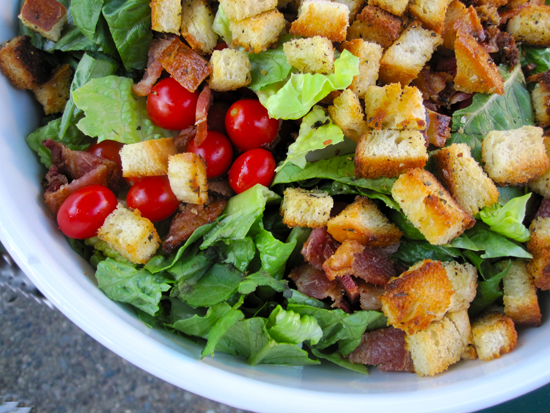 Although I love Caprese salad and taco salad, my all-time favorite salad is this BLT salad. It tastes just like a bacon, lettuce, and tomato sandwich, but it's a salad. Genius! It's full of salty bacon, juicy tomatoes, crisp lettuce, and toasted croutons. The dressing is a mixture of buttermilk, mayonnaise, and cider vinegar that's seasoned with a little bit of scallions. Get started on this salad an hour before you plan on serving it — that way both the bacon and croutons will have plenty of time to cool. Or, make those elements the day before you plan on enjoying it. Want to eat this salad? You know you do! Here's the recipe.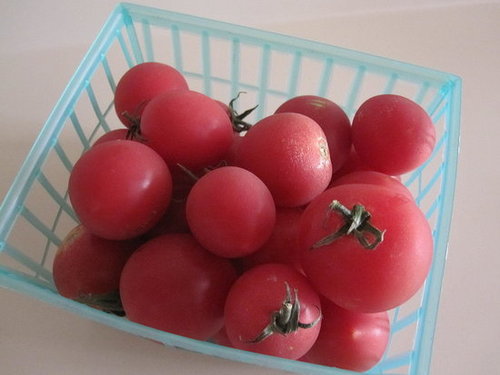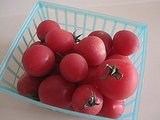 Ingredients
8 slices bacon (8 ounces total)
1/2 baguette (8 ounces), sliced into 3/4-inch cubes (about 4 cups)
2 tablespoons olive oil
Coarse salt and ground pepper
1/3 cup buttermilk
3 tablespoons reduced-fat mayonnaise
2 tablespoons cider vinegar
1 scallion, thinly sliced
1 pound romaine-lettuce, hearts chopped
1 pint cherry tomatoes, halved
Directions
Preheat oven to 375 degrees.
Arrange bacon in a single layer on a rimmed baking sheet lined with parchment or waxed paper. Bake until browned and crisp, about 15 minutes.
Transfer to a paper-towel-lined plate to drain. Cool, then crumble into large pieces.
Make croutons: Toss bread with oil, and season with salt and pepper. Spread evenly on a baking sheet. Bake until golden brown, tossing halfway through, 15 to 20 minutes.
Meanwhile, in a large bowl, whisk together buttermilk, mayonnaise, vinegar, and scallion; season with salt and pepper.
Add lettuce, tomatoes, and croutons; toss to coat with dressing. Sprinkle with bacon.
Serves 4.
Information
Category

Salads, Vegetables

Cuisine

North American