Dec 10 2009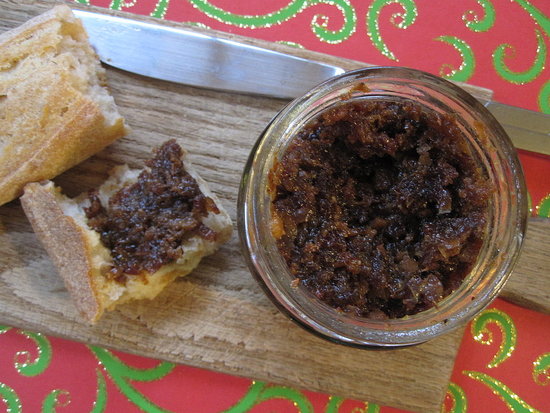 Sweet edible gifts
not your thing? Then how about something savory? Even better, how about something bacony? Inspired by
Top Chef's Kevin
, I decided to try making bacon jam. I'm glad I did, this bacon jam is to die for. Seriously, it's amazing.
It's so good that I could only give one jar away. The other jar I gifted to myself. It's smoky, sweet, porky, and spicy. A long, slow cook ensures that the onions caramelize and the bacon melts. It has the chunky texture of tapenade and is easy to spread.
I've enjoyed it on toast, crackers, pasta, and simply, devilishly, by the spoonful. If you want someone to fall in love with you, I highly recommend giving them bacon jam. The words themselves are magical: say it with me, bacon jam. Bacon jam. You get the idea, now get the recipe!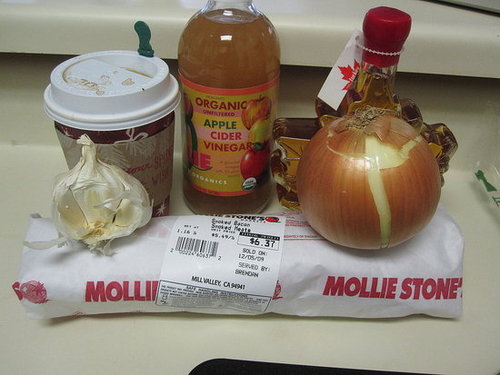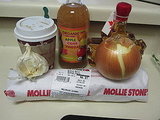 Ingredients
1 pound good quality smoked bacon
1 large onion, thinly sliced
5 cloves of garlic, minced
3 tablespoons brown sugar
2 tablespoons Sriracha
1 cup coffee
1/4 cup apple cider vinegar
1/4 cup maple syrup
fresh cracked black pepper
1/4 teaspoon smoked Spanish paprika
1 tablespoon red wine vinegar
Directions
In a large, heavy pot cook the bacon in batches over medium high heat until it's lightly browned and just starting to crisp. Set aside to cool.
Add the onion and garlic and cook over medium heat until soft and translucent, 10-12 minutes.
While the onion cooks, slice the bacon into 1-inch strips.
Return the bacon to the pan and add the brown sugar, coffee, apple cider vinegar, and maple syrup. Bring to a boil and reduce to a simmer.
Simmer over low heat stirring every now and then to prevent sticking for 3-4 hours until you can no longer tell the onion from the bacon and it has a thick, jam-like consistency and deep rich brown color.
Let cool for 20 minutes than transfer to a food processor. Pulse for several seconds to finely chop and blend the jam.
Return to the pot. Cover and place in the refrigerator overnight.
Remove the pot from the fridge and place on the stove. With a spoon, scoop the majority of the fat from the top of the jam. Turn the heat to low. Add the black pepper to taste, smoked paprika, and red wine vinegar. If you desire more heat, add another squirt of Sriracha. Cook for 45 minutes until almost all the liquid is evaporated.
Let cool and place in a glass jar. Enjoy!
Makes two 4-ounce jars of jam.
Information
Category

Condiments/Sauces, Jellies/Jams