Baked Pasta With Radicchio and Mushrooms Recipe
Baked Pasta With Radicchio Is Delicious on a Holiday Menu
When serving a large crowd on a special occasion, I recommend making at least one casserole-style dish that can be prepped in advance and baked while the party gets going. Lasagna and macaroni and cheese are great ideas, but if you want something a little more unexpected, make the Barefoot Contessa's Conchiglie al Forno, or baked pasta shells with mushrooms and radicchio. It's a rich, hearty, and wintry dish that's flavored with cream, four types of cheese, and fresh sage. If you don't normally use radicchio as an ingredient, this recipe is perfect for a first-time experimentation. The salty cheese and woodsy sage offset the bitterness of the purple chicory. Ready for the excellent recipe? Keep reading.
From Ina Garten
Conchiglie al Forno With Mushrooms and Radicchio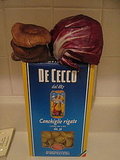 Ingredients
6 ounces shiitake mushrooms, cleaned and trimmed
8 tablespoons (1 stick) unsalted butter
1 teaspoon kosher salt
2 cups (2 medium heads) finely shredded radicchio
2 1/2 cups heavy cream
1/2 cup freshly grated Parmigiano-Reggiano (1 1/2 ounces)
1/2 cup coarsely shredded fontina (1 1/2 ounces)
1/2 cup crumbled Gorgonzola (3 ounces)
2 teaspoons ricotta
6 leaves fresh sage, chopped (see note)
1 pound imported conchiglie rigate (pasta shells)
Directions
Preheat the oven to 500 degrees F.
Bring 5 quarts of salted water to a boil in a stockpot.
Remove the stems from the mushrooms and reserve for another use. Slice the mushroom caps about 1/4-inch thick. Heat 6 tablespoons of butter in a large skillet; add the mushrooms and 1/4 teaspoon salt. Saute over medium heat, stirring frequently, until they are cooked through, 3 to 5 minutes.
In a large mixing bowl, combine the mushrooms, radicchio, cream, cheeses, sage, and remaining salt.
Parboil the pasta shells for 4 minutes; drain and add to the ingredients in the mixing bowl. Toss to combine.
Divide the pasta mixture among 6 to 8 individual, shallow, ceramic gratin dishes (1 1/2 to 2 cup capacity). Alternately, pour the entire mixture into a 9x13 inch baking pan. Dot with the remaining 2 tablespoons of butter and bake until bubbly and brown on top, about 7 to 10 minutes.
Serves 8-10.


Note: In the absence of fresh sage, do not substitute dried. As a substitute, choose one of the following: 1 tablespoon coarsely chopped fresh tarragon OR 1 teaspoon fresh thyme leaves OR 8 leaves fresh rosemary OR 1/4 teaspoon fennel seed.
Information
Category

Main Dishes, Pasta

Cuisine

Italian