Cherry Pie Recipe
Easy as Cherry Pie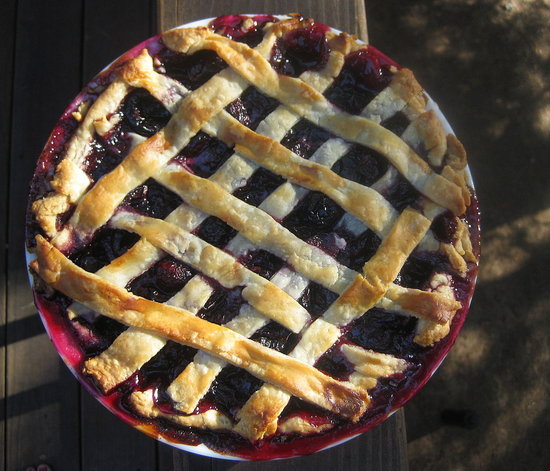 Hurry, you're running out of time. If you haven't taken advantage of the season's cherries you better do so soon before they're no longer at the markets. Once you have a bag, immediately go home and make this cherry pie. Seriously, it's the best cherry pie you'll ever have. A hint of vanilla enhances the sweetness of the berries. As the pie bakes, the miniature stone fruits turn a dark color and release their juices — the sugar caramelizing. It's absolutely divine, pie heaven. Take care when pitting the cherries, the juice gets everywhere and it stains easily. To impress your family with this all-American Summer favorite, read more.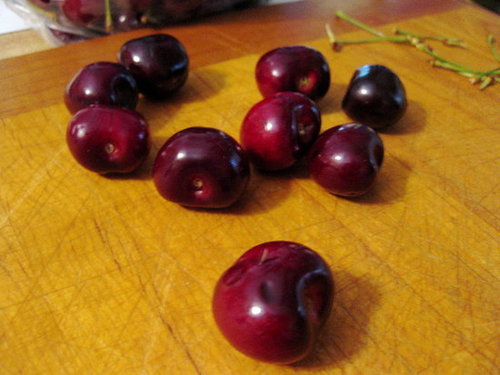 Ingredients
pie crust
1 cup plus 1 tablespoon sugar
3 tablespoons cornstarch
1/4 teaspoon salt
5 cups whole pitted sour cherries or dark sweet cherries (about 2 pounds whole unpitted cherries)
1 teaspoon fresh lemon juice (if using sour cherries) or 3 tablespoons fresh lemon juice (if using dark sweet cherries)
1/2 teaspoon vanilla extract
2 tablespoons (1/4 stick) unsalted butter, cut into 1/2-inch cubes
1 tablespoon (about) milk
Vanilla ice cream
Directions
Make this pie several hours in advance to allow plenty of time to cool. The filling will set and it will be easier to slice.
Position rack in lower third of oven and preheat to 425°F.
Whisk 1 cup sugar, cornstarch, and salt in medium bowl to blend. Stir in cherries, lemon juice, and vanilla; set aside.
Roll out 1 dough disk on floured surface to 12-inch round. Transfer to 9-inch glass pie dish. Trim dough overhang to 1/2 inch.
Roll out second dough disk on floured surface to 12-inch round. Using large knife or pastry wheel with fluted edge, cut ten 3/4-inch-wide strips from dough round.
Transfer filling to dough-lined dish, mounding slightly in center. Dot with butter.
Arrange dough strips atop filling, forming lattice; trim dough strip overhang to 1/2 inch. Fold bottom crust up over ends of strips and crimp edges to seal. Brush lattice crust (not edges) with milk. Sprinkle lattice with remaining 1 tablespoon sugar.
Place pie on rimmed baking sheet and bake 15 minutes.
Reduce oven temperature to 375°F. Bake pie until filling is bubbling and crust is golden brown, covering edges with foil collar if browning too quickly, about 1 hour longer. Transfer pie to rack and cool completely. Cut into wedges and serve with vanilla ice cream.
Serves 8-10.
Information
Category

Pies/Tarts, Desserts

Cuisine

North American