Nov 23 2010
Editor's note: Get excited! Our favorite party guru, Colin Cowie, is back. This time he's here to help us handle the holidays. The event planner extraordinaire is a fan of buffets, especially for large food celebrations like Thanksgiving. Below he shares his recipes for the perfect turkey day buffet.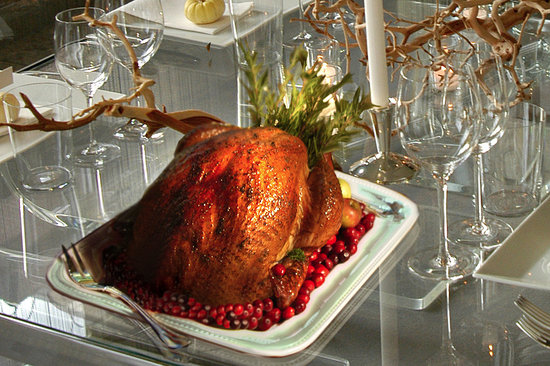 A Thanksgiving buffet allows each guest to help themselves to what they like, skip what they don't favor, and go back for seconds and thirds should they wish. You can place serving platters in the warming drawer until ready to be used (if you don't have a warming drawer, set the oven to 200°F and place the platters inside for 5-10 minutes). After a leisurely dinner, clear the buffet and set it for dessert — an apple tarte tatin, coffee, and cognac. And remember, the best part about Thanksgiving is enjoying the leftovers the following day!
Get Colin's recipes for roast turkey, haricot verts, baked apples, and warm spiced cider after the break.
From Colin Cowie
Colin's Haricots Verts With Toasted Almonds and Parmesan Cheese
Ingredients

1/4 cup sliced almonds (Spanish almonds are the best to use)
1 1/2 pounds haricots verts (cleaned and trimmed)
3 tablespoons olive oil
1/4 cup Parmesan cheese, shredded

Directions
Toast the almonds in pan over medium heat (no oil required) until golden brown. Remove and set aside.
Place haricots verts in a pot of salted boiling water for 3 minutes. Remove, drain water, and rinse under cold water to stop the cooking. Pat beans dry. (Beans can be made 1 day ahead. Cover with plastic wrap and refrigerate.)
Heat the olive oil in a large skillet over medium heat. Add the beans and toss. Just before serving, add the toasted almonds and season with salt and pepper. Top with shredded Parmesan.
Serves 6.
Ingredients

The Stuffing
1 garlic bulb
2 celery sticks
8 shallots
Sprig fresh sage, plus few extra
12 strips pancetta
3 tablespoons butter
1 stick butter (or more), cut into tablespoons (for under the skin)
Big handful breadcrumbs
Handful dried apricots
3/4 lb pork mince
Pinch of grated nutmeg
1 egg
12 small fresh rosemary sprigs, plus few extra
For the turkey
9-10 lb organic free-range turkey
2 carrots
1 big orange
Olive oil for basting
Plain flour, for the gravy
Chicken or vegetable stock, for the gravy
1 cup white wine
2-4 cups chicken broth
1 package cheesecloth

Directions
Preheat the oven to 350 F.
To make the stuffing, finely slice 2 garlic cloves, the celery, and 4 shallots. Roughly tear the sage and roughly chop half the pancetta.
Melt the butter in a frying pan and add the sliced garlic, sage, and pancetta, then after 30 seconds, the shallots and celery. Fry gently until everything is soft and golden brown. Remove from the heat, add the breadcrumbs, and while the mix is cooling, chop the apricots coarsely and stir them in.
When the stuffing is cold, add the pork, nutmeg, egg, and lots of salt and pepper and mix everything well.
Slice the remaining strips of pancetta in half and slice 1 garlic clove into slivers. Place a rosemary sprig and a garlic sliver on one end of a strip of pancetta, and roll it up tightly. Repeat with the other pieces of pancetta until you have 12 little rolls. Stab the thighs and drumsticks of the turkey in 6 places on each side. Push a little pancetta roll into each hole until it just peeps out.
For the turkey, roughly chop the remaining shallots and garlic cloves, and slice the carrots.
Pluck any stray feathers or hairs off your turkey and give it a good wipe, inside and out, with a piece of kitchen paper. Place it on a board, with the neck end pointing toward you. Find the edge of the skin that covers the turkey's breasts, and gently peel it back slightly. Work your fingers and then your hand under the skin, freeing it from the meat. If you're careful, you should be able to pull all the skin off the meat, keeping it attached at the sides but without ripping any holes in it. From the neck end of the turkey, rub tablespoon-size pats of butter into the meat under the skin.
Spoon the stuffing up between the skin and the breast tucking the flap of skin underneath to stop any leaking out during cooking. Weigh the stuffed turkey.
Microwave the orange for 30 seconds to warm it up and stuff it into the cavity. Place the bird in a large roasting tray, season well, and rub all over with olive oil. Surround with the chopped carrots, shallots, garlic, and extra herbs.
Pour the wine and stock into a large bowl. Unfold the cheesecloth and cut a piece large enough to cover the turkey with 5-6 folded layers. Submerge the cheesecloth into the wine/broth mixture to soak completely. Lift the cheesecloth out carefully (do not squeeze), and drape over the turkey. Pour the rest of the broth mixture into the bottom of the pan.
Place in oven and roast for approximately 18-20 minutes per pound, or until a thermometer inserted into thickest part of thigh registers 160°F. Baste the turkey every 30 minutes with pan juices. It's important to keep the cheesecloth moist so it does not stick to the skin. (If this does happen, you will pull the skin off the breast when you remove the cheesecloth.) Check periodically to make sure the cheesecloth is not sticking.
After four hours, gently remove cheesecloth making sure you do not pull off the skin. Baste the bare turkey and continue roasting for about 1 to 1 1/2 hours more. The turkey will become a deep, golden brown. Baste 1 to 2 times more during the last hour. Test for doneness by making a small incision in the deepest part of the thigh. The juices should run clear. (Remember, if your turkey is all-natural or free-range, the meat will naturally be a slight shade of pink. The juices, though, should run clear.)
To serve, remove the turkey and rest on a board for 20 minutes. Put the roast vegetables onto a plate. Skim the surface fat from the toasting tray, add a little flour and stock, and bring to the boil on high heat. When the gravy thickens, strain into a pan. Serve the turkey with the vegetables and gravy.
Serves 10-12.
From Colin Cowie
Baked Apples With Honey, Walnuts, and Ginger
Ingredients

1 1/2 cup chopped walnuts, lightly toasted
1/2 cup (packed) golden brown sugar plus 2 tablespoons
4 tablespoons honey
3 teaspoons finely grated lemon peel
1 1/2 teaspoons ground ginger
2 tablespoons cognac
1 cup heavy cream
8 large (8- to 9-ounce) Fuji apples
1/2 cup apple juice
Juice from one lemon
8 whole cloves
Vanilla ice cream and caramel sauce

Directions

Baked apples are a holiday season staple. There are dozens of fillings for an endless supply of baked apple options, but the most important thing is the apple. Fuji apples work well because they won't fall apart while cooking. Some apples tend to explode or become mushy while the Fuji retains its shape.
Preheat oven to 350 F.
Combine walnuts, 1/2 cup brown sugar, honey, lemon peel, cognac, and fresh ginger in a bowl. Fold in the cream. Let stand about 30 minutes, stir occasionally.
Using a melon baller, remove the core and all seeds leaving 1/2 inch of apple on the bottom. Place apples upright in a glass baking dish, add one whole clove to the center of each apple, and with a spoon, fill each apple. (Any excess filling can be piled on top of the apples.)
Mix apple and lemon juice together in a small bowl and pour the juice around the apples.
To bake, place a large sheet of buttered foil loosely over the apples and bake until just tender, about 1 hour. Uncover, sprinkle with remaining brown sugar and bake an additional 20 minutes or until apples are very tender and sauce is bubbling.
To serve, transfer the apples and sauce to individual bowls and top with vanilla ice cream and caramel sauce.
Serves 8.
Ingredients

2 quarts apple cider
1 teaspoon whole allspice berries
2 4-inch cinnamon sticks
6 whole cloves
1/4 teaspoon ground ginger

Directions

A favorite with young and old alike, this warm, fragrant cider is just the thing to start a Fall or Winter party. A splash of rum or brandy is a nice touch for the grown-ups. If you are serving a crowd, double the recipe and store the warm cider in a coffee urn or a few thermal carafes.
In a large saucepan over low heat, combine the cider and spices and heat for 30 minutes.
Strain the cider and discard the spices. (At this point, you can let cool, store in an airtight container, and refrigerate for up to 3 days or freeze for up to 2 months.) Serve warm. Alternately cook in a slow cooker: Combine the ingredients in a 5 to 6 quart slow cooker and heat on low for 3 to 4 hours, until warmed through.
Makes 12 drinks.
Are you hosting a Thanksgiving buffet? Share your tips with us below. To get more of Colin's inspiring ideas and delicious recipes, check out his website, Colin Cowie, and sign up for his newsletter, Colin Cowie Wedding Notes.