Dinner Menu at 2011 68th Annual Golden Globes
What's on the Menu at the Golden Globe Awards?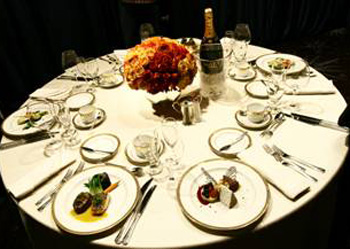 Hollywood's
award season
is in full swing, with the
68th Annual Golden Globes
airing this Sunday.
Unlike, say, the Oscars, Golden Globes attendees enjoy a seated dinner, courtesy of the Beverly Hilton. Last week, Executive Chef Suki Sugiura and Executive Pastry Chef Thomas Henzi unveiled what'll be on the dinner menu for the night.
To get you fired up for the main event, guess which courses will — and won't — be served to the stars. Ready? Let's get started!
Photo courtesy Massimiliano Leanza