Salads are so last season, and now is the perfect time to cozy up to a bowl of pumpkin soup or, better yet, classic tomato. If those two don't cut it, does butternut squash, beet, or chicken noodle entice your palate? Whether you're looking for a light lunch or a warm way to start your dinner, spoon through our recipes to find a Fall favorite.
Spiced Carrot Soup
For loads of texture and flavor contrast, garnish this creamy carrot soup [1] with spiced chickpeas, tahini-lemon sauce, dukkah, and parsley.
Spicy Tomato Soup
Tomato soup topped with grilled cheese croutons [2] takes a classic combination and spices it up a notch.
Easy Chicken Noodle Soup
On days when you're not feeling so hot, try homemade chicken noodle soup [3]. It'll feel like Mom just made it.
Slow-Cooker Taco Soup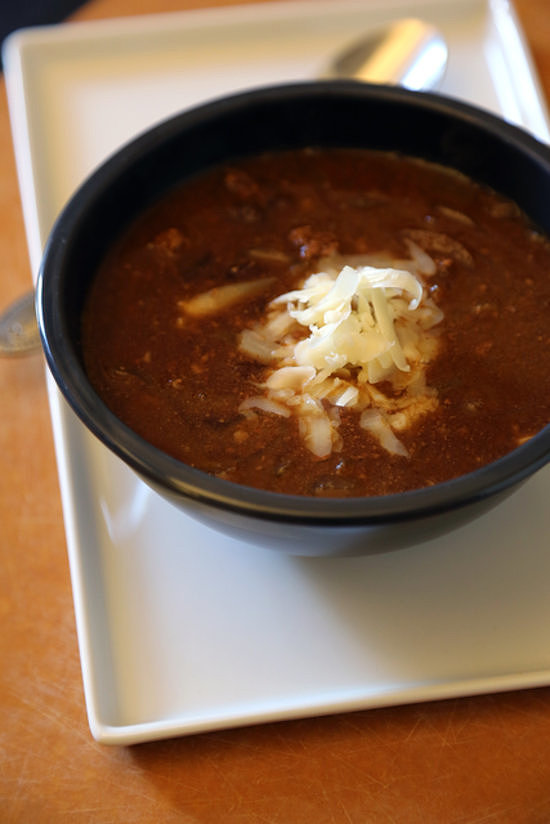 Taco soup [4] is easy to prepare, but better yet, it will fill your home with a spicy aroma. Let it simmer away as you go about your day, and then, as if magic, return home to a ready-to-eat dinner.
Sweet Potato Soup
This sweet potato soup [5] gets its kick from the za'atar-oil (a Middle Eastern spice blend comprising oregano, thyme, sesame seeds, and sumac).
Roasted Beet and Garlic Soup With Chèvre
Velvety smooth and perked up by the addition of tangy chèvre, this roasted beet soup [6] is not only delicious, but also practical. Make a big batch and reap the rewards throughout the week for an easy-to-reheat lunch or dinner.
Potato Leek Soup
More formally know as potage parmentier, this French potato leek soup [7] is a Julia Child [8] classic.
Creamy Butternut Squash Soup
Smooth, creamy, and subtly sweet, expect butternut squash soup [9] to be a Fall favorite. It's an excellent candidate for leftovers, because this seasonal soup tastes even better the next day.
Baked Potato Soup
Forgo the baked potato for a baked potato soup [10]. Top the soup with all your favorite baked potato condiments like chives, sour cream, cheddar cheese, and bacon bits.
Broccoli Soup
Michelle Obama's cookbook [11] is filled with delicious recipes like this broccoli soup [12]. It's a simple dish that is easy to throw together for a weeknight dinner. Try adding a dollop of light sour cream and a drizzle of jalapeño olive oil to boost the soup's body and flavor.
Curried Pumpkin Soup
This particular pumpkin soup [13] has an Indian twist with the addition of ginger, curry powder, and coconut milk; however, it is not overwhelmingly spicy or palate-burning. Add toasted pumpkin seeds for a crunchy topping.