Fast, Easy, Healthy Recipe For Quinoa Tabbouleh
Cling to Summer With Quinoa Tabbouleh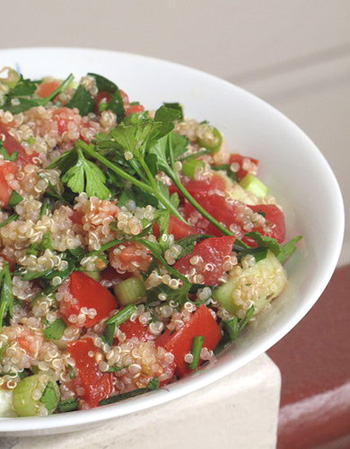 Ever since one reader shared her simple weeknight meal of roasted asparagus, mushrooms, and quinoa, I've been wanting to show you my favorite take on the Peruvian grain as well. For a protein boost, I love to swap quinoa in place of bulgur wheat in the Middle Eastern parsley salad known as tabbouleh. You can't go wrong with such a simple dish, but the way to truly do this recipe justice is to use dry-farmed Early Girl tomatoes; they're an impeccable balance of sweet and tart, and add a vibrant red hue like no other tomato can. Make this and top with rotisserie chicken for dinner when you read more.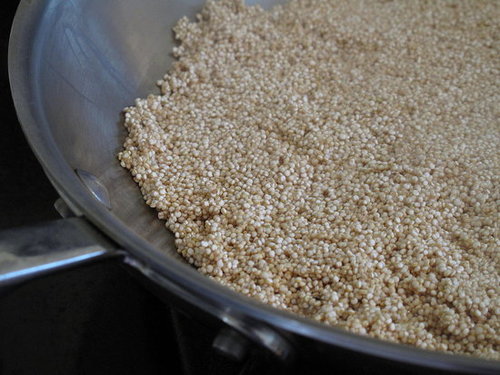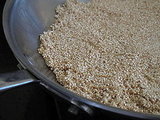 Ingredients
2 cups water
1 cup quinoa, rinsed and drained
2-1/4 teaspoons kosher salt, plus more for seasoning
1/4 cup olive oil
1/4 cup freshly squeezed lemon juice
2 cups dry-farmed early girl tomatoes, diced
1 cucumber, peeled, seeded, and medium-diced
1 cup scallions (about 1 bunch), green and white parts diced
1 cup fresh Italian parsley, chopped
Pepper
Directions
Place quinoa in a dry skillet over medium heat, stirring frequently until grain turns deeper in color, about three minutes.
Meanwhile, in a separate saucepan, bring water to a boil. Add quinoa and a 1/4 teaspoon salt. Reduce heat to low, cover, and simmer for 15 minutes. Allow to cool and fluff with a fork.
Combine olive oil, 2 teaspoons salt, lemon juice, tomatoes, cucumber, green onions, and parsley. Stir in cooled quinoa. Season again to taste with more salt as well as pepper. Serve immediately or refrigerate to let flavors further meld.
Serves 6 to 8 as a side dish.
Information
Category

Greens , Side Dishes

Cuisine

Mediterranean/Middle Eastern