Dec 27 2012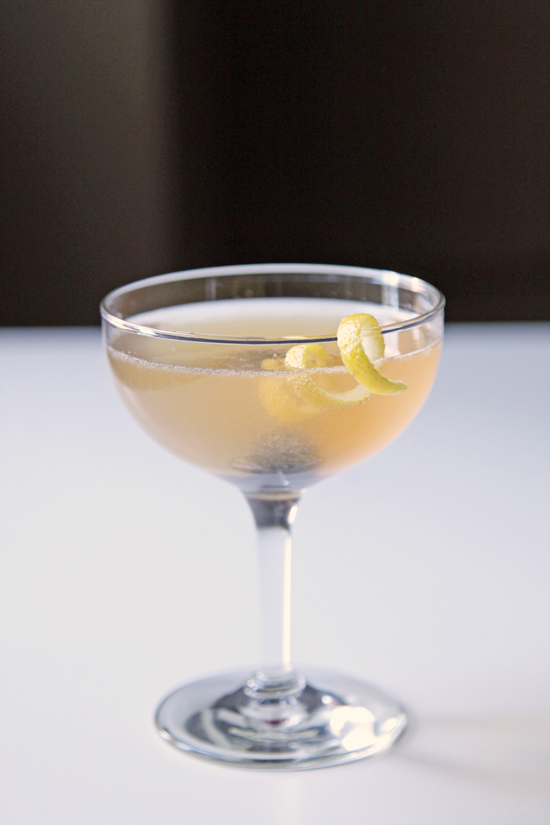 What could be better than an effervescent glass of Champagne? Well, this bracing cocktail for starters. Begat by a happy accident, this honey-sweet twist on an old classic might just be my new go-to cocktail for day or night — it's equally well-suited for a New Year's Eve toast as it is for a booze-fueled brunch.
What sets this sparkling sipper apart from its classic preparation, you ask? When we decided to concoct a floral version of the tried-and-true tipple using Hendrick's (a notably floral gin) and honey, we referenced a recipe to find out the French 75's classic proportions. We accidentally doubled up on ingredients (save for the sparkling wine and garnishes), making for a slightly less effervescent but flavor-packed spin on an old favorite that we agreed might just top the original iteration.
Keep reading for the robust recipe.
Recipe Notes
Luxardo maraschino cherries have a more nuanced flavor than their supermarket ilk (though those will work in a pinch). Look for them at liquor stores or online.
Ingredients
2 ounces floral dry gin, such as Hendrick's
1 ounce freshly squeezed lemon juice
1/2 ounce honey
Brut Champagne or dry sparkling wine, chilled
1 strip of lemon peel, for garnish
2 maraschino cherries, for garnish
Directions
Fill a mixing glass with ice and add the gin, lemon juice, and honey, stirring to combine and chill.
Add the lemon-gin mixture to a champagne flute or coupe and top off with sparkling wine, gently stirring a few times to combine.
Twist the lemon peels over each flute so as to spritz the glasses with lemon oil, and add the twists as garnish. Add the cherries to the bottom of the glass or thread them onto a skewer and add that to the glass as well.
Makes one drink.