Sep 13 2013
In honor of Freaky Friday (today's Friday the 13th!), I thought I'd pull together a list of 13 freaky foods. Even if you don't have triskaidekaphobia (the fear of the number 13), you may be afraid of some of the things on this list. I know there are a bunch of other freaky things out there (how about almost anything Andrew Zimmern eats on his show?), so if you think something's missing, we want to hear it.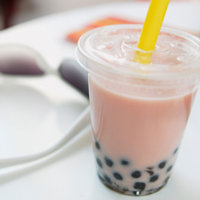 #13: Bubble Tea
I personally love this stuff; however, I've known quite a few folks who are freaked out by the tapioca inside the
tea
. Come to think of it, I know a lot of people freaked out by tapioca in general . . .
#12: Squid ink pasta
I don't have a problem with this lovely pasta dyed with squid ink, but some find eating black pasta to be just a bit too freaky.
Keep reading to see more freaky foods perfect for Friday the 13th.
#11: Pimiento loaf
Processed meats are a bit scary to begin with, but
pimiento loaf
really weirds me out. Finely chopped pork and beef supplemented with pickles and pimientos? No, thanks.
#10: Scrapple
Quite a few have been quick to add scrapple to the freaky food list. Based on the definition, I can see why it makes the list. What's not a little frightening about a loaf of savory mush from cornmeal, flour, and pork scraps?
#9: Sea urchin (uni)
Uni is served in many sushi restaurants and is actually the gonads of the sea urchin. The delicacy — shown here with #12 (squid ink pasta) for a killer combination — has a creamy texture and a yellow-orange hue. It's a bit like a firm custard, but it occasionally can be akin to biting down on a squishy tongue.
#8: Sweetbreads
I'm actually a fan of
sweetbreads
, but many people simply can't wrap their heads around the fact that they're eating the thymus gland of a baby cow. My biggest problem is actually the name.
#7: Chicken feet
Chicken feet are a delicacy that is usually served in Chinese dim sum; they're often deep-fried, then boiled and marinated in a black bean sauce. There are, however, a
ton
of little bones. It's gross to look at and, quite frankly, just doesn't have enough payoff.
#6: Harry Potter Bertie Bott's Jelly Beans
I know these are just meant as a novelty item, but seriously —
vomit-flavored Jelly Beans that actually taste like vomit
? Just, no.
#5: Bugs
I've had a few of these, and while some of them are actually interesting to try, I just can't seem to get past the idea that they're still
creepy, crawly bugs
.
#4: Stinky tofu
This superpopular Asian snack is one of the worst things I've ever smelled. Stinky tofu is a fermented tofu dish that is very . . . er, fragrant. Some say it smells like stinky feet — or worse (use your imagination). Personally, I don't think it's tasty enough to get past the smell.
#3: Pickled pigs' feet
As I mentioned above, I have a problem with feet. These
piggy feet
are salted and smoked like bacon and ham, but then they're placed in a jar of hot brine and preserved for months. I don't know about you, but I just have a problem with eating feet.
#2: Black pudding, or blood sausage
Anything with the word "blood" in it deserves to be on the freaky list.
Black pudding
— which actually has very little to do with pudding and a lot to do with blood — is a sausage made by cooking animal blood with a filler until it is thick enough to congeal.
#1: Balut
I love poultry and I love eggs, so I should love
balut
, right? I live by the "try anything once" motto, but even I might have a hard time chowing down on a boiled, almost-whole baby duck stuck inside an egg.
— Additional reporting by Sabrina Eldredge