Jan 29 2009
Still haven't decided what to serve your family during the Super Bowl? How about good, ol' sloppy Joes?! I recently got a craving so intense that I had to make them. Sloppy Joes are a hearty favorite that bring back nostalgic memories of childhood. The messy sandwich consists of ground beef, onions, red peppers, and a spicy tomato sauce. I topped mine with finely grated sharp cheddar cheese because that's how my mom used to serve them. The leftovers only taste better, so make a large batch and enjoy all week. They're great with beer, potato chips, and pickles. To get this scrumptious recipe, read more.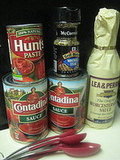 Ingredients

1 tablespoon extra-virgin olive oil
4 slices of bacon
1 1/4 pounds ground beef sirloin
1/4 cup brown sugar
2 tablespoons steak seasoning blend, such as McCormick brand Montreal Seasoning
1 teaspoon chili powder
1 teaspoon cumin
1 medium onion, chopped
1 small red bell pepper, chopped
1 small jalapeno, seeded and chopped
2 cloves garlic, minced
1 tablespoon red wine vinegar
1 tablespoon Worcestershire sauce
2 cups tomato sauce
2 tablespoons tomato paste
6-8 crusty rolls, split, toasted, and lightly buttered

Directions
Heat a large skillet over medium high heat. Add oil and bacon to the pan. Cook for 5 minutes until the bacon is soft. Add the ground beef to the pan. Spread the meat around the pan and begin to break it up. Cook for about 5-8 minutes until the meat is no longer pink.
Combine brown sugar, steak seasoning, chili powder, and cumin in a small bowl.
Add sugar and spice mixture to the skillet and stir to combine.
When the meat has browned, add onion, red peppers, jalapeno, and garlic to the skillet.
Reduce heat to medium. Add the red wine vinegar and Worcestershire sauce to the mixture and cook for 5 minutes.
Add tomato sauce and paste to pan. Stir to combine.
Reduce heat to simmer and cook Sloppy Joe mixture 25-35 minutes longer until mixture is thick and no longer too soupy.
Using a large spoon or ice cream scoop, pile sloppy meat onto toasted, bun bottoms and cover with bun tops.
Serve with your favorite sides or topped with grated cheddar cheese.
Serves 6-8.