Jun 30 2010
For most of the year, I avoid wearing the color red. It simply doesn't look great with my coloring. However, around the Fourth of July is when I make an exception, I like to wear red, white, and blue — just as I like to cook dishes in these all-American colors. With its creamy white cheese and deep ruby berries, this easy appetizer would be a welcome addition to any festive spread for the Fourth. It's a super quick snack that's absolutely scrumptious. Be sure to grill extra bread, I was a couple slices short and hated to see the last of the gooey cheese and fresh relish go to waste. If you like brie, this recipe is a must make. Learn the simple method.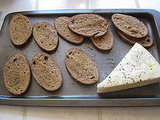 Ingredients

2 cups cherries, pitted
1 1/2 teaspoons sugar
1/4 teaspoon salt
1 teaspoon fresh thyme leaves
1 baguette, thinly sliced
Two 5-inch wheels camembert cheese, at room temperature
Extra-virgin olive oil, for brushing

Directions

When I made this recipe, I halved it to feed five people.
Preheat a grill to low. In a food processor, coarsely chop the cherries, sugar and salt; stir in the thyme.
Brush the bread slices and cheese wheels on both sides with olive oil.
Place the cheese in the center of the grill and surround with the bread. Cover and grill until the bread is golden on the bottom, about 2 minutes. Flip the bread slices and grill until golden on the other side, about 2 minutes more.
Continue to grill the cheese, covered, until the rind is soft, about 5 minutes more. Using a metal spatula, invert each cheese wheel onto a plate.
Spoon the cherry jam over the cheese and serve with the bread.
Serves 8.