Apr 24 2009
Inspired by Market-Fresh Mixology, I decided to make a cocktail that features one of Spring's most popular fruits: strawberries. When I found this recipe while browsing cocktails on Food & Wine's website, I assumed it would be absolutely delightful.
My predictions were correct: this fruity concoction is light, refreshing, and easy drinking. The pureness of sweet strawberries is the defining flavor, but fresh lime juice provides a balancing tartness. Because the vodka is not overpowering, it's the perfect cocktail to enjoy on a hot day. If strawberries are in season at your farmers market, I strongly suggest you give this drink a try. Trust me, you won't be disappointed! To get the recipe please read more.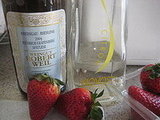 Ingredients

3 pounds strawberries, hulled and coarsely chopped
2/3 cup sugar
1/2 cup plus 2 tablespoons citrus vodka
1/4 cup fresh lime juice
Ice
1/3 cup chilled Riesling

Directions
In a bowl, toss the strawberries with the sugar and let stand, stirring occasionally, until the strawberries release their juices, about 10 minutes.
In a blender, combine half each of the strawberries and their juices, the vodka, and lime juice with 1 cup of ice and puree. Pour into a pitcher. Repeat with the remaining strawberries and juices, vodka, and lime juice and 1 more cup of ice.*
Fill 10 collins glasses halfway with ice. Pour the cocktail into the glasses, top each with about 1/2 tablespoon of Riesling and serve.
Serves 10.

*Since I dislike blended drinks, I pureed the strawberries with the lime juice in a blender. Then I combined the puree with the vodka in a cocktail shaker and shook to combine. I strained the mixture into collins glasses filled half way with ice and topped with the Riesling. Delish!