Jun 27 2008

Spain's cheap variation of sangria, the tinto de verano, is quite simply a red-wine spritzer. Refreshing and delicious, this concoction is my go-to drink when I'm in the mood for something light. This easily drinkable cocktail is a delightful alternative to beer and wine.
Choose a mixer that suits your tastebuds: sparkling water, Pelligrino Limonata, and Squirt are variations that I've made, and always garnish with a fresh lemon wedge. To learn how I recently made this version, which uses Hansen's new sparkling water, read more.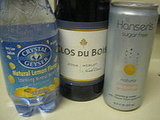 Ingredients

red wine
sparkling water
Hansen's cranberry grapefruit sparkling water*
lemon wedge, for garnish

Directions
Fill a large wine glass, goblet, or Tom Collins glass with ice.
Fill 2/3 full with the red wine. Top with sparkling water until glass is all but half an inch filled.
Top with sparkling cranberry grapefruit water. Garnish with a lemon wedge and enjoy immediately!
Makes 1 drink.

*This drink should be made to your liking. If you prefer more sparkling juice than sparkling water, do it!