How to Buy Crab and Lobster
Snap Up Crab and Lobster With These Purchasing Guidelines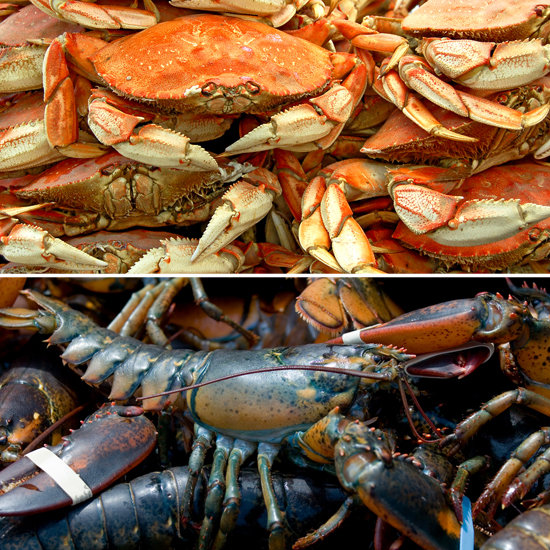 Seeking out the highest-quality ingredients one can afford is always important, but never more so than when it comes to crustacean cookery. Here are some of our best practices for getting your money's worth.

First and foremost, look for a shop with high turnover of these critters. This applies whether you're looking to buy live crab and lobster, precooked lobster tails, crab claws, or even lump crab meat. While seeking out the freshest precooked meat may seem obvious, even creatures sold live are highly perishable; once they're plucked from the sea, they'll stop eating, and a starved crustacean will have less meat on its shell.

What to Keep in Mind When Buying Live Crab or Lobster
Buy these in season, and from local waters. A cross-country journey means more time has lapsed from catch to plate, and the critter is likely less robust and less meaty. Plus, purchases made at the source will cost less than those coming from thousands of miles away.
Look for active, wriggly live crab and lobster, taking care to avoid any that appear lethargic. They should feel heavy for their size when handled; this indicates a juicy, meaty find, rather than one that is nearly all shell.
Avoid any seafood coming from a less-than-spotless tank.
Make sure to either kill them in the cooking process or cook them immediately after dispatch. Even the lapse of one hour between killing and cooking can effect the quality of the meat, leaving you with a pile of mushy meat.
Keep reading for more guidelines for purchasing crab and lobster.
What to Know About Crab
While only male crabs of certain varieties (like Dungeness) are available, seek out female crabs when possible. Spot females with a wider flap on the bellow, or ask your fishmonger to pick out a female crab. Generally speaking, they will be meatier, and may even contain crab roe, a prized delicacy.
Lighter-colored crab shells indicate a long turnover from catch to plate, or a crab that is going through the molting process. Either way, it indicates less meat. One exception to this rule: soft-shell crabs, which will, by definition, have just undergone the molting process. While they will be less meaty than their hard-shelled brethren, they can be consumed shell and all, and are a particularly special treat. Look for these delicacies from roughly April to September.
Specific Guidelines For Purchasing Lobster
Smaller lobsters tend to have more delicate, finer-textured flesh, but larger size isn't necessarily bad — just something to keep in mind.
If you're seeking out precooked lobster, then try lobster tail — even frozen! — as it preserves its texture better than claw meat once cooked.
While both female and male lobsters are fine and dandy, female lobsters may contain "coral," so named because these eggs turn a vibrant coral hue when cooked. Admittedly, these are a bit of an acquired (but delicious) taste.
For an excellent guide on the sustainability of fish and shellfish, check out Monterey Bay Aquarium's Seafood Watch.