Icebox Cake | Recipe
Heat Wave Cooking: Icebox Cake
I still manage to learn a little something new each day.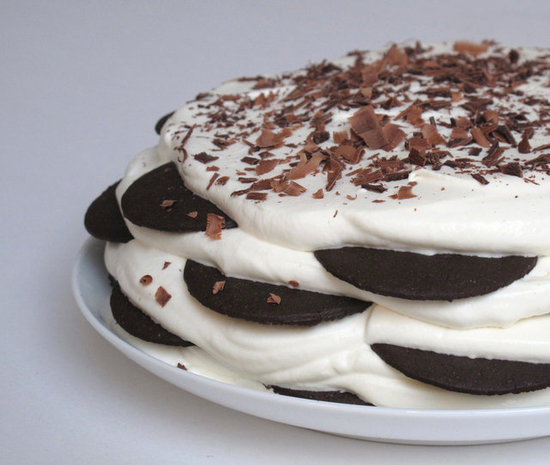 Today, it was that the memory card from my camera could be inserted directly into my laptop. Yesterday, it was that a manicure can mean the difference between a finger and no finger when you're chopping a lot of vegetables. And earlier this month, it was the revelation that is a layered icebox cake.

I've never seen a dessert that proffers such a large payout, given the minimal effort. Seriously, spread out cookies like tiles, lay them thick with whipping cream, and repeat until towering. If you're feeling particularly mischievous (and I usually am), shower the top with shavings from your favorite chocolate brand.
Exhibit a little self-restraint (the hardest part!), stick your masterpiece in the fridge, and the next morning, you'll open the icebox to find the the most gorgeous layered cloud of a dessert that you've ever seen. You know you want the recipe . . .
A bonus dirty little secret: if you're especially lazy, this cake tastes nearly as spectacular when made with Cool Whip instead of heavy cream.
Ingredients
3 cups heavy cream
1 tablespoon vanilla extract
3 tablespoons sugar
1 1/2 (9-ounce) packages chocolate wafer cookies
Chocolate shavings or cocoa powder, for garnish
Directions
In a large bowl, beat cream, sugar, and vanilla with an electric mixer on high speed until soft peaks form.
On a flat serving plate, arrange seven cookies side by side in a circle, keeping one cookie in the center.
To serve, dust top lightly with cocoa powder or chocolate shavings.
Serves six to eight.
Information
Category

Whipped Cream, Desserts

Cuisine

North American