Islands Restaurant's Hawaiian Burger Recipe | Video
Get the Dish: Islands Restaurant's Hawaiian Burger
Travel season may be over, but that doesn't mean you can't dream of a tropical vacation by grilling this Hawaiian burger from Islands Restaurant. It's loaded with grilled pineapple rings and teriyaki sauce, so try not to sigh "aloha" while making this burger. Take a look at the recipe.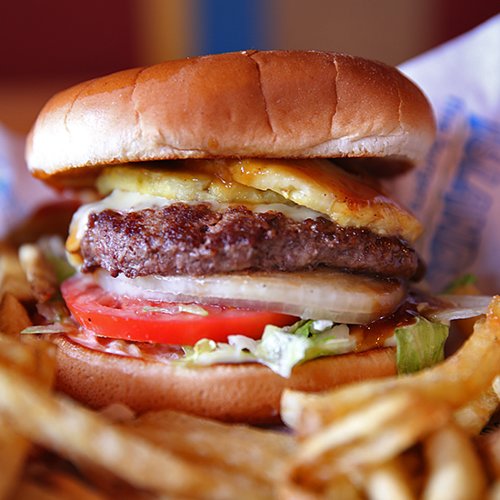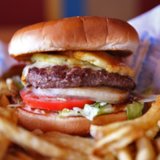 Ingredients
2 pineapple rings
1 (6-ounce) hamburger patty
Burger seasoning of your choice
1 slice Swiss cheese
1 bun
1 1/2 tablespoons mayonnaise
1 lettuce leaf
1 slice white onion
1 slice tomato
1 ounce teriyaki sauce
Directions
Preheat a grill or grill pan to medium-high. Like a sunny day at the beach, you want things nice and hot. Get the grill sizzling and well-seasoned with a light brush of cooking oil before you start. Grill freshly cut pineapple rings for 5 minutes per side.
Cook hamburger patty on a hot grill. Apply three shakes of burger seasoning onto burger while on the grill as your favorite spices are most easily absorbed while cooking. Grill for 2 1/2 to 3 minutes, or until juices begin to pool on the top of the patty. Never press down on the burger to keep it nice and juicy. Flip and add Swiss cheese to achieve the perfect melt. Continue cooking for another 2 1/2 to 3 minutes. Top cheeseburger with grilled pineapple rings.
Meanwhile, toast bun on oiled grill for 2-3 minutes. A well-toasted bun gives flavor and texture and helps the burger hold up to the condiments.
Remove bun from grill and spread mayonnaise on the bottom bun. Spread it from coast to coast to ensure you have an even layer (about the thickness of a dime). Layer shredded lettuce, onion, and tomato on bottom bun. Place hamburger patty with Swiss cheese on next — the build is very important to achieve the best mix of flavors. Top with teriyaki sauce and top bun.
Information
Category

Beef, Main Dishes

Cuisine

Other

Yield

1 burger

Cook Time

15 minutes