Kale Caesar Salad
Remake the Classic Caesar With Kale
When it comes to food newsletters, I subscribe to them all. One that I look forward to getting is Tasting Table's Chefs' Recipes. The ingredients are seasonal, and the dishes timely and clever. I usually hit print before I've finished reading the email! Earlier this week, the featured recipe was a kale Caesar salad from Chad Robertson's Tartine Bread cookbook.

Since I love Caesar salads, I had to make this hearty variation immediately. The tangy lemon-garlic dressing stands up to the bitter greens. Use the vinaigrette right after blending (it separates easily) and be sure to coat each leaf with the delicious mixture. Serve with roast chicken, a bowl of soup, or just enjoy a huge plate of it alone — that's what I did! I promise this dish won't disappoint, so get the recipe now.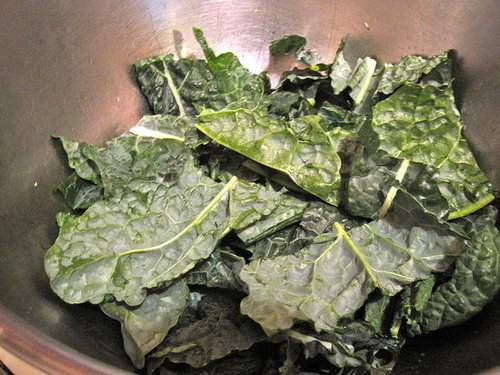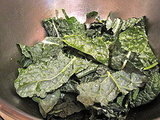 Ingredients
Croutons:
4 1-inch slices day-old country bread, torn into 1-inch pieces
2 tablespoons extra-virgin olive oil
Salt
½ teaspoon herbes de Provence (optional)
Kale Caesar:
3 garlic cloves
6 olive oil-packed anchovy fillets
1 tablespoon lemon zest
1 large egg yolk
Salt
2 tablespoons fresh lemon juice, plus more to taste
1½ cups extra-virgin olive oil
2 heads (about 1 pound) black kale, center stems removed and leaves torn into bite-size pieces
⅔ cup freshly grated parmesan cheese
Directions
Make the croutons: Preheat the oven to 400 degrees.
In a medium bowl, toss the bread with the olive oil, a pinch of salt and the herbes de Provence, if using. Spread the bread on a baking sheet and bake, turning the croutons midway through, until golden brown and crisp, about 10 minutes.
Make the dressing: Place the garlic, anchovies and lemon zest in a mortar and pound with a pestle to make a thick paste. (Alternatively, pulse them together in a blender.) Add the egg yolk, a pinch of salt and a few drops of the lemon juice and mix thoroughly.
While stirring, (or with the blender motor running), add ½ cup of the olive oil, one drop at a time, to create a smooth emulsion. Stir (or blend) in the remaining cup of olive oil in a slow stream. (The dressing will thicken.) Periodically add the remaining lemon juice. When all the oil is incorporated, season the dressing to taste with additional salt and lemon juice. Add water as needed to thin the dressing to desired consistency.
Make the salad: In a large bowl, toss the kale with the croutons. Add the dressing to taste, reserving any extra for another use. Add the parmesan, toss again and serve immediately.
Serves 6-8.
Information
Category

Salads, Greens

Cuisine

North American