We've all heard about the bounty of benefits [1] a heaping helping of kale has to offer our stomachs and taste buds, but actually putting the dark, leafy green on your plate is a whole different story. That's where we come in! Once you've learned how to prep kale hassle-free [2], try one of these 21 recipes.
— Additional reporting by Lizzie Fuhr
Photos: Anna Monette Roberts, Nicole Perry, Camilla Salem, Fresh Tart [3], Susannah Chen
Napa Valley Grille's Kale Chopped Salad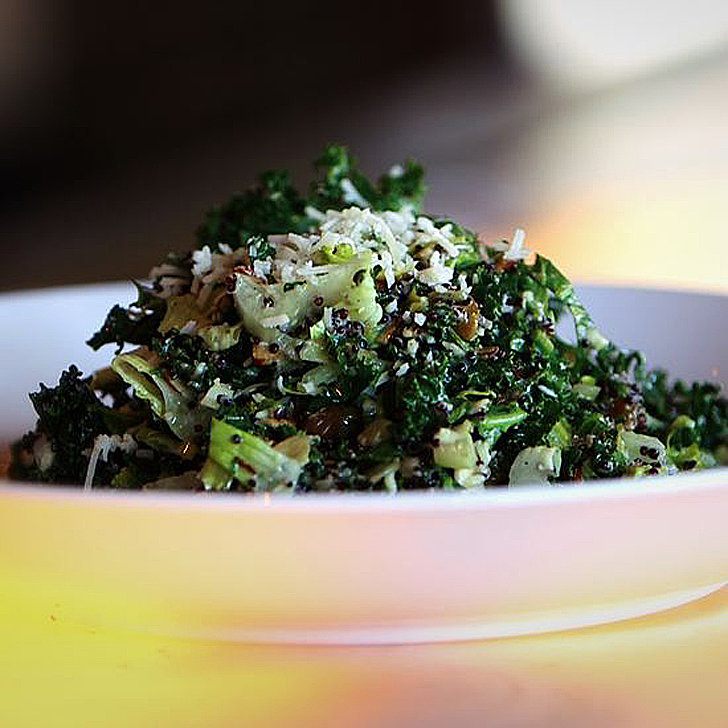 A favorite among Napa Valley Grille [4]'s celebrity clientele, this kale chopped salad offsets a tart lemon parmesan vinaigrette with plump golden raisins and hearty, mellow quinoa. Watch the video to see how it's made, then print out the recipe [5].
Cheesy Kale Chips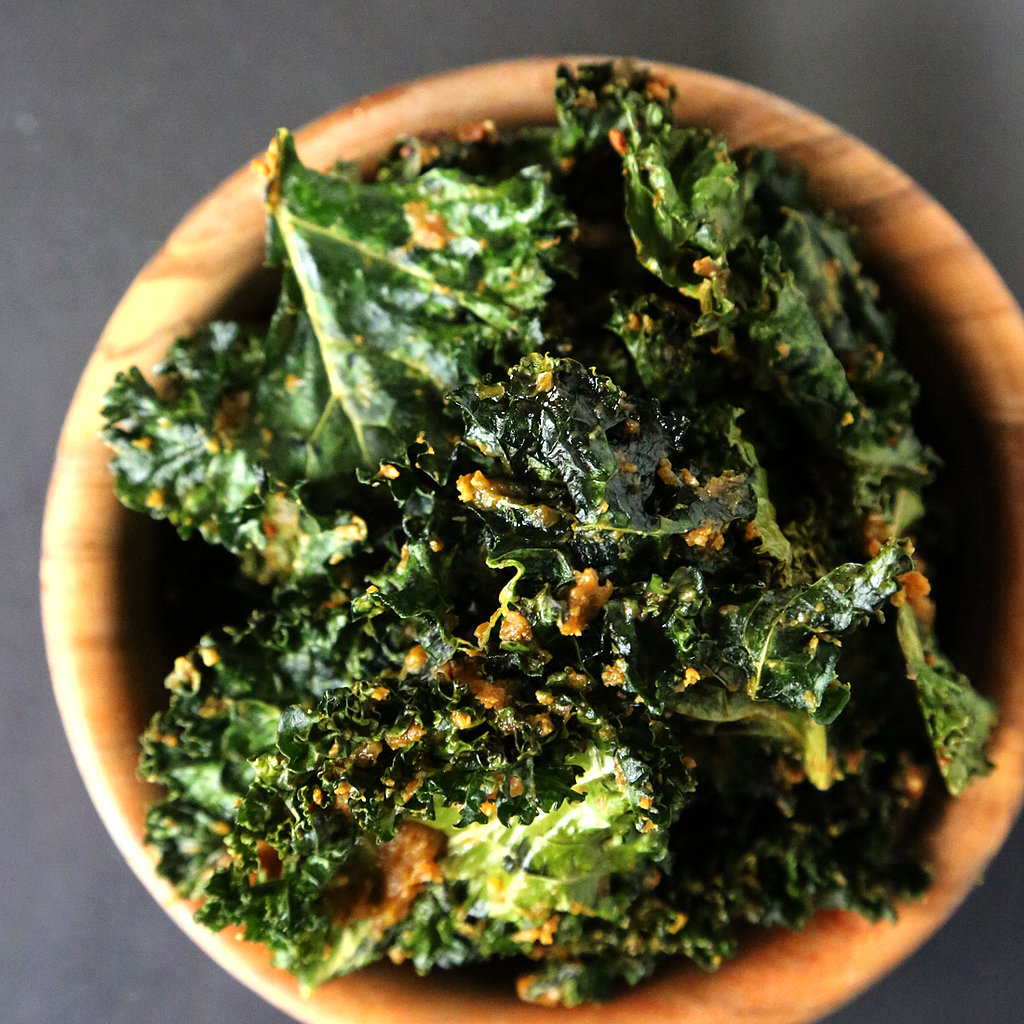 If a bag of Kale Krunch's Quite Cheezy [6] kale chips keeps winding up in your shopping cart, take matters into your own hands with this homemade take on this snack [7] that's only decadent in flavor.
Photo: Anna Monette Roberts
Mochi Squares Stuffed With Sesame Kale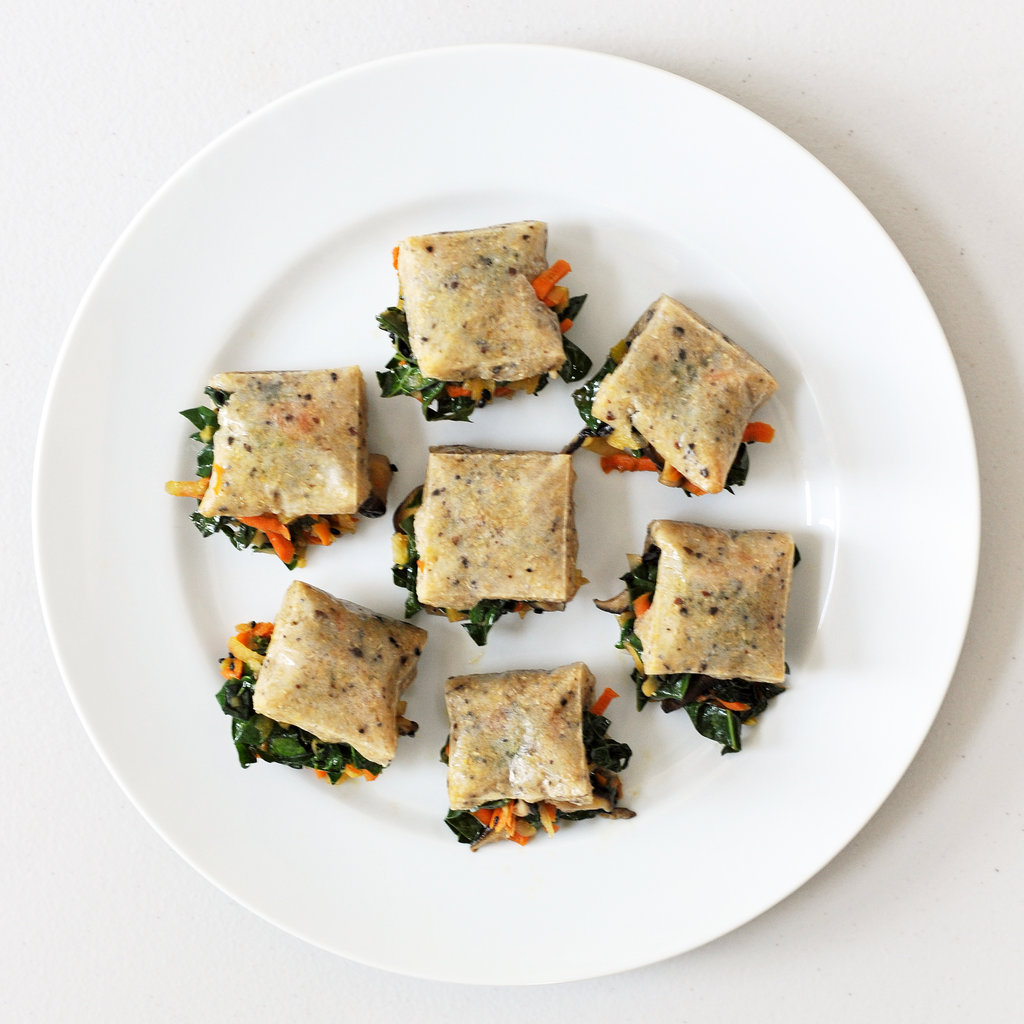 Mix up your weeknight dinner repertoire with this fast and easy vegan recipe [8] that stuffs pillowy pockets of mochi (no, not the sweet type [9]) with greens and mushrooms dressed in a bold glaze.
Photo: Nicole Perry
Kale Caesar Salad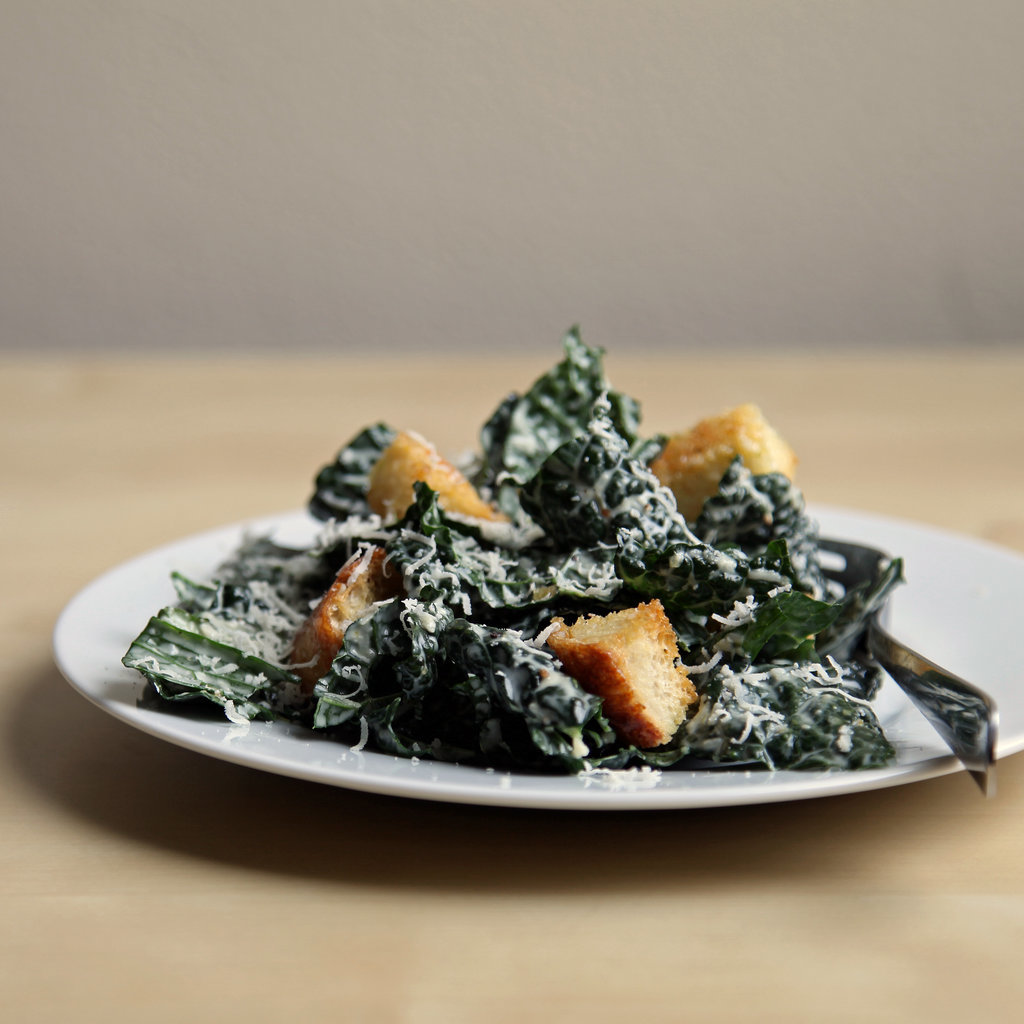 Add extra bite to your caesar salad [10] by swapping the usual romaine leaves for toothsome, torn-up kale.
Photo: Nicole Perry
Kale and Burrata Bruschetta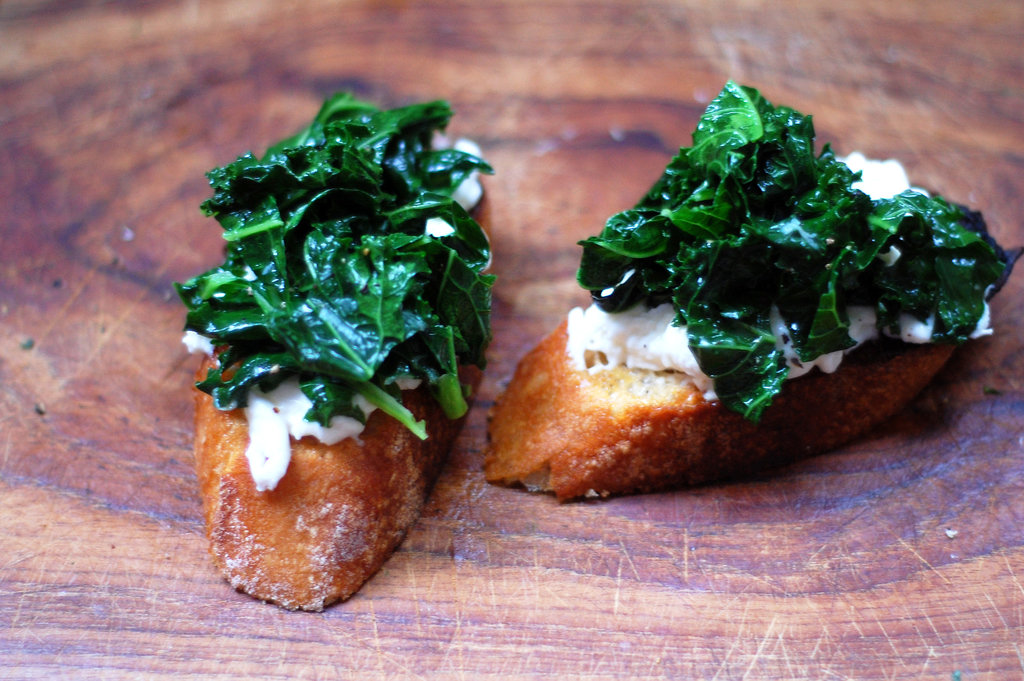 Creamy burrata and garlicky sautéed kale combine for a vegetarian-friendly appetizer [11] equally at home as a weeknight nibble as it is at a cocktail party.
Photo: Camilla Salem
Shredded Brussels Sprouts, Kale, and Kumquat Salad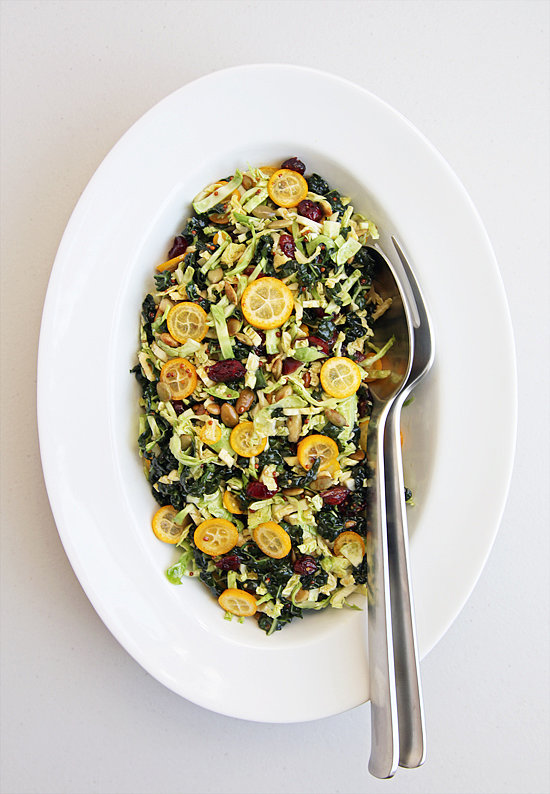 With its many components (coins of kumquat, shredded kale and brussels sprouts, tart dried cherries, and soy-sauce-glazed pepitas), this salad [12] may seem like more effort than it's worth. Thankfully, its phenomenal flavor and staying power (leftovers make a great brown bag lunch) more than make up for time expended.
Photo: Nicole Perry
Steamed Kale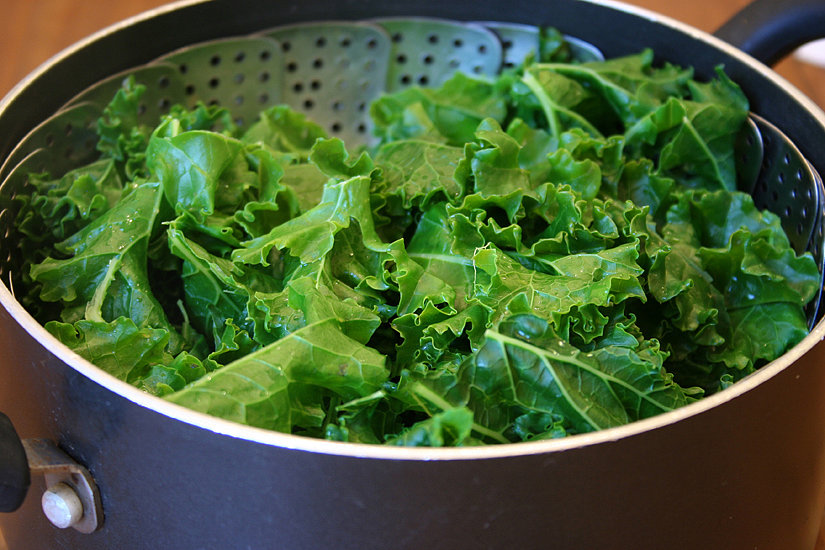 Steamed kale [13] takes a mere five minutes to cook and is a blank-slate side practically begging to be dressed up with whatever flavors you're craving. Our current fix: a splash of fish sauce, lime juice, and a sprinkle of red pepper flakes for an Asian-inspired twist.
Photo: Anna Monette Roberts
Lemony Kale Salad With Feta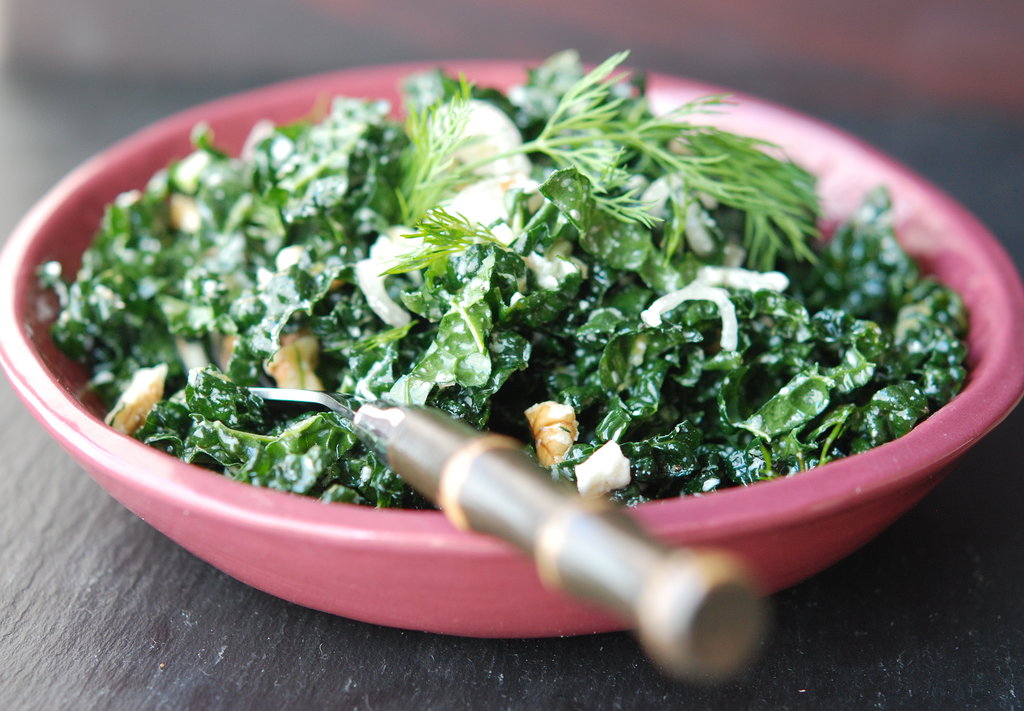 We're not sure what's better about this pine nut and feta kale salad [14]: its leftover-friendly nature (like many kale salads, it can handle, and arguably improves with, an overnight sit in the fridge) or its bold flavors and ease of preparation. Either way, it's more than worthy of an inclusion in your salad repertoire.
Source: Fresh Tart [15]
Spicy Miso Kale Chips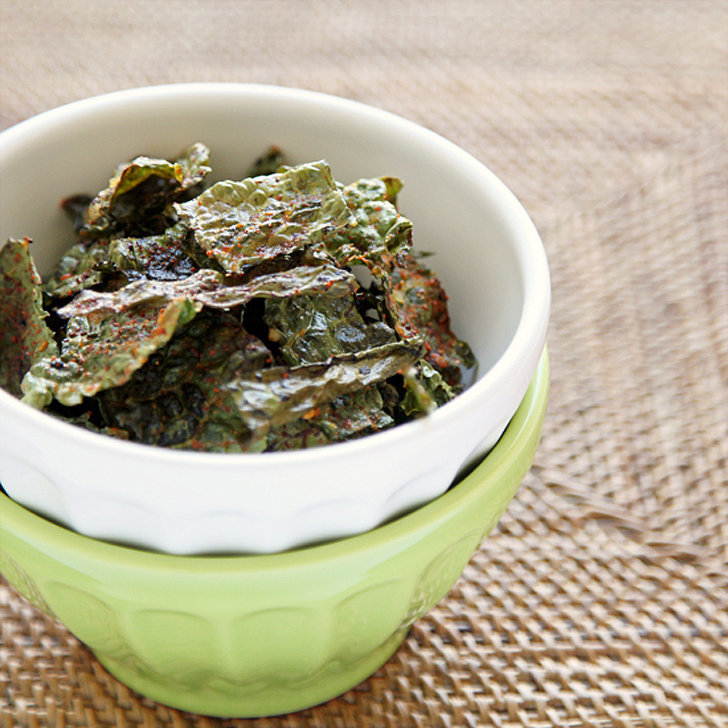 Salty-savory miso and a sprinkle of shichimi togarashi (Japanese seven-spice powder) dress up already-irresistible kale chips [16] for a virtuous snack you'll devour with vigor.
Photo: Nicole Perry
Linguine With Kale and Chickpeas
This fast and easy linguine main [17] is chock full of hearty greens and beans and bolstered by garlic and crushed red pepper.
Photo: Nicole Perry
Colcannon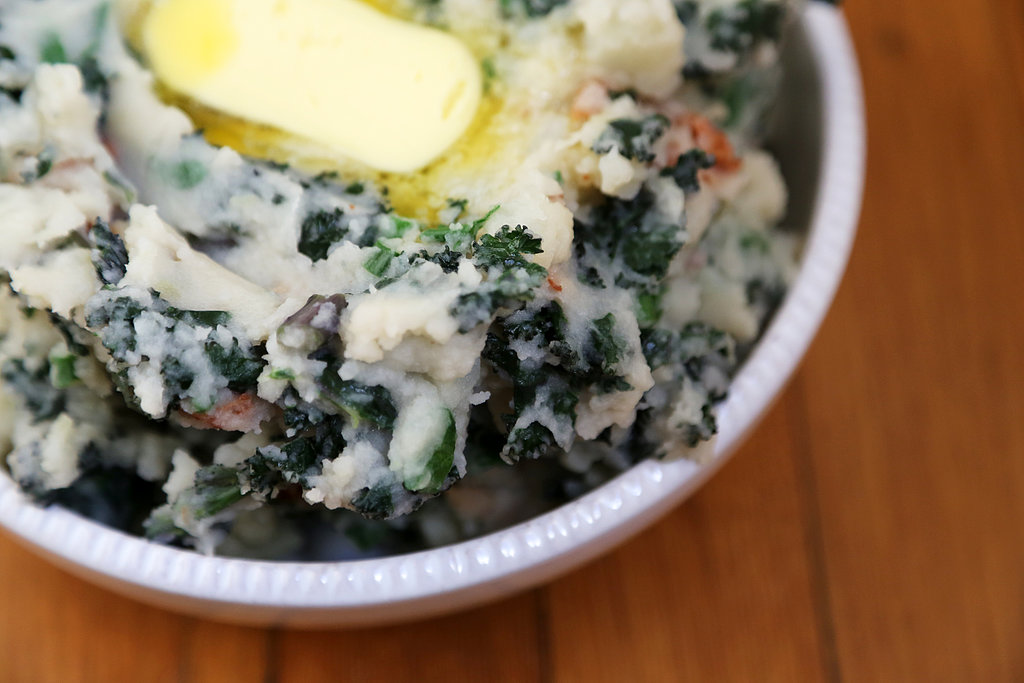 For a lighter take on mashed potatoes, try colcannon [18], an Irish specialty that combines cabbage (or in this case, kale), bacon, butter, and potatoes.
Photo: Anna Monette Roberts
Kale, Cantaloupe, and Ginger Smoothie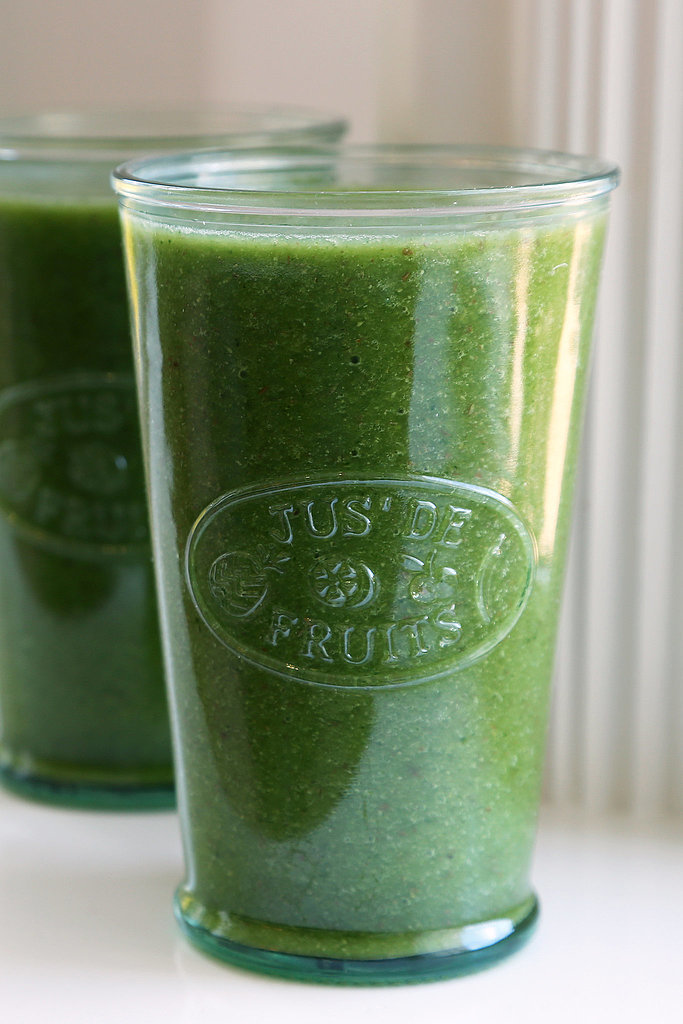 Smoothies make for the perfect snack or even meal; they're fast, filling, and full of whatever fruits and veggies sound good to you. Go green with a kale, cantaloupe, and ginger smoothie [19] — round it off with a squeezed lemon for extra zest.
Photo: Anna Monette Roberts
Hot Cheetos Kale Salad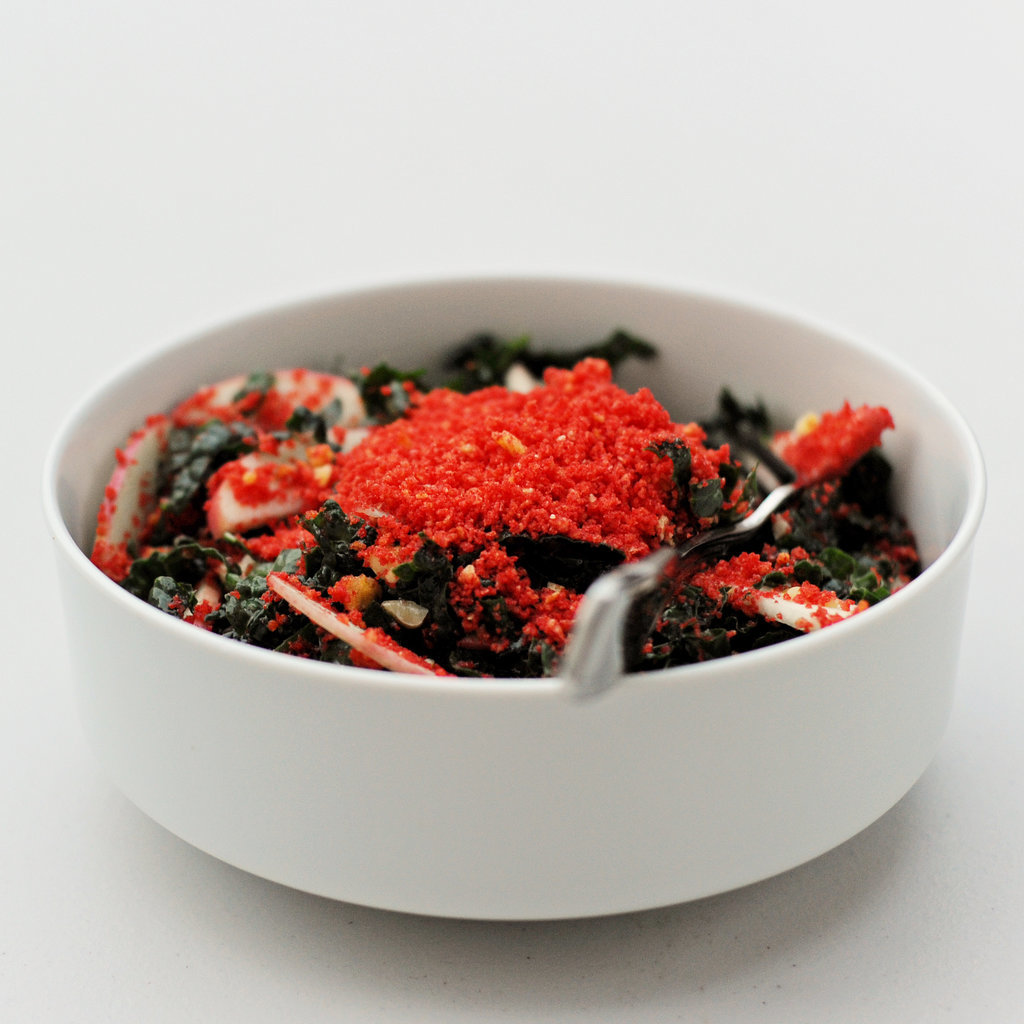 Think kale and Hot Cheetos don't mix? In most cases, you're right, but when sliced apple and walnuts come to the party [20], it's a surprisingly satisfying combination.
Photo: Nicole Perry
Spicy Garlic Kale With Poached Eggs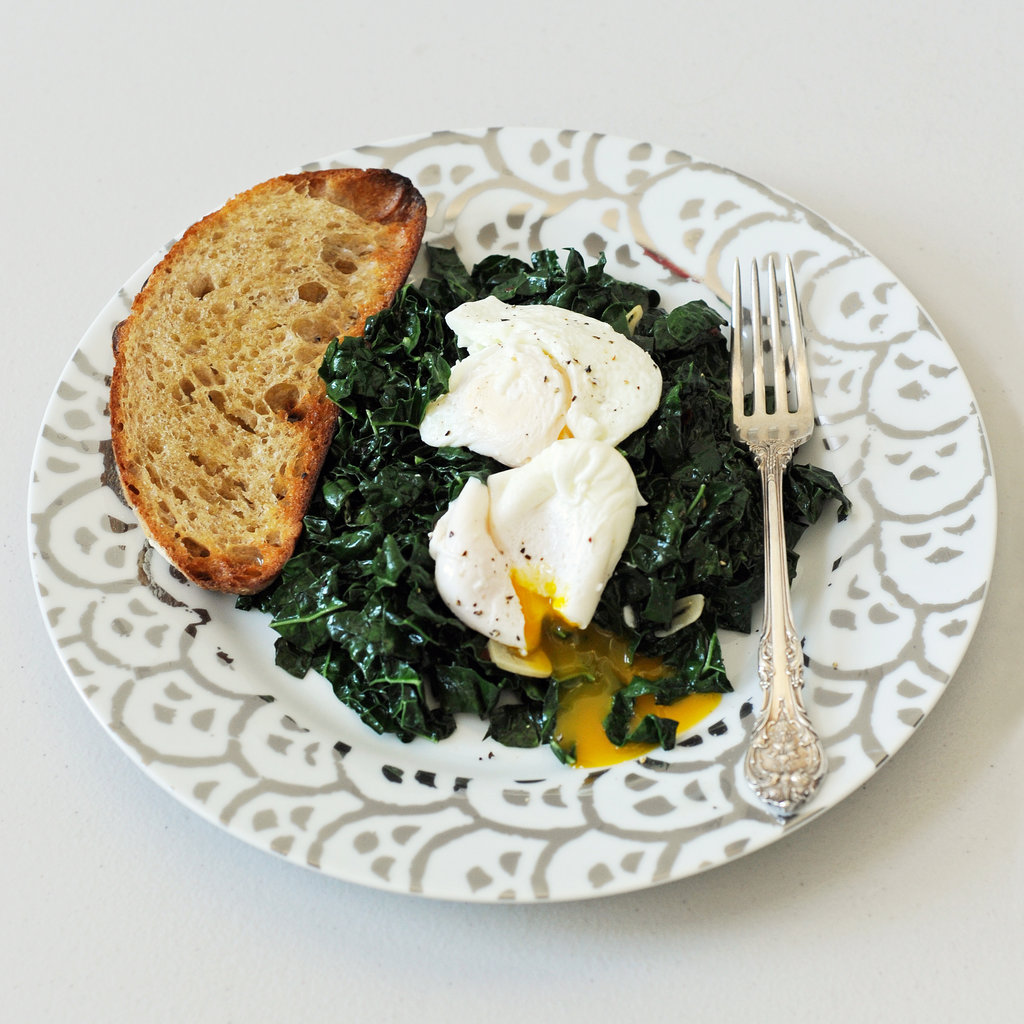 Too tired to cook? You may reconsider when you realize just how fast and easy this spicy and satisfying dinner [21] is. (You might even have all the ingredients on hand — no grocery store run needed.)
Photo: Nicole Perry
Salt and Vinegar Kale Chips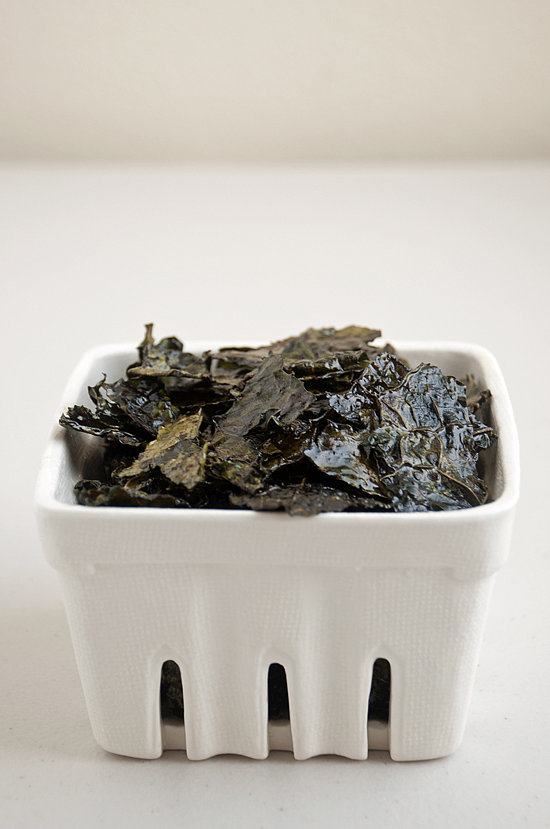 Like their deep-fried potato cousins, salt and vinegar kale chips [22] are crisp, salty, sour, and dangerously addictive.
Photo: Nicole Perry
Chicken and Kale Salad With Lemon-Cumin Vinaigrette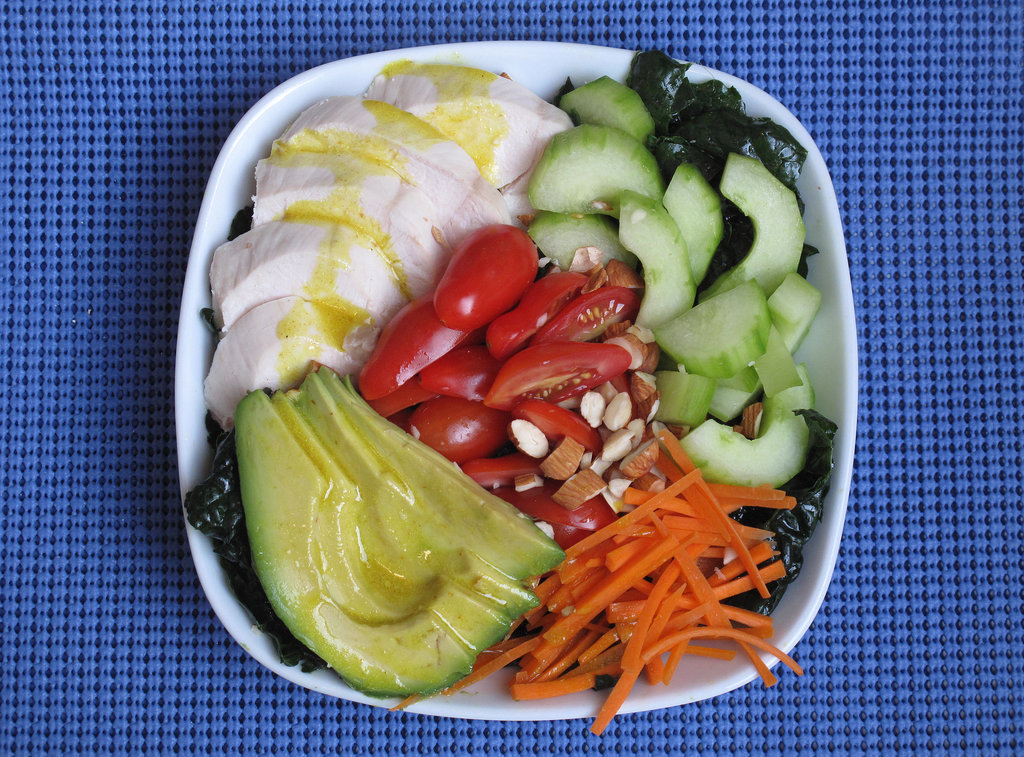 For a taste of one of our editor's go-to lunch spots, try this restaurant-inspired composed salad [23] that combines kale, quinoa, avocado, and more with a zesty lemon-cumin vinaigrette.
Photo: Susannah Chen
Creamy Kale Dip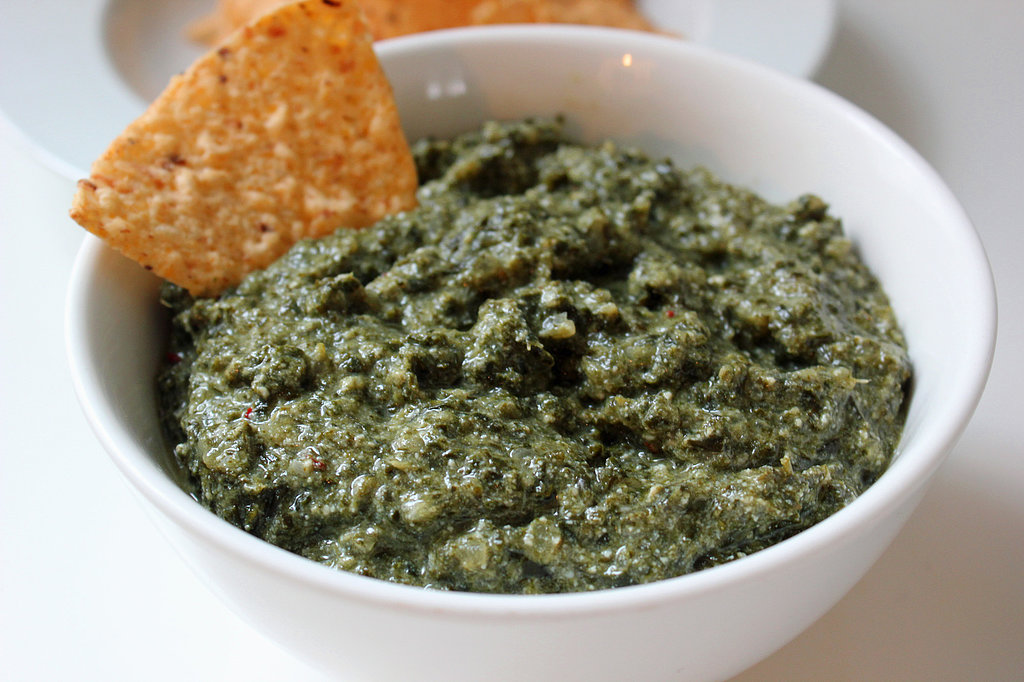 Love spinach artichoke dip but looking for a new take on the decadent appetizer? Look no further than this creamy kale dip [24] that's bolstered by delicate ricotta cheese — bonus points if you make your own ultracreamy ricotta [25].
Photo: Leta Shy
Shredded Kale and Brussels Sprouts Salad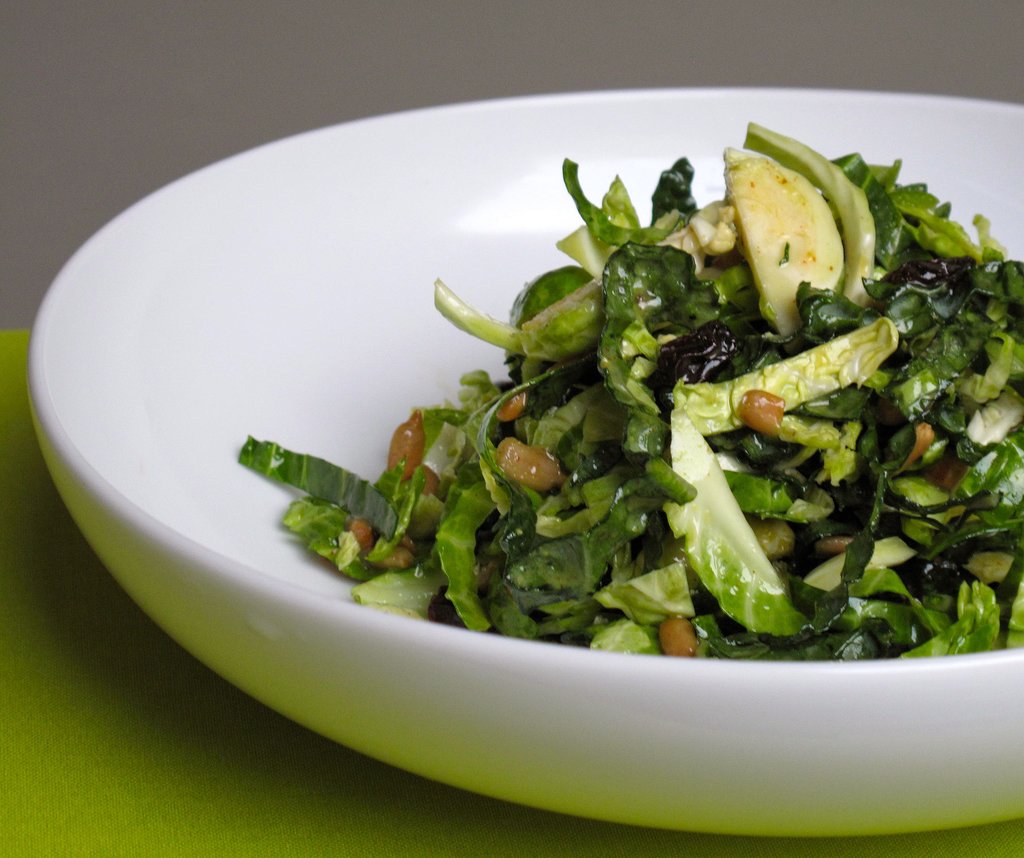 A constant fixture on our tables, this ribboned kale and brussels sprouts salad [26] is heartier than most, mighty delicious, and highly adaptable (just stick to some sort of tart fruit and salty nut combination). Take a stab at it whether you have all of the ingredients stocked or not!
Photo: Susannah Chen
Maple Bacon Kale Chips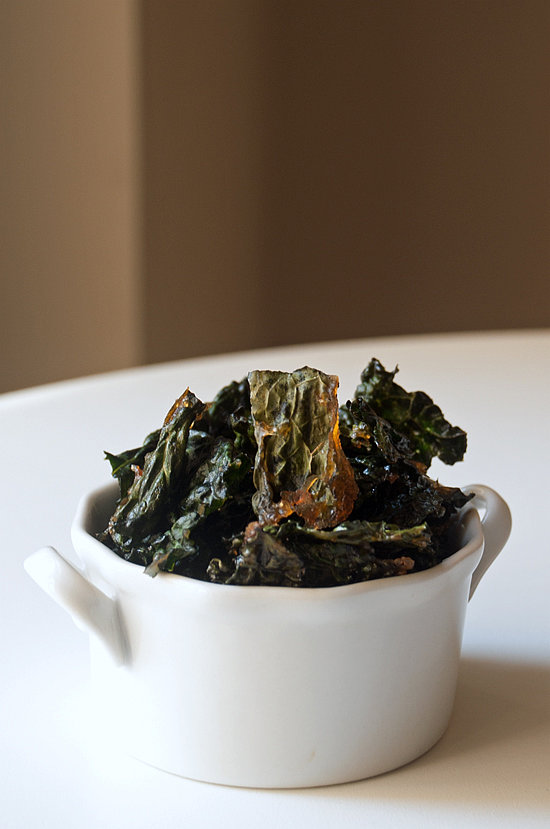 Kale chips never tasted as naughty (or nice) as these maple bacon crisps [27] that are at once salty, savory, and sweet.
Photo: Nicole Perry
Kale and Chard Salad With Pomegranates and Hazelnuts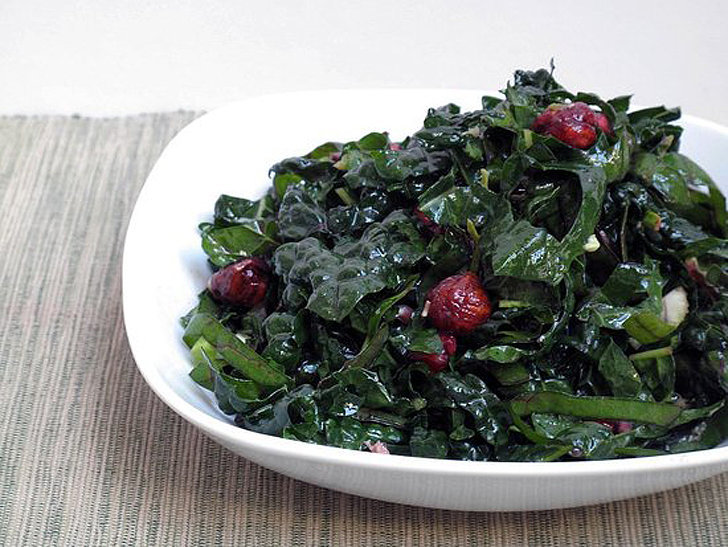 Swiss chard and lacinato kale make for quite the dynamic duo in a pomegranate-hazelnut green salad [28], perfectly fit for the season.
Photo: Susannah Chen
Miso-Glazed Kale and Shiitakes With a Poached Egg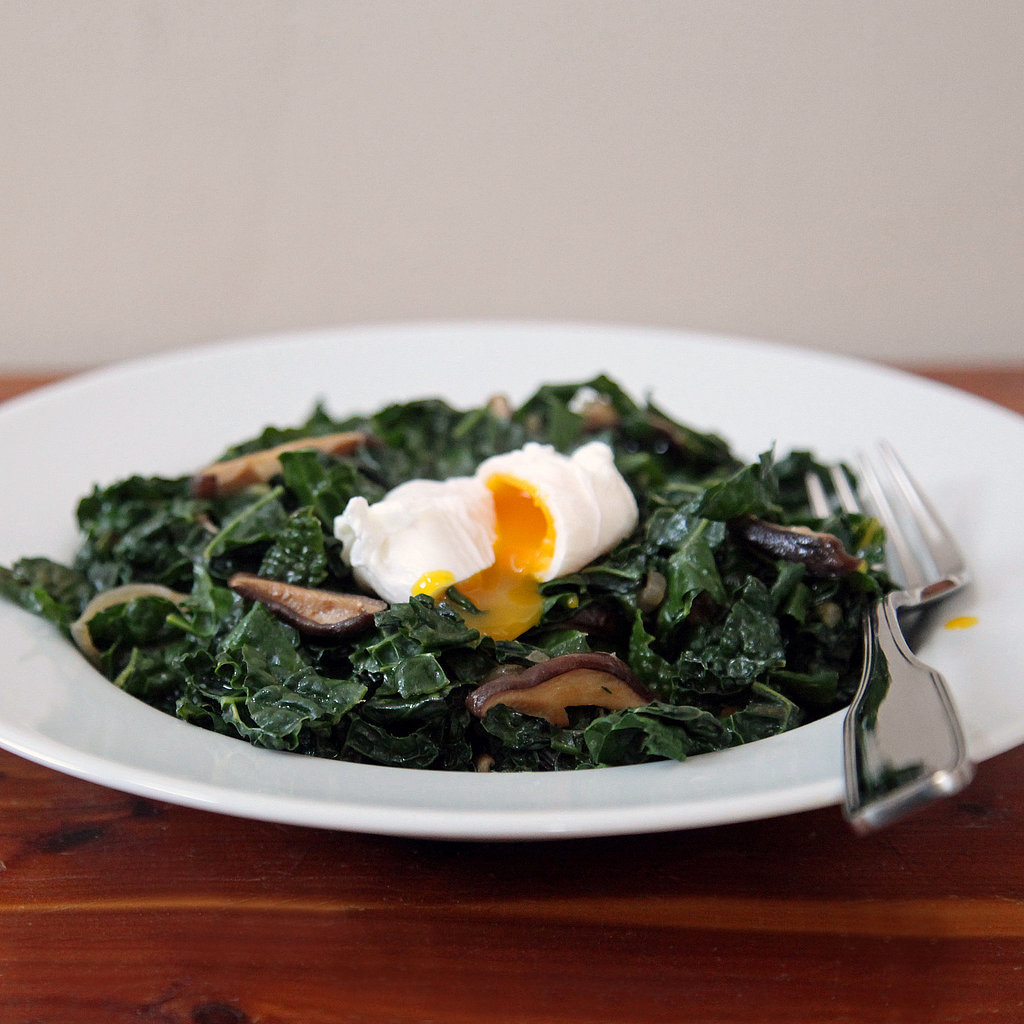 For a big plate of greens that doesn't skimp on flavor, try miso-glazed kale with shiitake mushrooms [29], and top it all off with a poached egg.
Photo: Nicole Perry