Apr 21 2011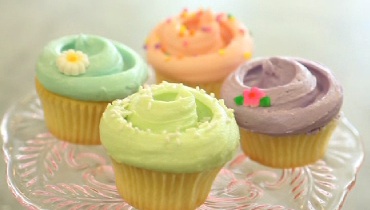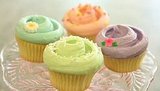 Ingredients
1 cup unsalted butter, at room temperature
4 large eggs, at room temperature
1 cup whole milk
1 teaspoon pure vanilla extract
1 1/2 cups self-rising flour (recommended: Aunt Jemima)
1 1/4 cups cake flour, (recommended: Pure as Snow), spoon flour into a dry measure cup and level off
2 cups granulated sugar
Directions
Preheat oven to 350°F degrees.
Line 2 cupcake pans with paper liners.
Chop the butter into 1-inch cubes and set aside.
Whisk eggs together in a stainless steel bowl, set aside.
Measure and combine milk and vanilla, set aside.
In a mixing bowl, combine the self-rising flour, cake flour, and sugar. Using the paddle attachment, mix for 2 minutes on low speed.
With the mixer on low speed add the butter one cube at a time - use the guard for the mixer and be careful - do not rush. Butter should be in small pieces.
Add 1/2 of the milk and vanilla mixture.
Scrape the bowl and mix on medium speed for 1 minute.
Slowly pour eggs and the rest of the milk mixture into the bowl on low speed.
Scrape bowl and continue mixing for 1-2 minutes.
Scoop the batter into the prepared cupcake pans.
Bake for 23 minutes or until cake tester comes out clean.
Makes 2 dozen cupcakes.


Vanilla Buttercream Frosting
1 cup (2 sticks) unsalted butter, at room temperature
1 teaspoons vanilla extract
1 box (4 cups) confectioners' sugar
2 – 3 tablespoons whole milk
Cream the butter in a large mixing bowl. Add the vanilla.
Gradually add sugar one cup at a time. Scrape down sides of bowl often. When the mixture starts to thicken and appears dry add 2 tablespoons of milk.
Beat on medium speed until smooth and creamy about 2-4 minutes. Add more milk as needed if you want a thinner consistency. If desired, add a few drops of food coloring and mix thoroughly.
Store the icing at room temperature. Icing can be stored in an airtight container for up to 3 days.
Information
Category

Desserts, Cupcakes

Cuisine

North American