There's no denying the health benefits of the Mediterranean diet [1], and the fact that the dishes taste so delicious is a major bonus. You might not be able to travel to the waters of Greece or Italy, but you can still get the yum factor right at home with these recipes rich in nuts, vegetables, beans, olive oil, and fish. You'll want to try them ASAP, since many are springtime staples.
Asparagus, Scallion, and Cucumber Salad
We don't know if we could call out a more appropriate springtime salad; this asparagus, scallion, and cucumber appetizer [2] is the ultimate mix of crunch and zest, Mediterranean style.
Mediterranean Layered Dip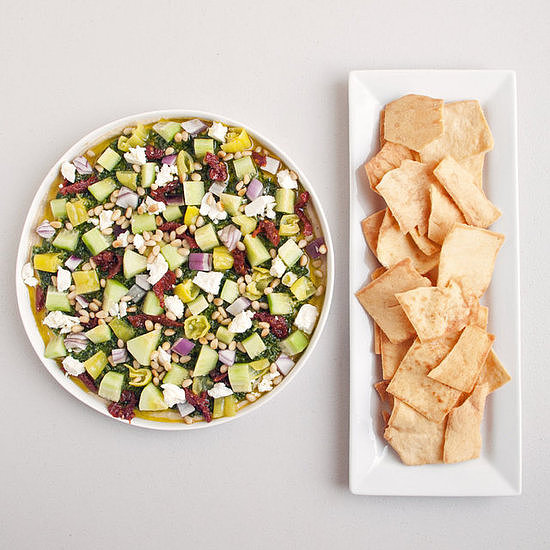 If seven-layer dip isn't your thing but you're looking for a similar alternative, then check out this tangy Mediterranean dip [3]. It calls for garlic, sun-dried tomatoes, feta, and a whole lot more for what we like to call eight layers of gold.
Artichoke and Mushroom Salad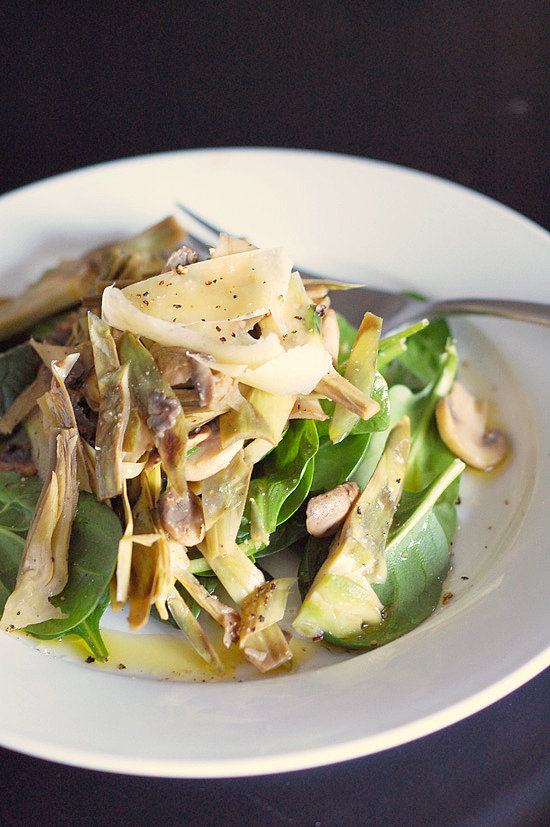 This artichoke and mushroom salad [4] has all the makings of a Mediterranean pleaser: a base bed of spinach, parmesan shavings, a drizzle of olive oil, and a squeeze of lemon juice.
Mediterranean Quiche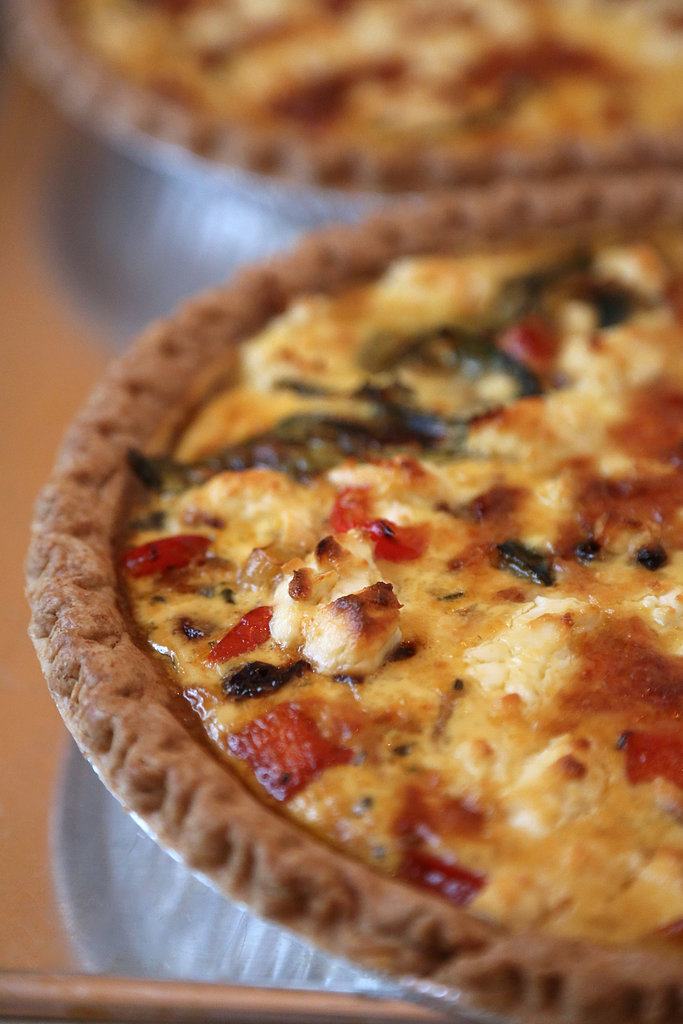 One of the best parts about this vegetarian Mediterranean quiche [5] is that you can enjoy it no matter what time of day. Sautéed onions, zucchini, red peppers, and sun-dried tomatoes mix with gruyère and goat cheese for a richness that will be hard to put down.
Spaghetti With Garlic and Olive Oil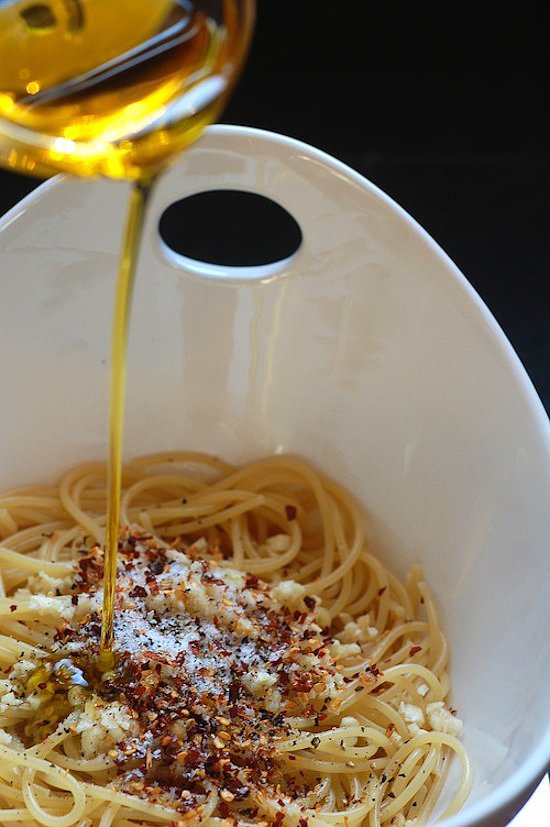 Garlic and olive oil are arguably two of the most popular ingredients in the Mediterranean diet. Enjoy both of them when you cook up this simple but savory spaghetti recipe [6] that also incorporates chili flakes.
Greek Salad Bites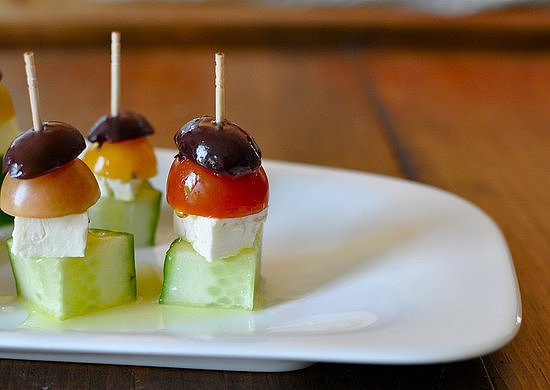 The easiest, freshest, and most flavorful app we can think of? Greek salad skewers [7]. All it takes is a fast chop of the ingredients (cucumber, feta, tomatoes, and olives), making sure you have the right portion of each, and a drizzle of olive oil.
Walnut Pesto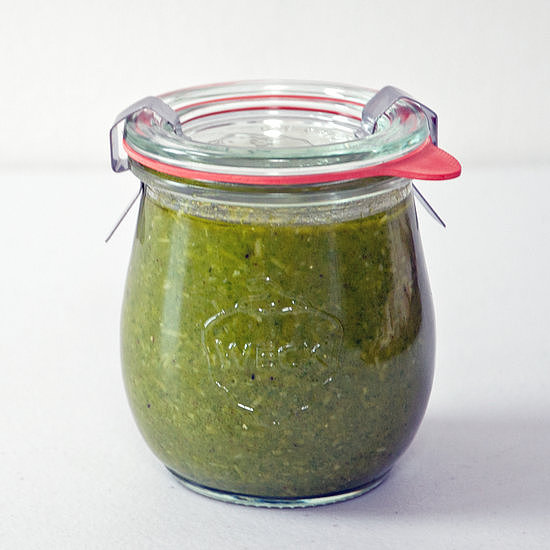 There's no denying the important role pesto plays in Mediterranean dishes. For a simple twist on the Genovese pesto that calls for pine nuts, try this zesty version made from walnuts [8] instead.
Cod With Asparagus in Parchment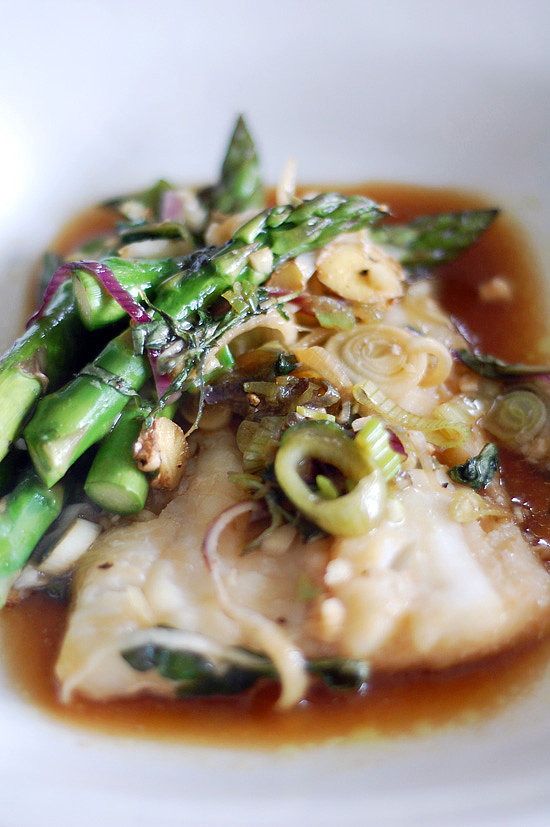 Fish, unsurprisingly, is a mainstay of the Mediterranean diet. Don't be intimidated by a dish like cod and asparagus en papillote [9], though — the recipe that calls for basil, spring onion, and soy sauce is easier than you think.
Greek-Spiced Baked Shrimp
If you like seafood and tomatoes, then this Greek shrimp recipe [10] is for you. It's simple enough that you can make in under an hour — really! — but complex enough in flavor that you'll feel you're dining in another country.
Marinated Olives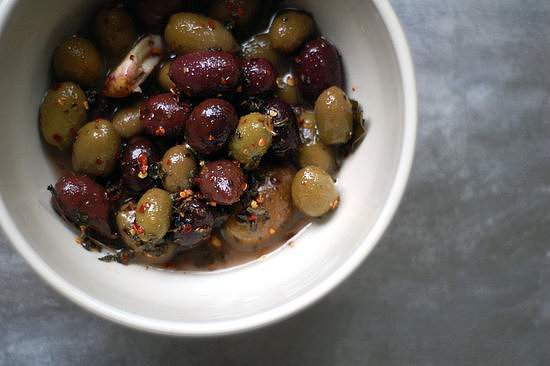 Olives are a pretty divisive food, but even the haters will want to convert after they try these spicy marinated olives [11]. The great thing is that the recipe, infused with chili flakes, doesn't require much to put together.
Cinnamon-Spiced Eggs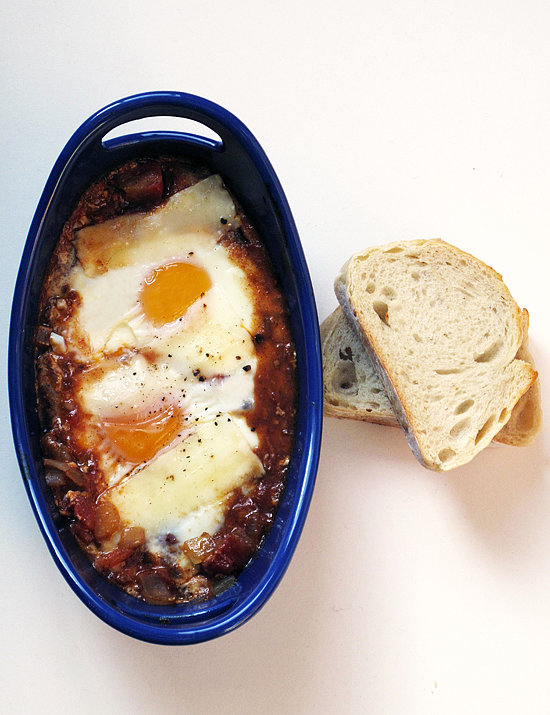 We like to call this one a Mediterranean twist on eggs in purgatory. The result? Savory cinnamon-spiced eggs [12] that are prepared in a slow-simmered clove, onion, and tomato sauce.
Spiced Carrot Soup With Chickpeas and Tahini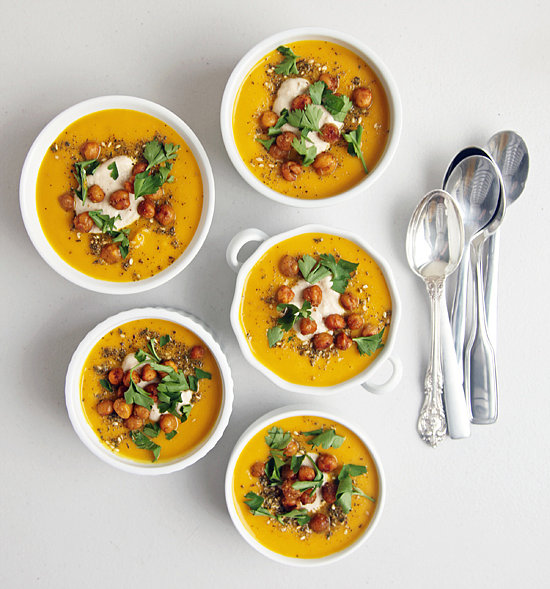 Tahini and chickpeas may not be the stars of this spiced carrot soup [13], but the Mediterranean staples sure provide loads of textural and flavor kicks.
Minty Spring Pea Salad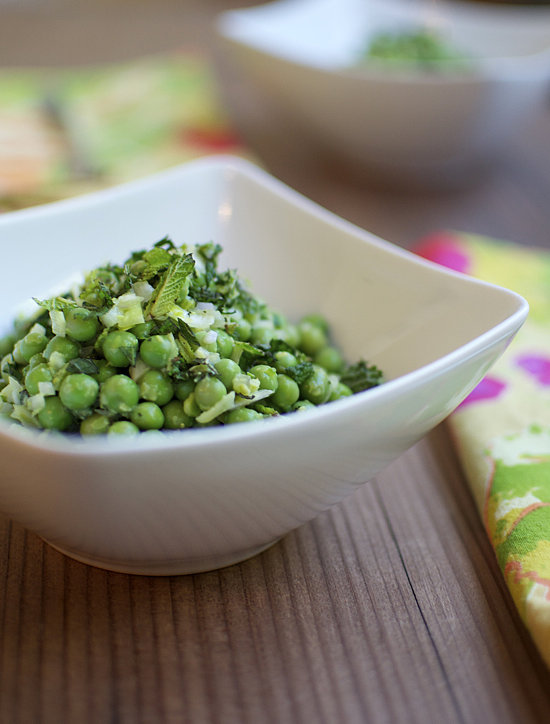 It's the first lady's very own recipe, and one that's perfect for the season. The Spring salad [14] calls for many Mediterranean favorites: we're talking fresh green peas (only in season until the Summer), shallots, leeks, mint leaves, and olive oil.
Burrata-Stuffed Squash Blossom Recipe
Forget squash blossoms that are stuffed with creamy cheese and deep fried. This lighter version of burrata-stuffed squash blossoms [15] with olive tapenade is ideal for a Mediterranean-themed dinner — or any dinner party, for that matter.
Lemon and Lavender Chicken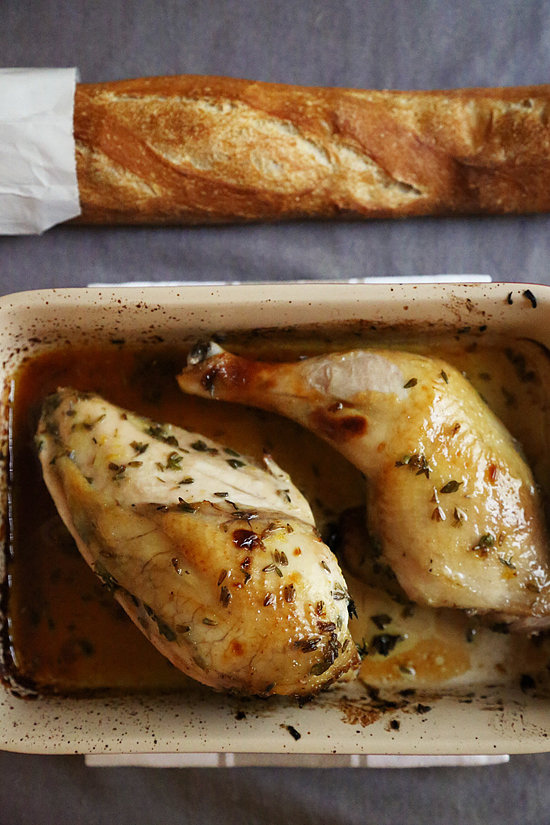 A French-inspired lemon and lavender chicken [16] hits all the right sweet and savory notes, providing just enough floral flavor and herbaceousness to perk you up on a blustery night.
Sesame Tahini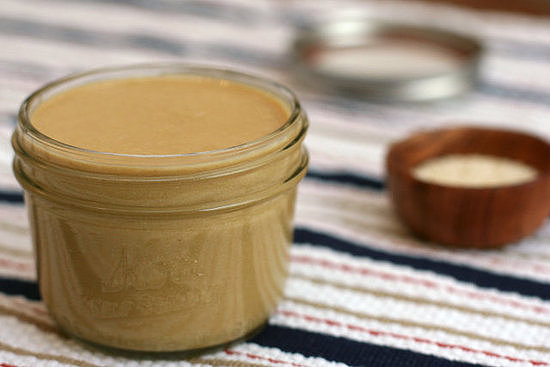 Spread on toast or used in sauces, homemade tahini [17] is a Meditarranean favorite no one should go without. Aside from its versatility, another plus is that the sesame seed paste is easier to make than you'd think.
Olive Tapenade Tart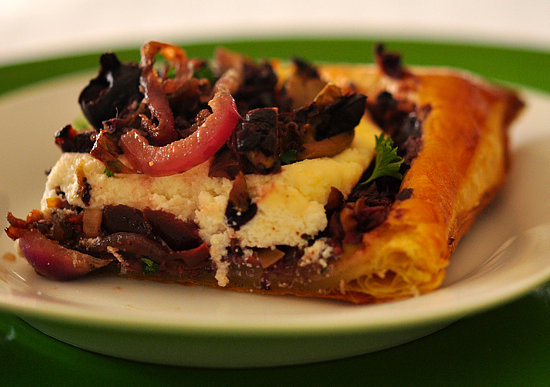 Don't bother ordering pizza the next time you want a puffy bite. One taste of this pastry tart [18] (topped with ricotta cheese, caramelized onions, and homemade olive tapenade) and you'll crave it morning, day, and night.
Herbed Feta Biscuits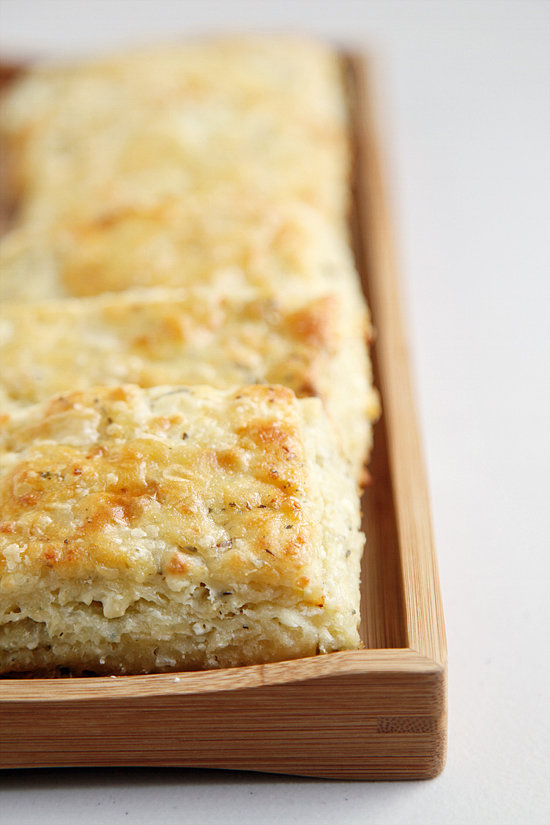 Our mouths are watering again just looking at this picture of feta-studded herbed biscuits [19]. They might not be what you traditionally think of as Mediterranean food, but the two classics make for one tasty treat.
Mango, Cucumber, and Watermelon Salad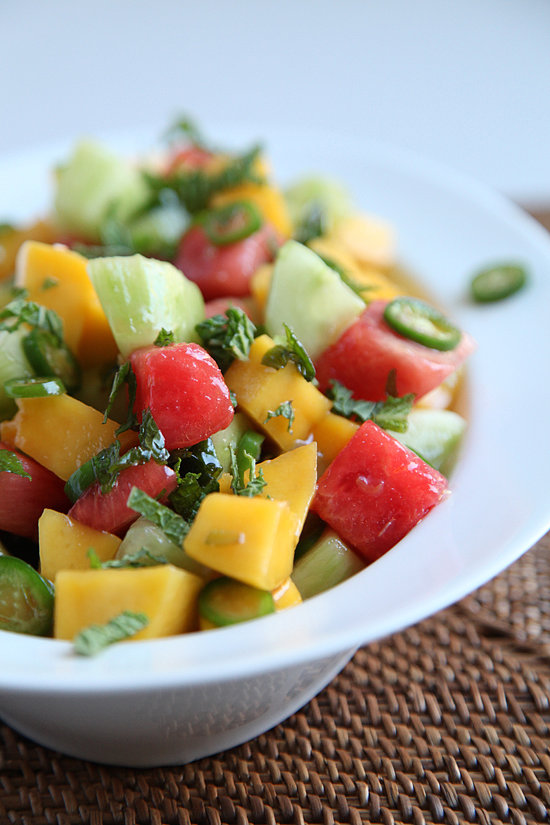 Fruit salad and fish sauce? Yup, that's right. This fruit salad [20] that calls for mango, cucumber, and watermelon is both sweet and salty and will keep you guessing bite after bite.
Greek Chicken Wings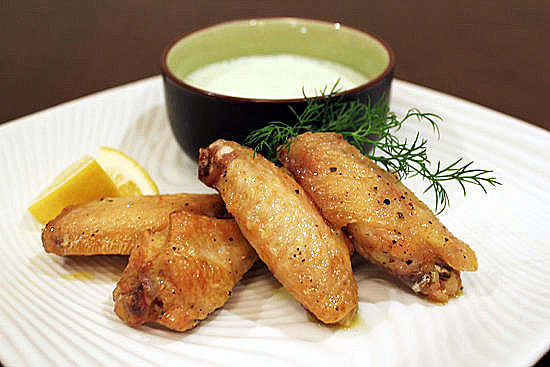 OK, so chicken wings [21] aren't what you usually think of when you hear "Mediterranean diet." But we have a feeling this tangy lemon-pepper recipe dipped in velvety yogurt sauce with cucumber and feta will change your mind.