Pickles in Under Three Hours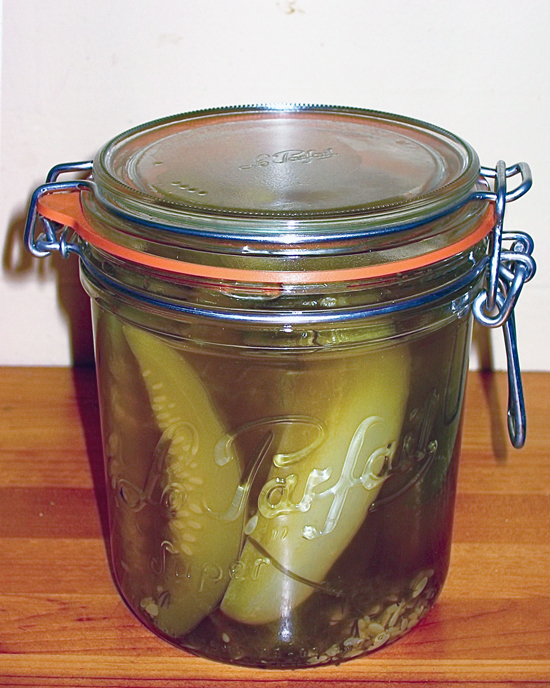 National Pickle Month may be coming to a close, but pickles are delicious in any month. With a bounty of Summer produce and the rising costs of prepared food, more and more people are taking up home canning. Because pickles happen to be one of my favorite snacks, I decided to take a stab at making them. However, I'm an impatient cook, an attribute that isn't conducive to making pickles. When I came across this recipe for quick dill pickles, I knew it was perfect. To see how these spears went from cucumbers to pickles in under three hours, read more.
Ingredients
1 pound pickling (Kirby) cucumbers, each sliced into 4 spears
1 tablespoon kosher salt
1 tablespoon black peppercorns
1 tablespoon dried dill weed
6 garlic cloves, smashed
1 1/2 cups distilled white vinegar
1/2 cup ice
Directions
Toss cucumbers with salt in a colander set over a bowl. Let stand 1 hour. Discard liquid.
Place peppercorns, dill weed, garlic, and 1/2 cup fresh dill in paper coffee filter or several layers of cheese cloth, and tie tightly with kitchen twine. Bring spice bag and vinegar to a boil in medium saucepan.
Reduce heat to low and add cucumbers. Cover and cook until cucumbers turn a dull olive brown, about 5 minutes. Discard spice bag.
Transfer cucumbers and liquid to glass bowl, add ice, and stir until melted. Stir in remaining 1 tablespoon fresh dill.
Refrigerate, uncovered, at least 1 hour before serving. Pickles can be refrigerated in a covered container for up to 2 weeks.
Makes 1 jar of pickles.
Information
Category

Condiments/Sauces, Other

Cuisine

North American