Seelbach Cocktail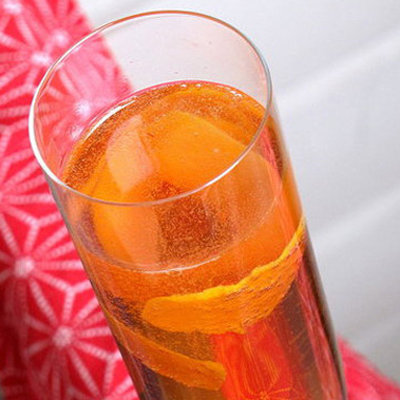 Toast to 2013 with a pre-Prohibition era Southern tipple, the Seelbach cocktail [1].
Peppery Ranch Cheese Ball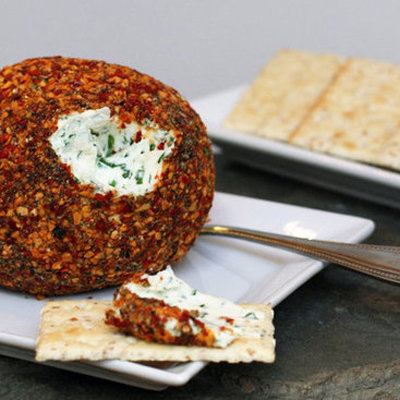 Seasoned pepper adds a kick to this nouveau spin on the traditional party appetizer, the cheese ball [2].
Champagne Cupcakes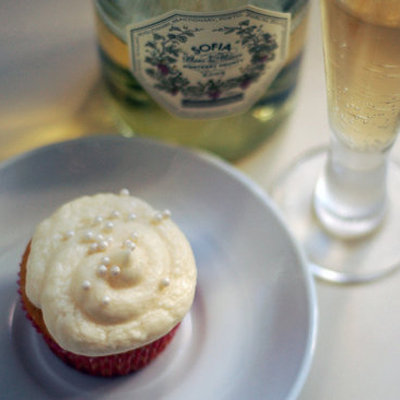 Champagne cupcakes [3] allow you to have your bubbly and eat it, too!
Spinach and Artichoke Stuffed Mushrooms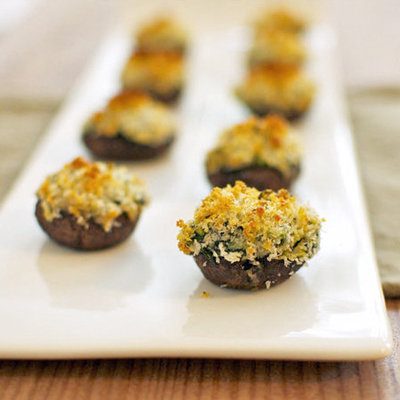 If you're on the search for the perfect New Year's Eve appetizer, look no further than classic spinach and artichoke stuffed mushrooms [4].
Marinated Goat Cheese and Olives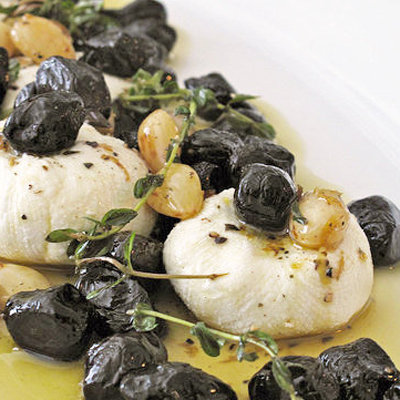 Last-minute festivities call for an easy appetizer, like marinated goat cheese with olives [5].
Turkey-Cranberry Wreath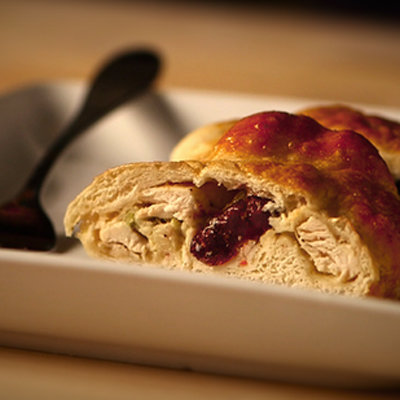 Make holiday leftovers feel new again in a fast and easy turkey-cranberry wreath [6].
Roasted Chestnuts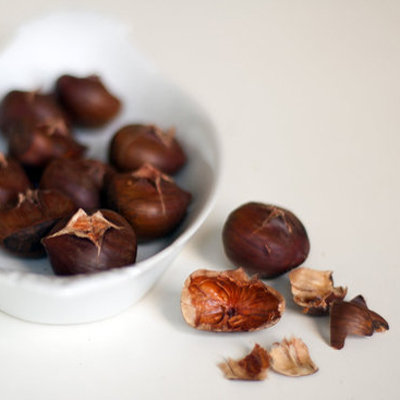 Gather 'round the hearth and ring in Christmas with freshly-roasted chestnuts [7].
Limoncello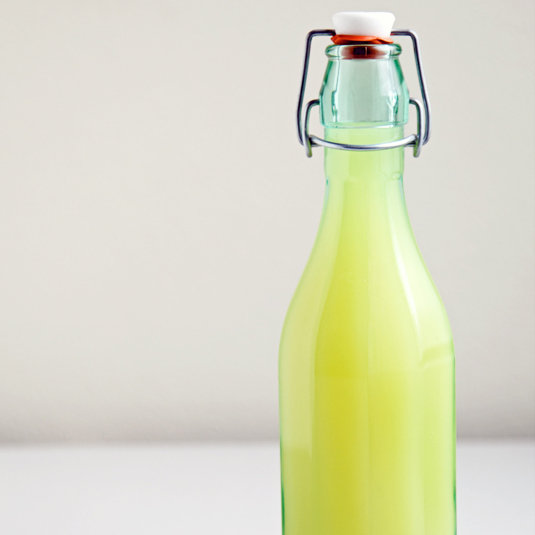 Homemade limoncello [8] is a great gift and makes for a tasty cocktail when paired with sparkling wine.
Savory Pumpkin Quinoa Cakes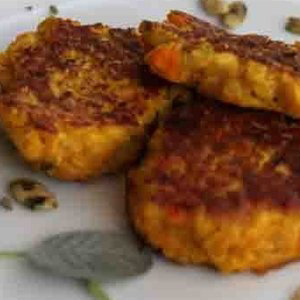 These pumpkin quinoa cakes [9] will be a hit not only among your vegetarian guests, but also the entire party!
Roasted Butternut Squash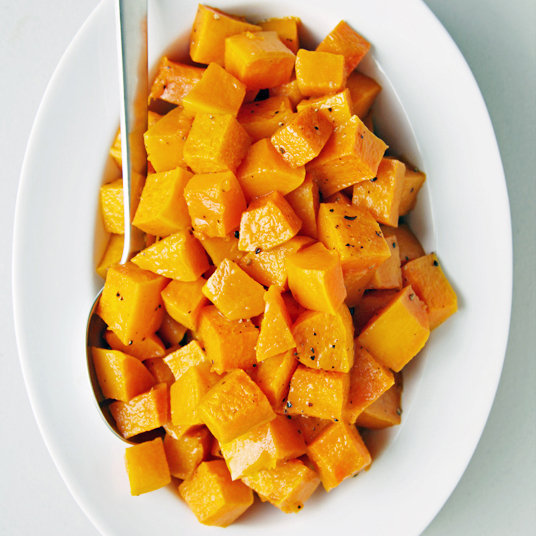 Once you know how to roast butternut squash [10], there are endless ways to use it this season!
Chocolate Marshmallow Crinkle Cookies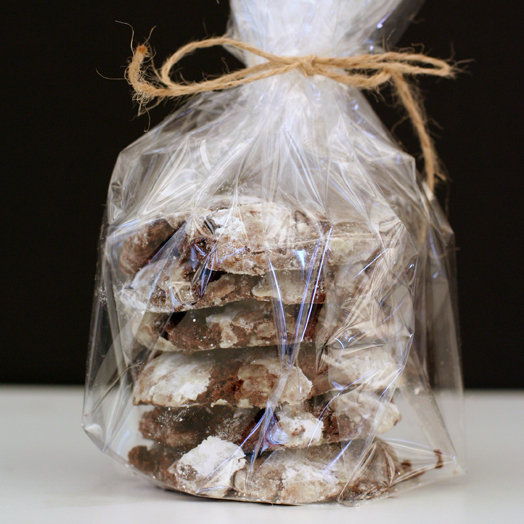 Have a cookie exchange this week? You must make these gooey chocolate marshmallow cookies [11]!
Crispy Brussel Sprouts With a Garlic Aioli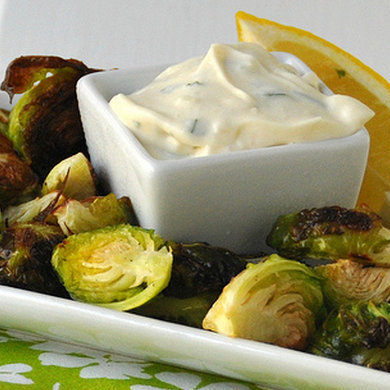 Pair brussel sprouts with this garlic aioli [12] for a tasty side dish.
Roasted Applesauce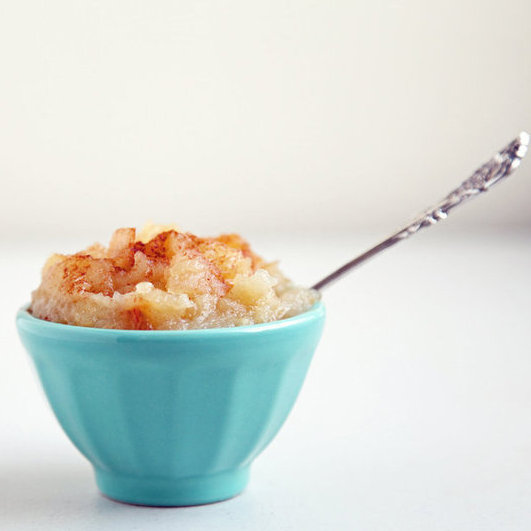 Who said applesauce was just for kids? Opt for making this roasted applesauce [13] rather than buying it off the shelf at the store.
Cinnamon Rolls With Cream-Cheese Icing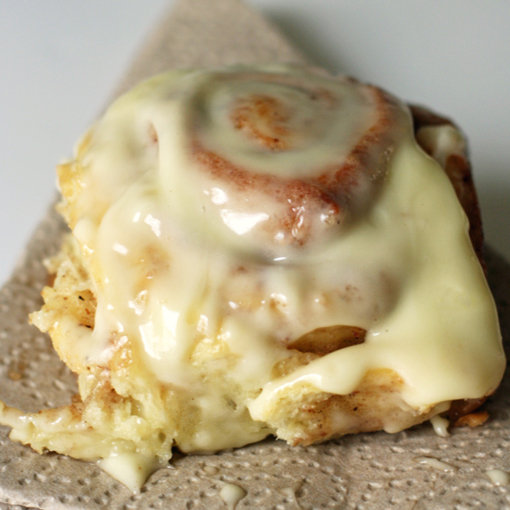 Indulge in everyone's favorite breakfast sweet and try your hand at making these homemade cinnamon rolls [14].
Mushrooms Stuffed With Creamy Spinach-Artichoke Filling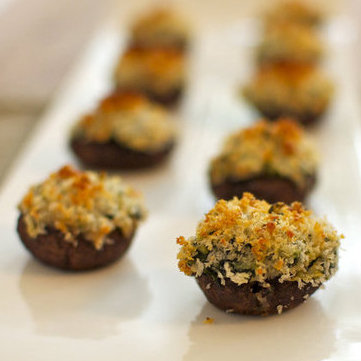 These stuffed mushrooms [15] are an easy and delicious bite-size appetizer.
Banana Nut Bread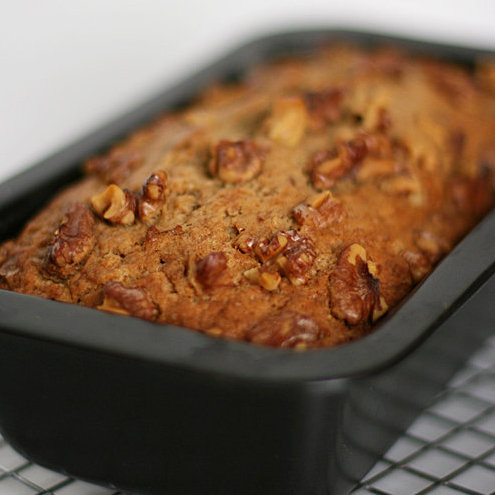 Make a loaf, or two, of this banana nut bread [16] this holiday season.
Chickpea, Red Pepper, and Spinach Salad
The vinaigrette in this spinach salad [17] will make this your new favorite salad!
Peppermint Cookies and Cream Clusters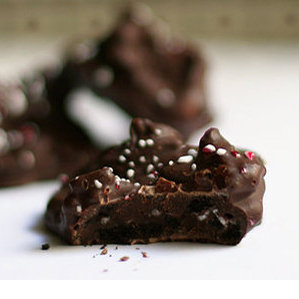 Bring these peppermint cookies [18] as a hostess gift to your next party!
Apple Pear With Seasame Steak Salad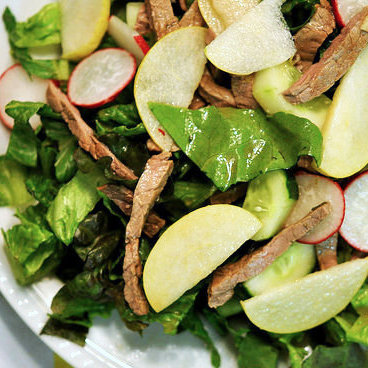 This Asian-influenced salad [19] is a great way to use apple pears.
Bourbon Pecan Pie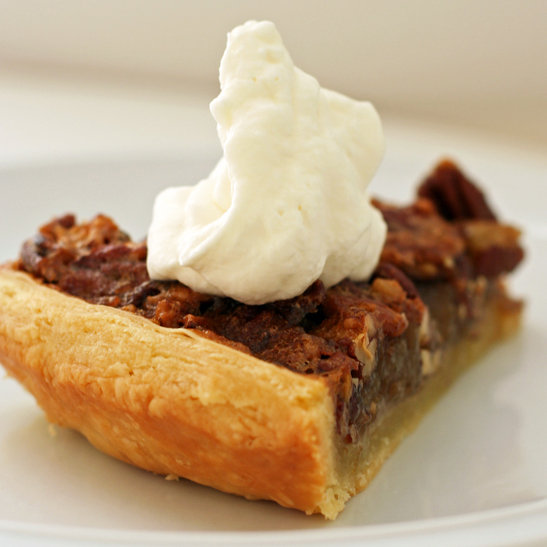 bourbon pecan pie [20] is the perfect pie to make this holiday season!
Baileys Hazelnut Coffee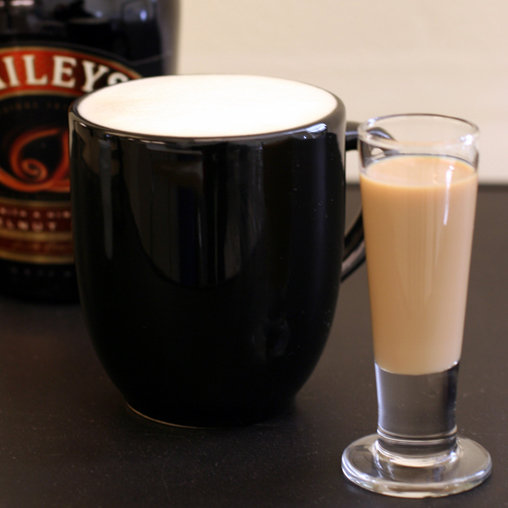 We would love to snuggle up by the fire and sip on some Baileys hazelnut coffee [21] on a cold Winter evening.
Gingersnap Cocktail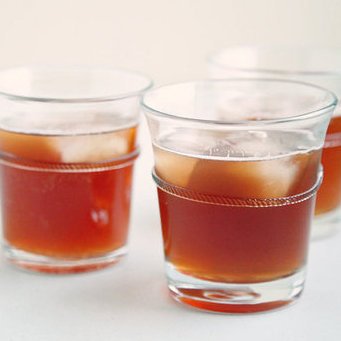 Guests will love this spicy gingersnap cocktail [22] this Winter.
Classic Dark Chocolate Truffles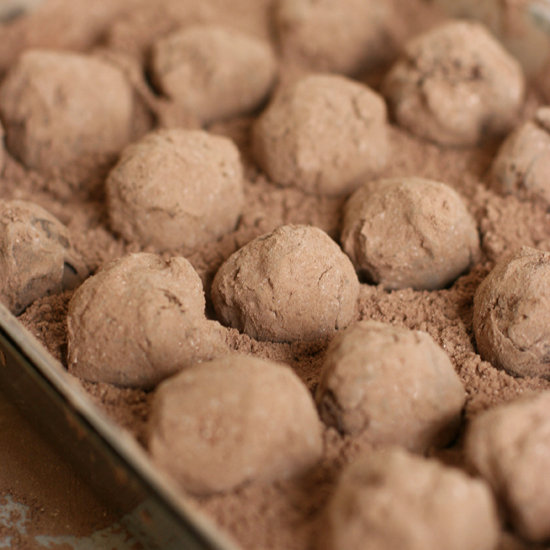 There's nothing like a diving into a rich chocolate truffle [23] especially if it's made by you!
Cardamom Black Pepper Granola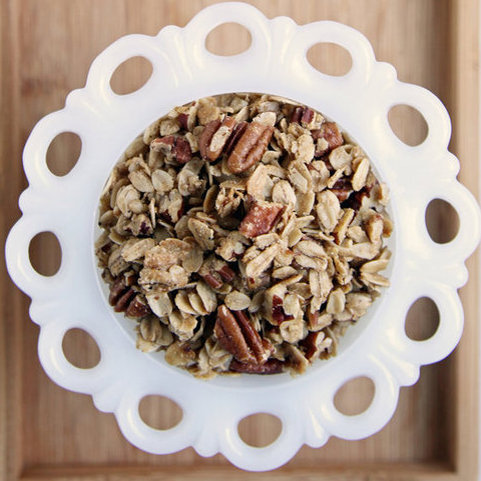 Add some holiday flavor to your granola [24] by adding some cardamom.
Breaded Pork With Mustard Sauce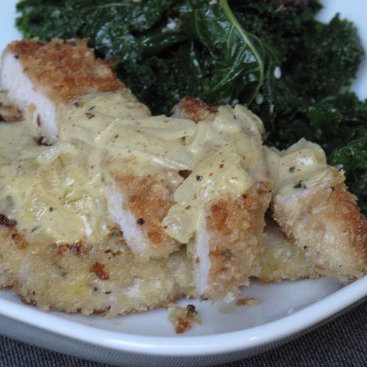 Try making pork tonight instead sticking with chicken. These breaded pork cutlets [25] are an easy dinner to make.
Turkey and Rice Soup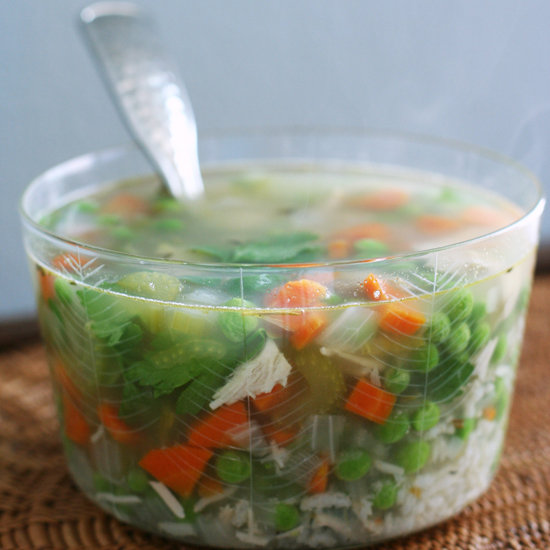 Still craving turkey? Warm up with a bowl of this turkey and rice soup [26].
French Lentil Salad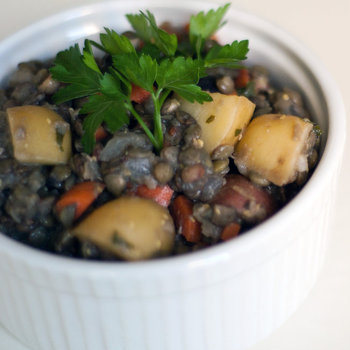 A French lentil salad [27] is the perfect flavorful and filling winter salad.
Rosemary-Sesame Pecans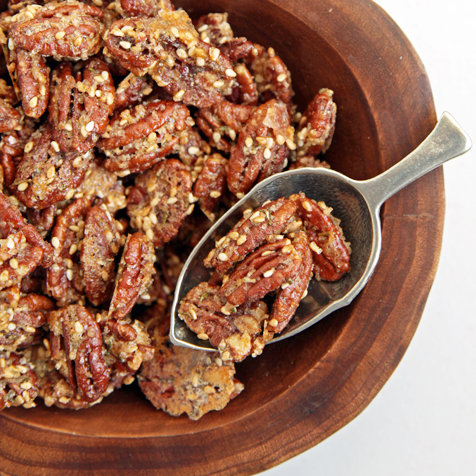 These rosemary-sesame pecans [28] are sure to be a crowd-pleaser at your holiday party this season.
Cali Mayflower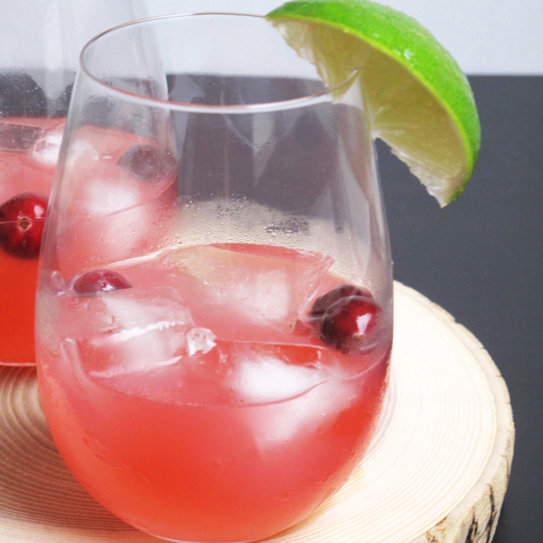 'Tis the season to use cranberries so try using them in a cali mayflower [29].
Spicy Turkey Tacos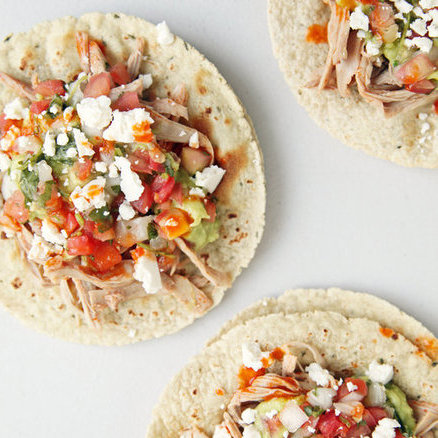 Turkey tacos [30] are a good way to use turkey leftovers without all the carbs.
Vegan Almond Thumbprints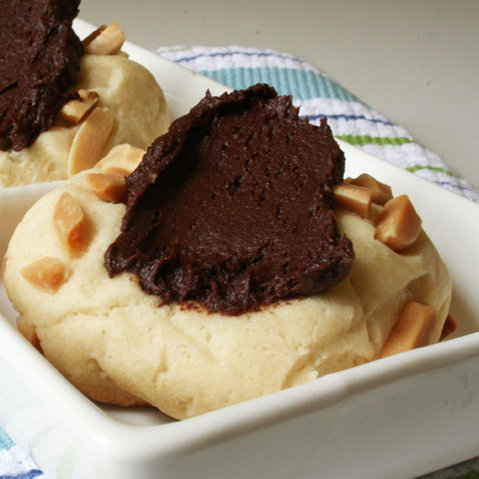 These vegan thumbprint cookies [31] have chocolate buttercream for a rich addition to a simple cookie.
Turkey and Cranberry Quesadillas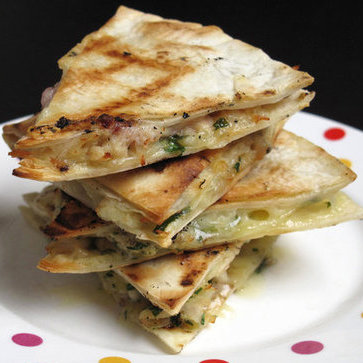 Still have leftover turkey? Try making these turkey and cranberry quesadillas [32] rather than the traditional turkey sandwich.
Green Bean and Mushroom Casserole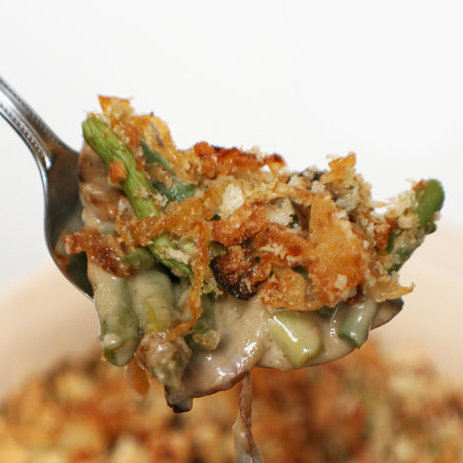 Try this green bean casserole [33] that has a Japanese kick.
Turkey Club Sandwich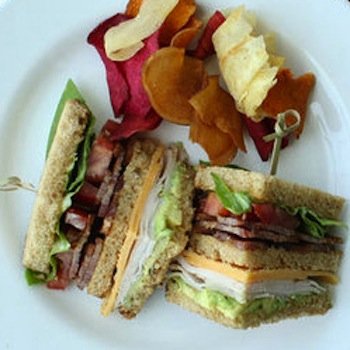 Put your turkey leftovers to good use with this turkey club sandwich [34].
Pomegranate-Hazelnut Winter Greens Salad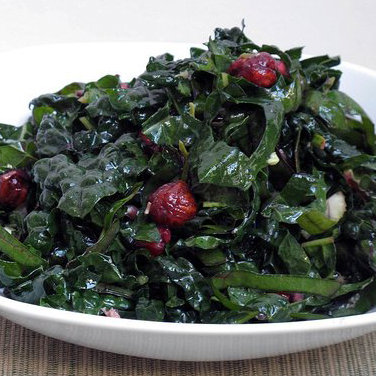 This pomegranate-hazelnut salad [35] would look pretty on the table at any holiday party.
Cranberry-Swirled Gingerbread Cake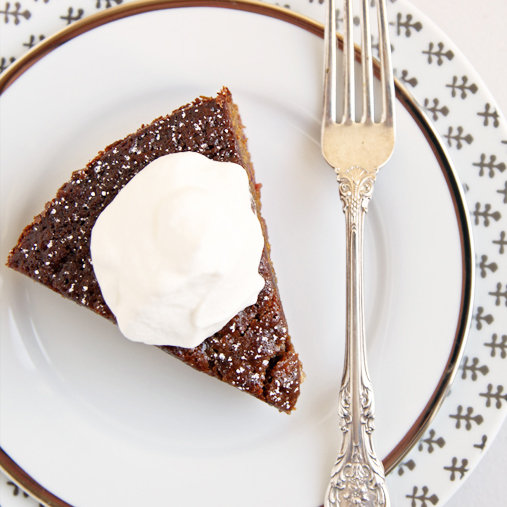 This cranberry gingerbread cake [36] is a delicious departure from a traditional pie or cake.
Easy Herb-Roasted Thanksgiving Turkey
Need an easy and flavorful way to season your turkey today? Try this brine-free herb-roasted turkey [37].
Cream Gravy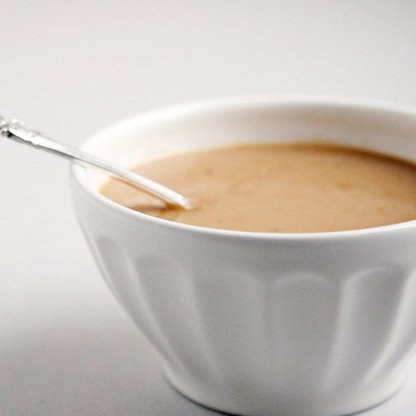 It is necessary to have a creamy gravy [38] to enjoy with any item on your plate.
Creamy Mashed Potatoes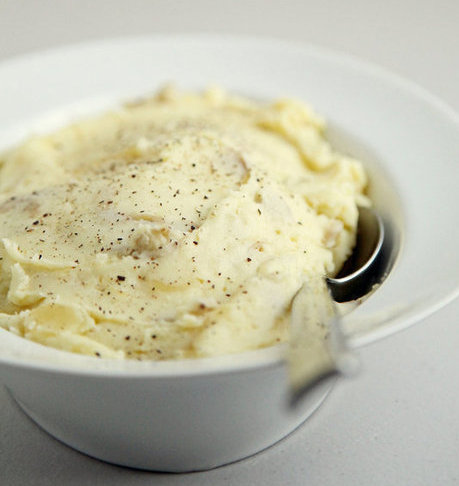 Who doesn't love diving into a plate of creamy mashed potatoes [39] on Thanksgiving?
Millet, Lentil, and Pomegranate Salad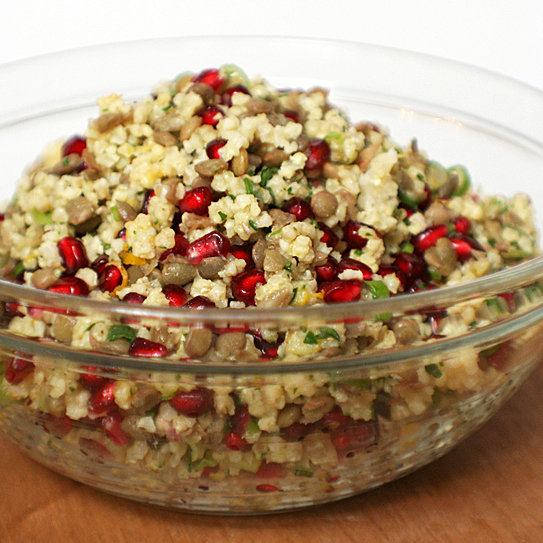 Break away from a traditional salad this Thanksgiving and serve this lentil salad [40].
Sugar Cookies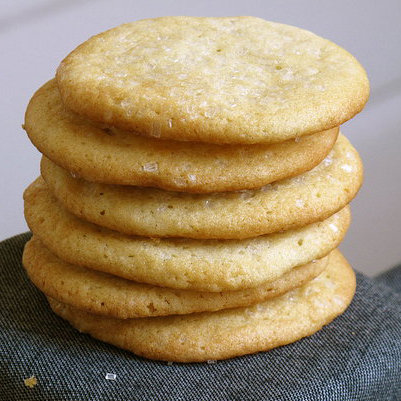 The holidays are here, which means baking season is here. Try this easy sugar cookie [41] recipe.
Peppery Ranch Cheese Ball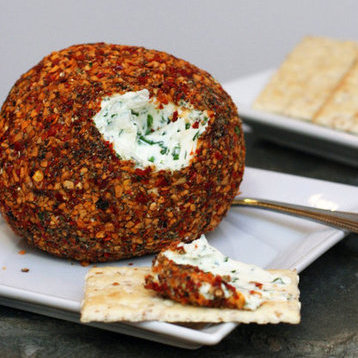 Planning the Thanksgiving menu? This cheese ball [42] is sure to be a hit for predinner munching.
Pumpkin Irish Coffee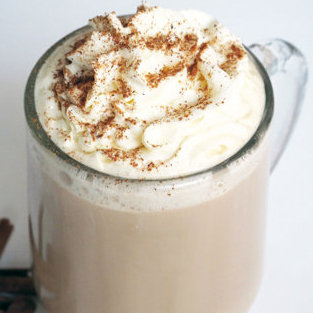 Warm up by adding a pumpkin kick to your irish coffee [43].
Brie With Caramel and Sliced Almonds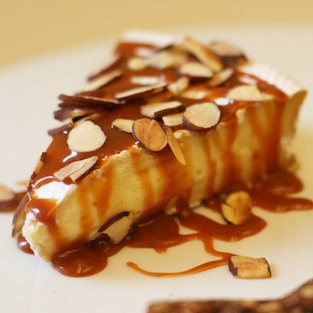 Who doesn't love a good brie appetizer [44]? Try this unique pairing of brie and caramel at your next party.
Spicy Mango, Papaya, and Cabbage Slaw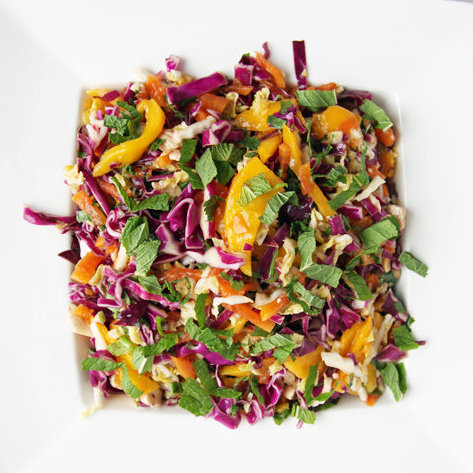 Spice up your daily lunch routine at work with this cabbage slaw [45].
Chipotle Chili Hack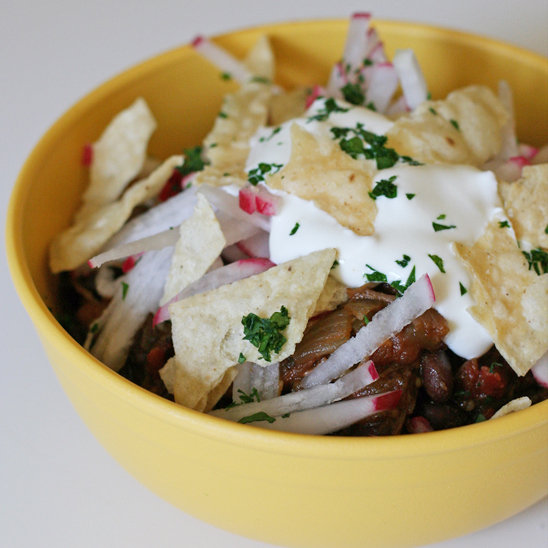 You might not be able to enjoy this at Chipotle quite yet, but this chili recipe [46] tastes like a restaurant favorite!
Matcha Green Tea Ice Cream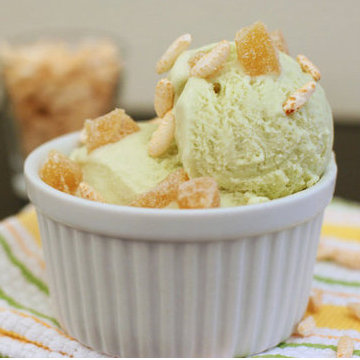 We all scream for this green tea ice cream [47].
Squash Casserole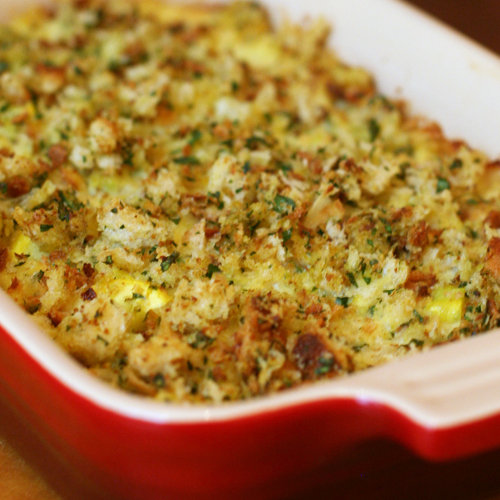 With Thanksgiving just around the corner, consider adding this squash casserole [48] to your menu.
Chai Snickerdoodles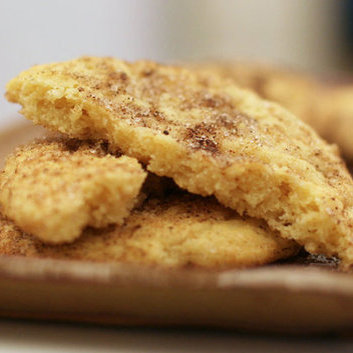 Forget about your chai tea in the morning, bake a batch of these chai snickerdoodles [49].
Negroni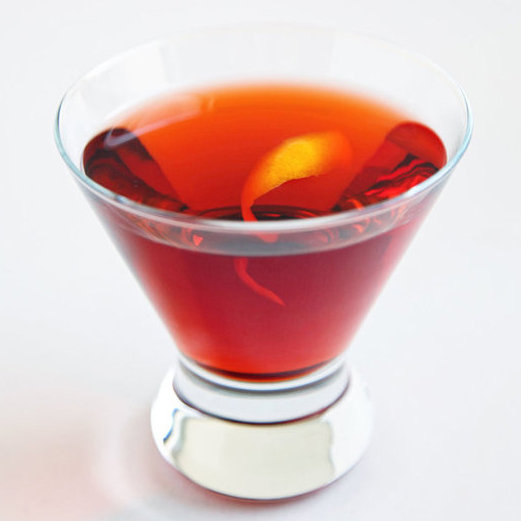 Stir up a negroni [50] for a classic bitter cocktail.
Mayo-Free Waldorf Salad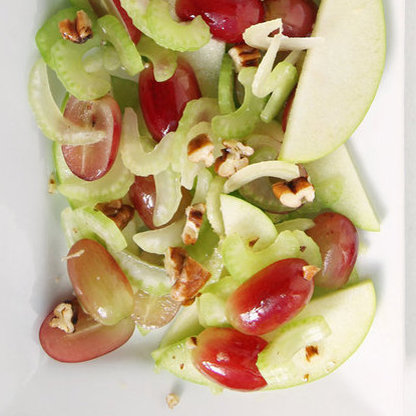 For those who dislike mayo, try this waldorf salad [51] for which you can ditch the mayo.
Gremolata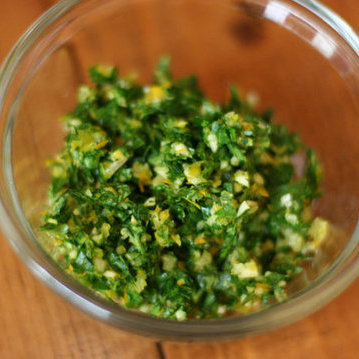 Gremolata [52] is an easy way to garnish your meal whether it's veal or even pizza or pasta.
Creamy Butternut Squash Soup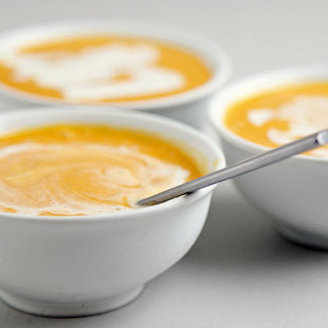 Make this butternut squash soup [53] for a delicious Fall meal that also works as a great leftover.
The Bipartisan Cookie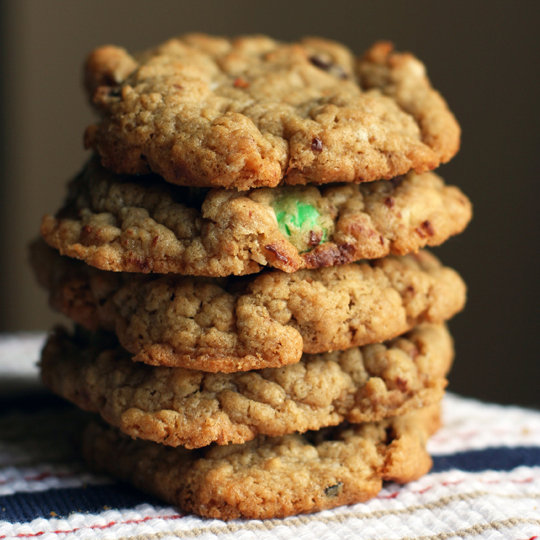 Election Day is tomorrow, so if you are still undecided about which candidate to support, get the best of both worlds with these bipartisan cookies [54].
Bacon-Wrapped Hot Dogs
The World Series is over, but that doesn't mean you can't indulge in some bacon-wrapped hot dogs [55].
Southern Exposure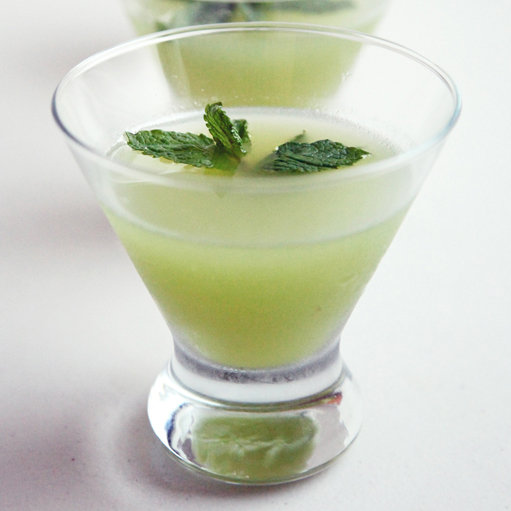 Mix up this classic celery-flavored cocktail [56] for a refreshing drink.
Zesty Taco Salad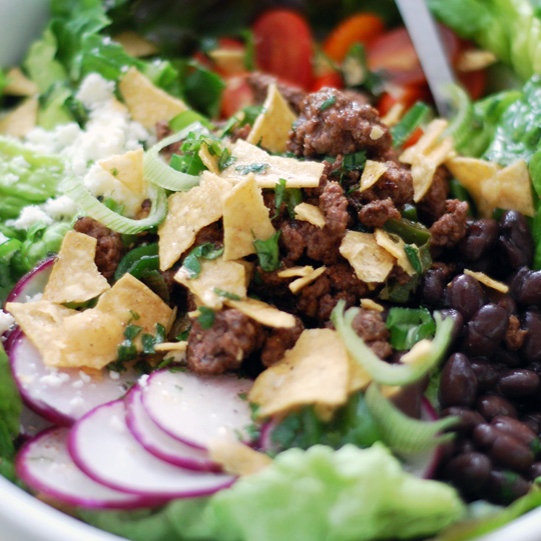 Get that delicious taco flavor in a healthy way with this taco salad [57].
Salmon Cakes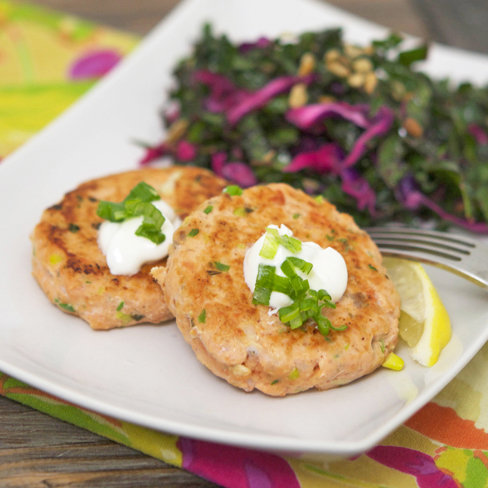 Salmon cakes [58] are a healthy dinner than can be made in less than 20 minutes!
Salted Chai Caramels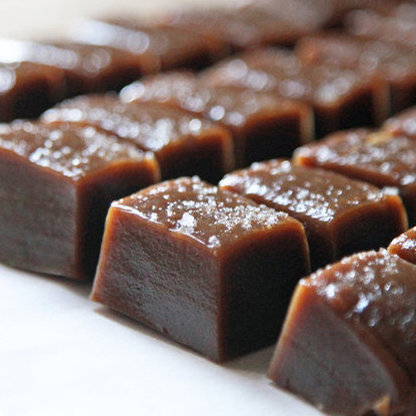 Opt for these salted chai caramels [59] this Halloween [60] night.
Cream of Mushroom Soup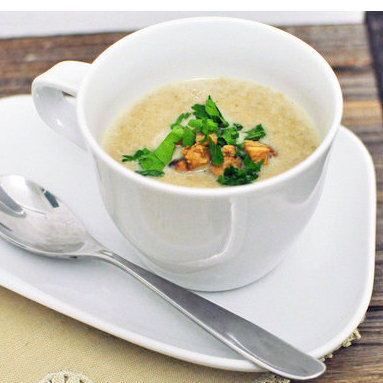 With Fall in full swing, try starting off a meal with this cream of mushroom soup [61].
Carrot Cupcakes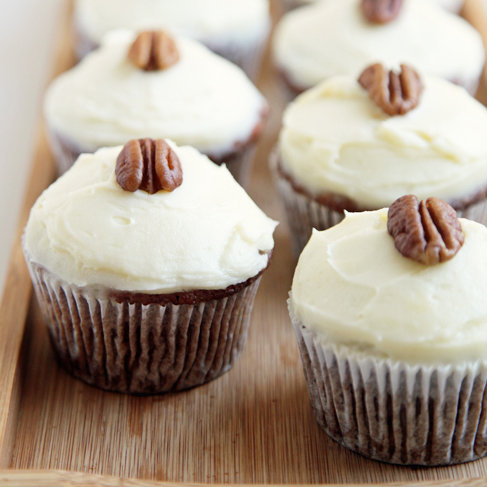 Who doesn't love a tasty carrot cupcake [62] with cream cheese frosting?
Homemade Breakfast Burritos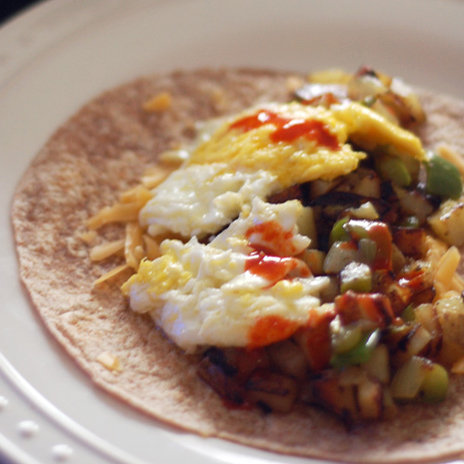 Rather than going to your favorite spot for Sunday brunch, make these breakfast burritos [63] at home.
Pomegranate Vodka Cocktail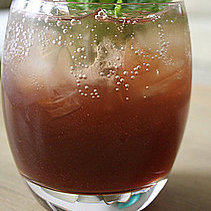 Try adding some ginger to your traditional pomegranate cocktail [64] for a fun twist.
Spicy Bacon Pasta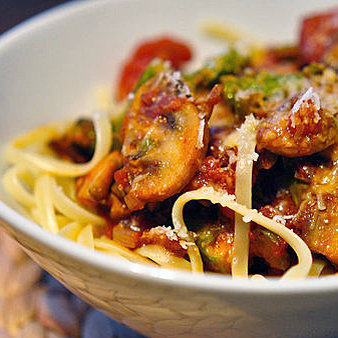 Add a kick to your pasta by adding some spice and bacon [65].
Fingerling Potatoes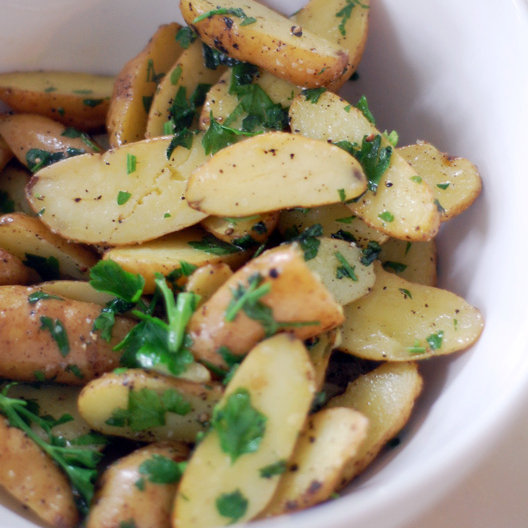 Compliment a meat dish with fingerling potatoes [66] seasoned with butter and parsley.
Roasted Figs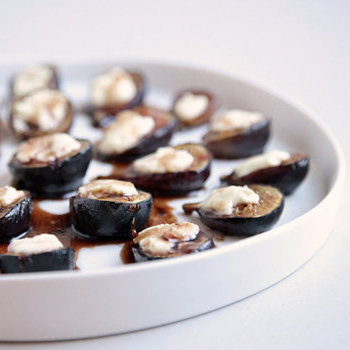 These roasted figs [67] are an elegant and easy option for your next party!
Clam Chowder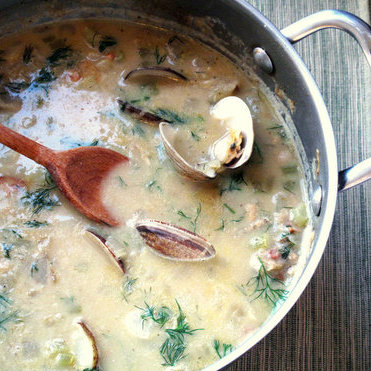 Warm up with this light take on clam chowder [68].
Banana Almond Smoothie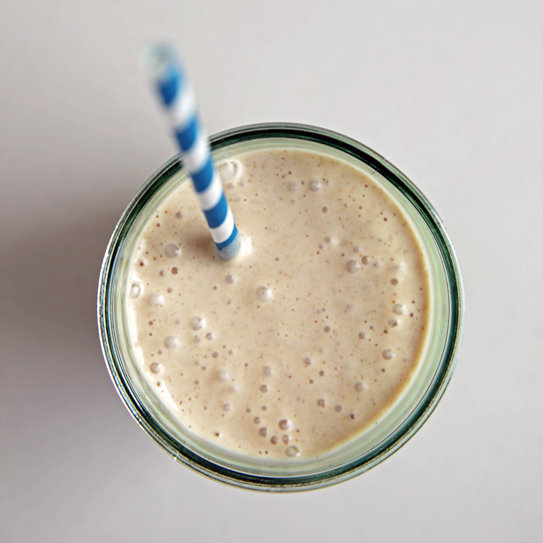 Start your morning with this creamy smoothie [69] that is easy to whip up in seconds.
Angel Hair Pasta With Brie Sauce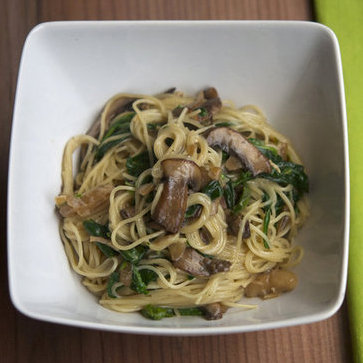 Try pairing your pasta with this creamy brie sauce [70] for a delicious pasta dish.
Pumpkin Irish Coffee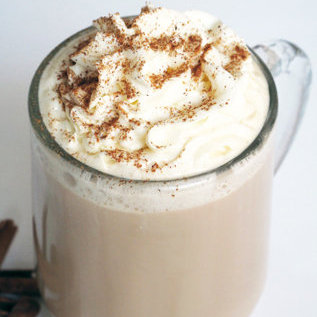 Add some pumpkin flavor to your Irish coffee [71] next time you're enjoying this sweet cocktail.
Pumpkin Cake Pops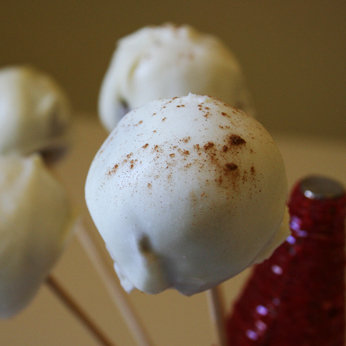 Enjoy the flavor of the season in a sweet way with these pumpkin cake pops [72].
Garlic Bread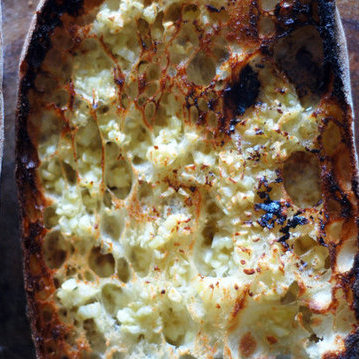 Everyone loves to enjoy a slice of garlic bread [73] for dinner, so try making a delicious loaf of your own.
Broccoli Soup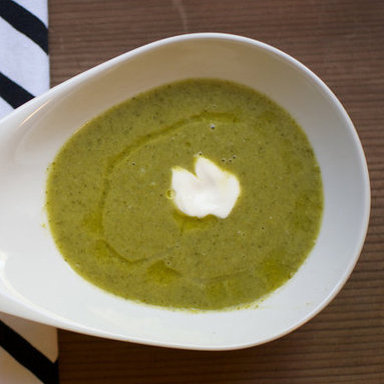 Warm up with a bowl of broccoli soup [74] from Michelle Obama's cookbook.
Spinach Pesto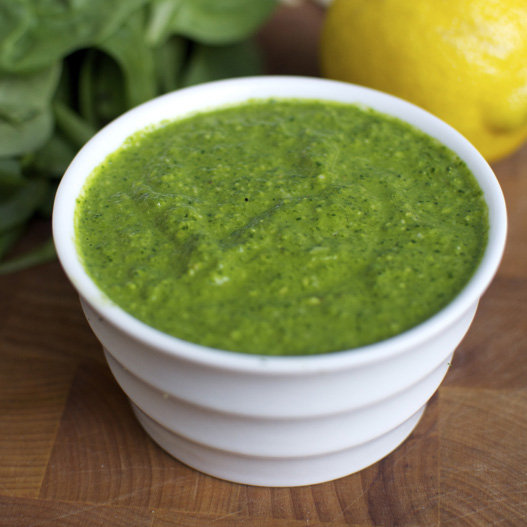 Try swapping out basil for spinach with this spinach pesto [75].
Tex-Mex Chicken With Chiles and Cheese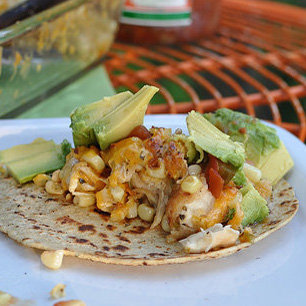 This Tex-Mex dish [76] makes for a delicious and easy dinner any night of the week.
Burrata-Stuffed Squash Blossoms and Olive Tapenade Crostini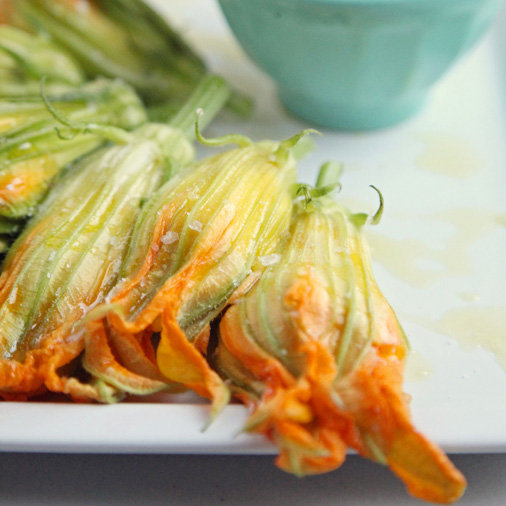 These burrata-stuffed sqaush blossoms [77] are an eye-catching and delicious appetizer.
Chocolate Souffle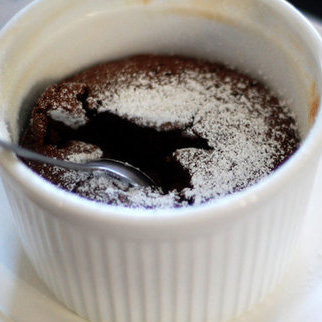 Get your chocolate fix and indulge in this chocolate souffle [78].
Grilled Chicken Salad With Herb Sherry Vinaigrette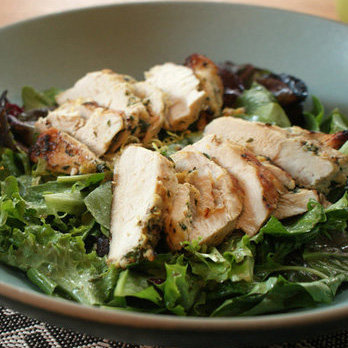 This healthy grilled chicken salad [79] is a favorite of First Lady Michelle Obama.
Bacon and Spinach Quiche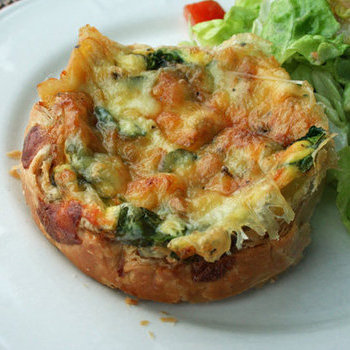 This is an easy quiche recipe [80] that serves as a great meal for breakfast, lunch, or dinner!
Spicy Miso Kale Chips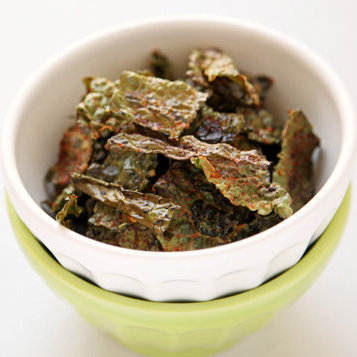 These spicy miso kale chips [81] are a guilt-free snack that you won't be able to put down.
Fig Tart With Orange Blossom Custard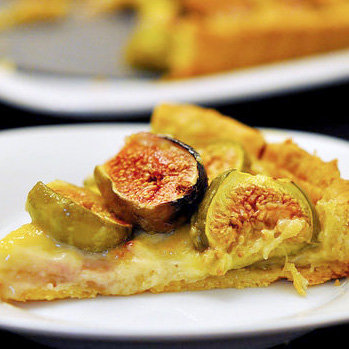 Figs are in season so why not try baking this fig tart with orange blossom custard [82]?
Roasted Beet and Garlic Soup With Chevre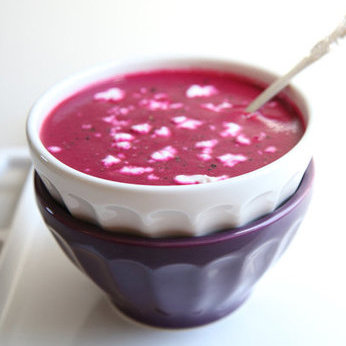 Welcome Fall with this roasted beet soup [83].
Crepes Fines Sucrees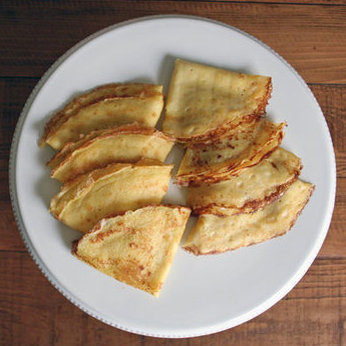 Who needs pancakes when you can make Julia Child [84]'s dessert crepes [85]?
Mango Sherbet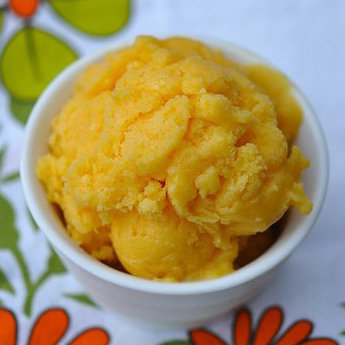 Fall might be here, but temperatures are still warm. Swap out the ice cream for this mango sherbet [86].
Jalisco Flower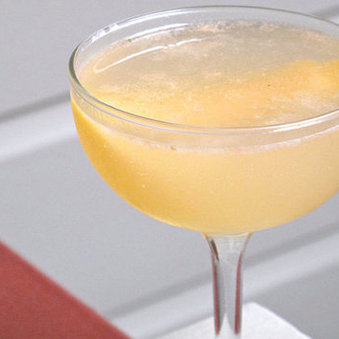 Mix up this Champagne cocktail [87] at your next party.
Homemade Tahini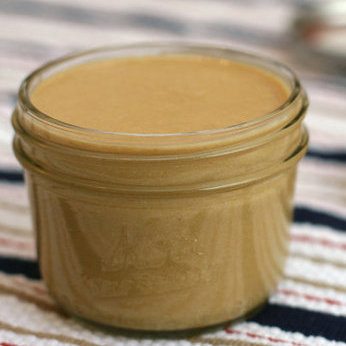 This homemade tahini [88] is a delicious alternative to peanut butter.
Rockfish With Peach Salsa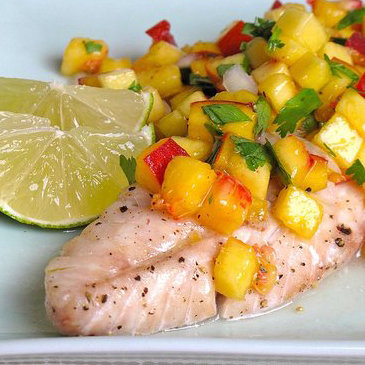 Get use out of peaches before they're gone! This peach salsa [89] with rockfish is the perfect dinner.
Celery and Parmesan Salad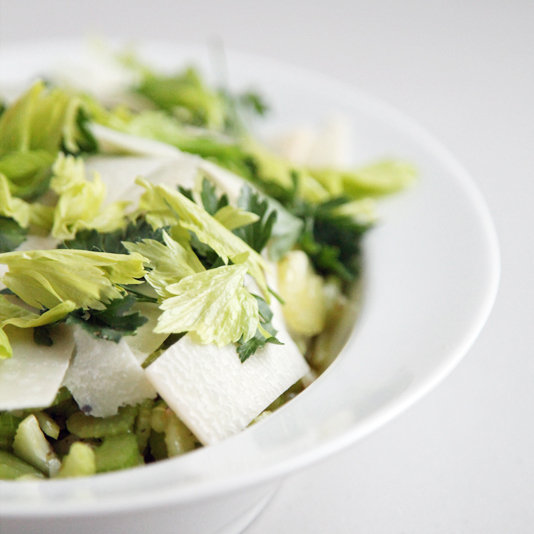 Celery doesn't have to be bland, try this celery and parmesan salad [90].
Double Chocolate Peanut Butter Cupcakes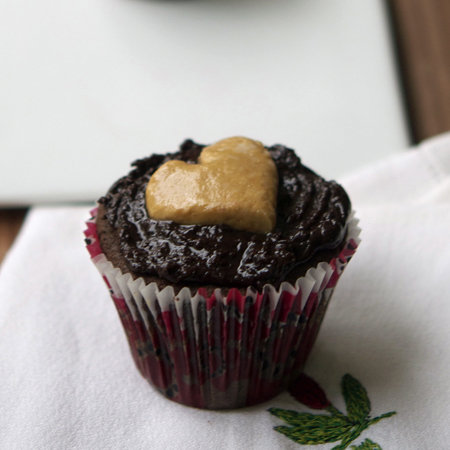 There is no better combination than peanut butter and chocolate, so try these chocolate cupcakes [91] for a sweet treat.
Gyro Jalapeno Poppers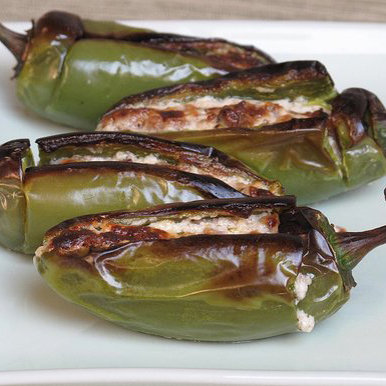 Serve these hearty jalapeno poppers [92] at your next party!
Bramble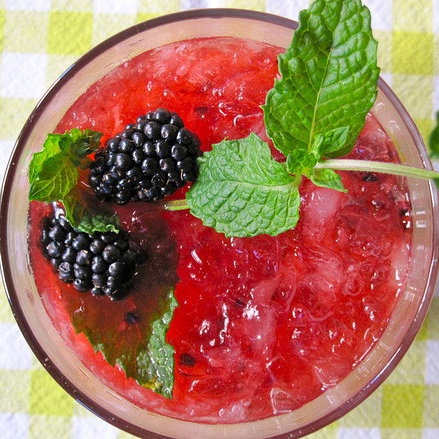 Calling all gin lovers! Try the bramble [93] for a refreshing, blackberry infused drink.
Matcha Almond Shortbread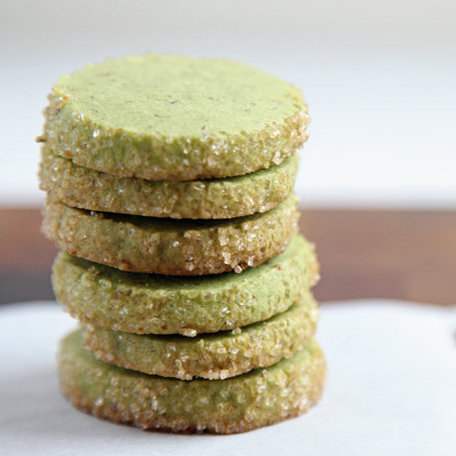 Get your caffeine kick with this matcha almond shortbread [94].
Turkey Club Sandwich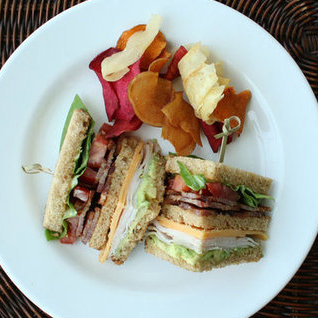 There's nothing better than the perfect club sandwich [95] for lunch.
Marcella Hazan's Tomato Sauce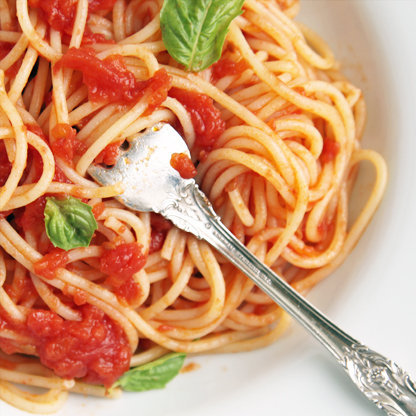 This tomato sauce [96] only requires three ingredients! How can you not make this delicious sauce for your pasta tonight?
Baked Potato Soup
Fall is officially here so warm up with this baked potato soup [97] with leeks, bacon, and cheddar.
Sweet Potato Hash Browns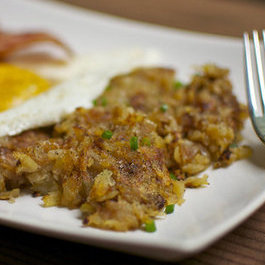 Substitute regular potatoes for sweet potatoes for a fresh take on potato hash browns [98].
Roast Chicken With Sweet Potato and Onions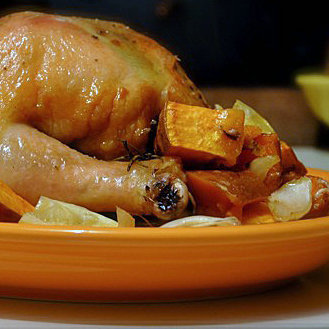 Fall means time for some comfort food, so try this roast chicken [99] for dinner tonight.
Steamed Artichokes With Oil and Vinegar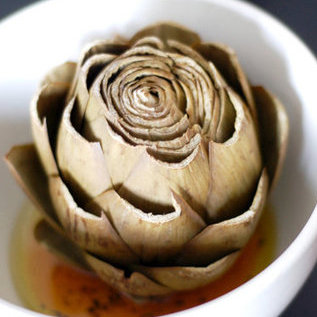 Enhance the natural flavor of artichokes with oil and vinegar, and try this steamed artichoke recipe [100].
Herbed Feta Buttermilk Biscuits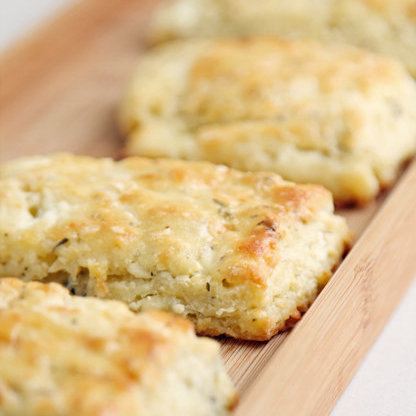 Add some flavor to your biscuits with these buttermilk feta biscuits [101].
Southeast Asian Heirloom Tomato and Cucumber Salad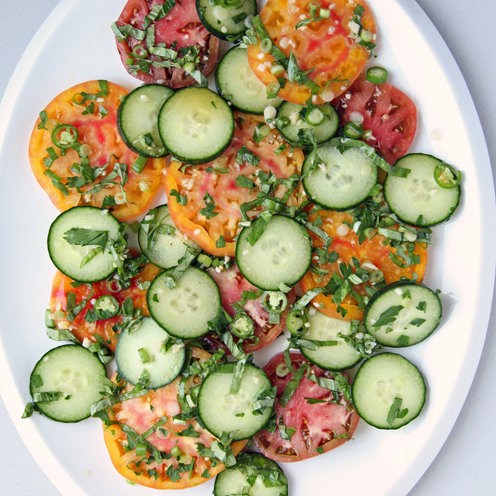 This asian tomato salad [102] is unique and easy to make.
Reine de Saba (Chocolate Almond Cake)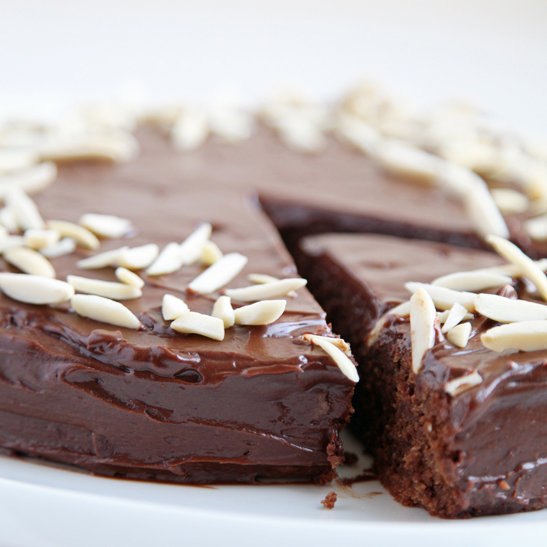 With its fudgy center, this chocolate almond cake [103] is "extremely good," according to Julia Child [104].
Basic Challah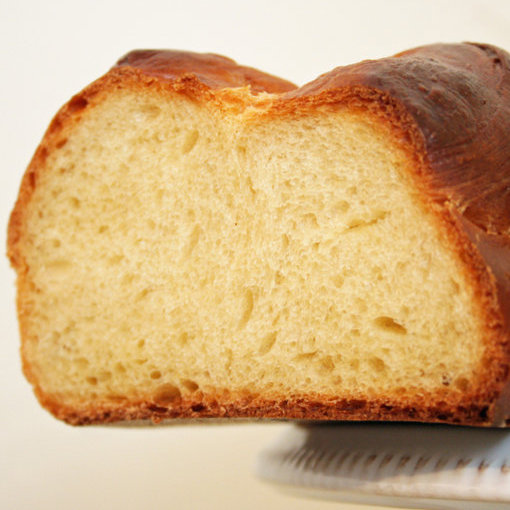 A homemade challah [105] recipe for your next Sabbath meal.
Grilled Citrus-Herb Chicken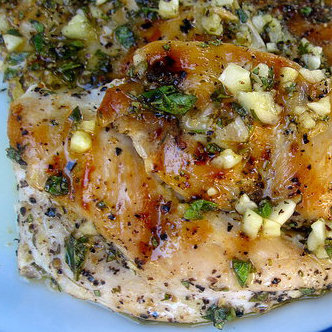 This grilled citrus-herb recipe [106] is quick, easy, and flavorful.
All-Butter Pie Crust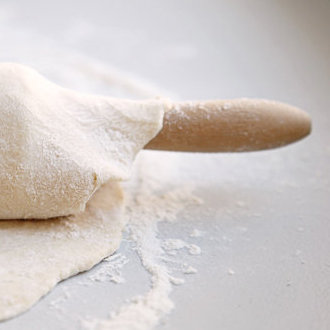 Bakers must try this easy pie crust [107].
Vegetable Stock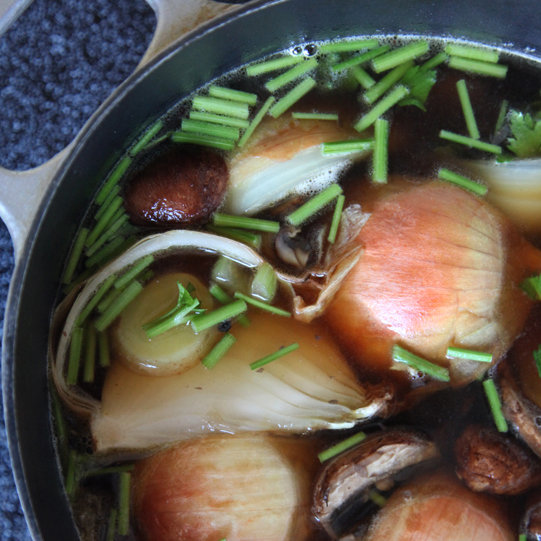 Homemade vegetable stock [108] tastes much better than the stock from the can.
BBQ Veggie Tacos With Grilled Guacamole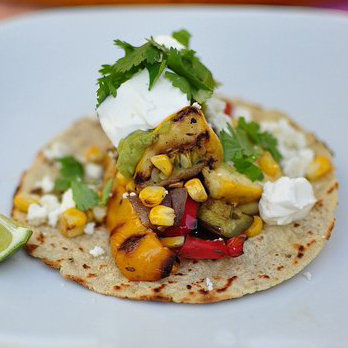 Skip the meat and go for some grilled veggie tacos [109].
Pound Cake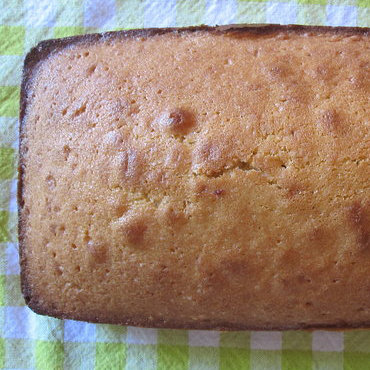 Pound cake [110] is easy to make and play around with flavor and toppings for dessert!
Honey and Cumin-Glazed Cornish Hens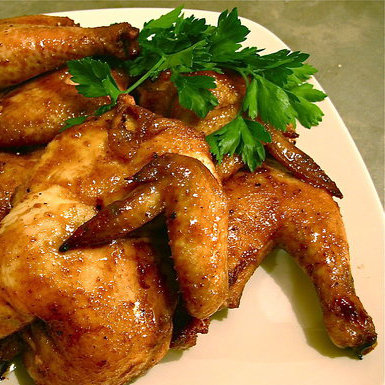 Ring in the Jewish new year with these cornish hens [111].
Italian Salsa Verde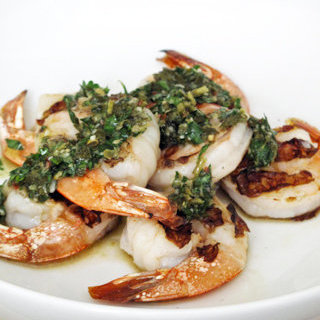 This homemade italian salsa verde [112] is a great condiment for grilling.
Cheese and Pickle Sandwich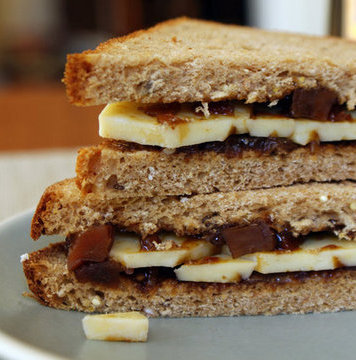 Enjoy a cheese and pickle sandwich [113] for a British-inspired snack.
Overnight Pain D'Epi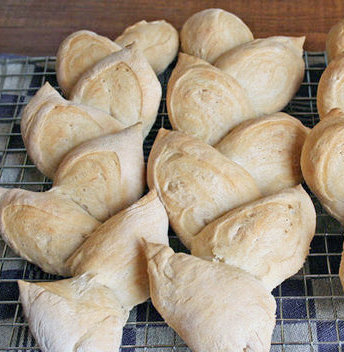 Serve freshly made bread at your next meal with this pain d'epi recipe [114].
Freshly Pressed Cocktail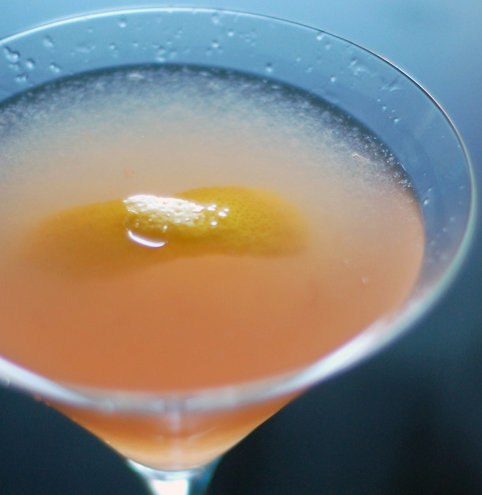 Mix up this gin and grapefruit cocktail [115] for happy hour tonight.
Zesty Taco Salad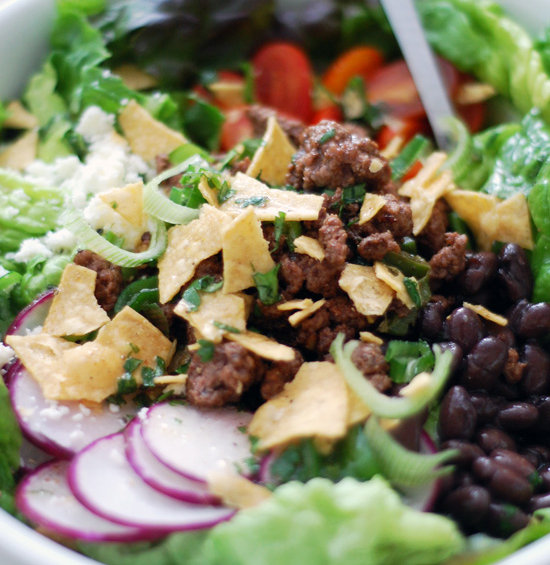 Spice up dinner with this quick and healthy taco salad [116].
Pancetta and Fava Bean Pasta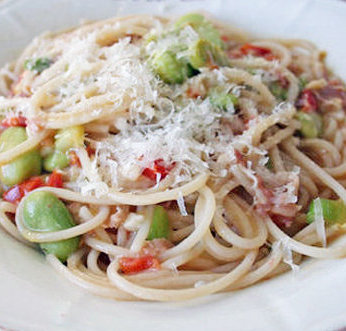 Add some flavor to your spaghetti for dinner tonight and try making a pancetta and fava bean pasta [117].
Roasted Apricots and Fig Tartines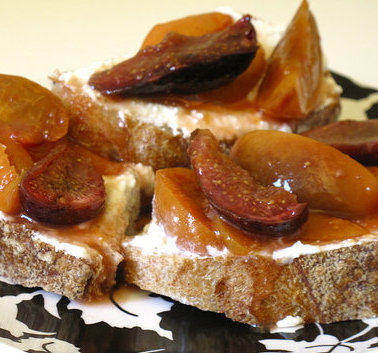 These roasted apricot and fig tartines [118] make for a wonderful snack any time of the day.
Strawberry Jam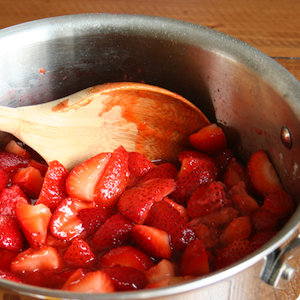 Enjoy the end of strawberry season and make some strawberry jam [119] this weekend.
Pita Chips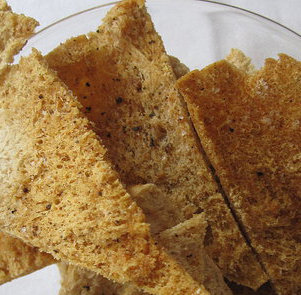 Homemade pita chips [120] are the perfect snack.
California Benedict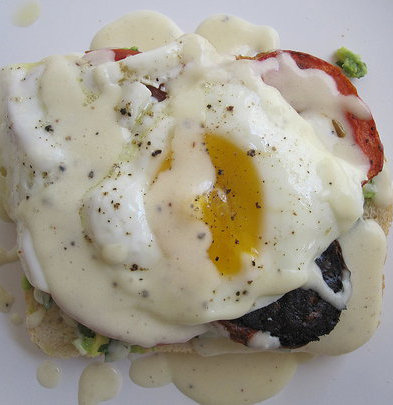 This lighter, meat-free Benedict [121] is perfect for brunch!
Sorbet With Citrus Vodka and Lime Zest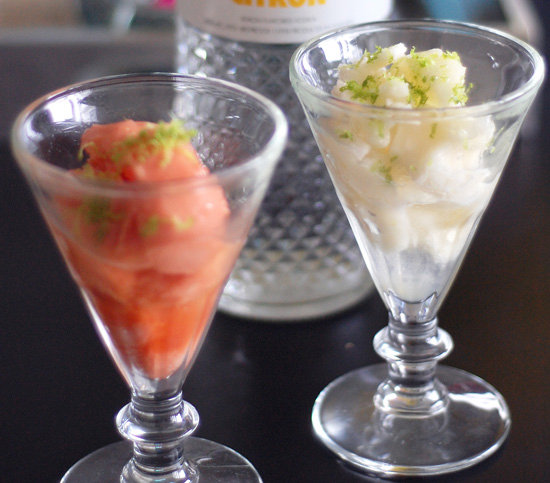 Serve this sorbet [122] at your next summer party.
Grilled Pound Cake With Rose Whipped Cream, Pistachios, and Cherries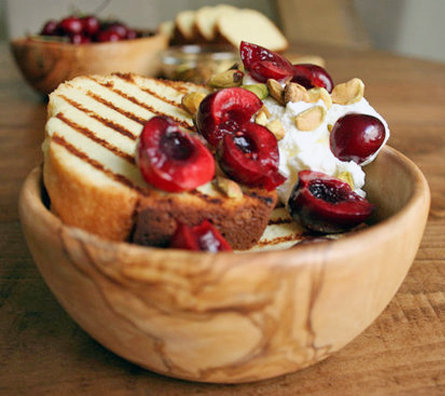 Fire up the grill for dessert and try this grilled pound cake [123].
Pork Carnitas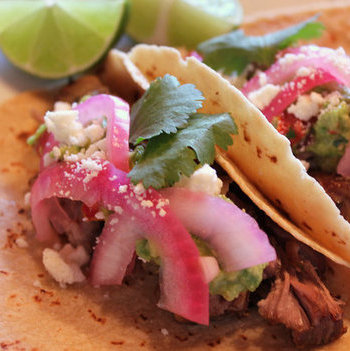 Bring the taco truck home to you with these pork tacos [124].
Chilled Avocado and Corn Soup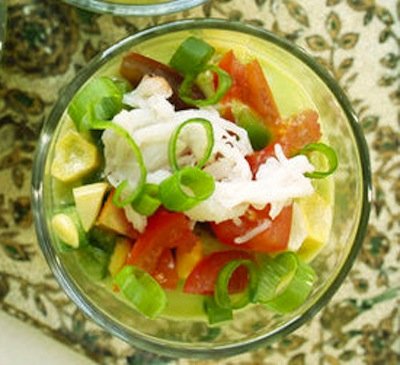 The perfect soup to cool you down on a hot summer day.
Spaghetti Aglio, Olio, e Peperoncino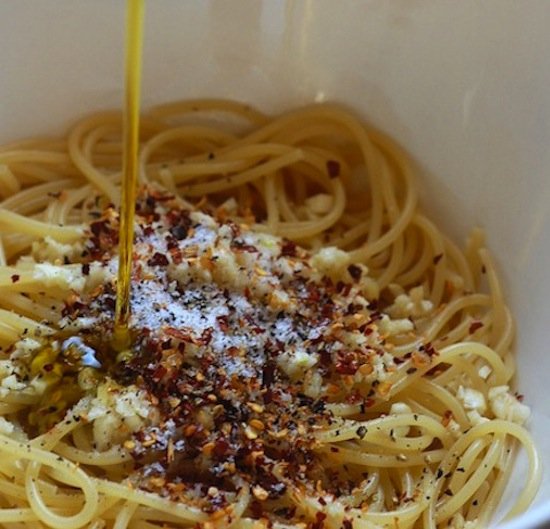 This pasta recipe [125] is simple, delicious, and perfect for dinner.
Asparagus with Grated Egg and Vinaigrette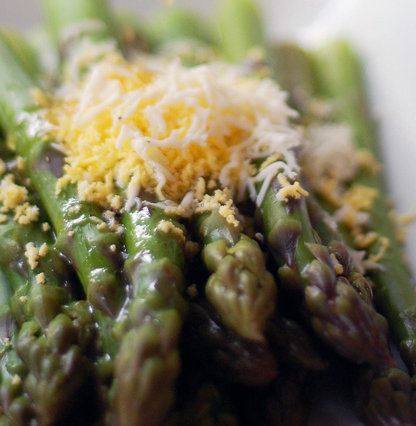 Try this asparagus recipe [126] for a unique side dish.
Blueberry Corn Muffins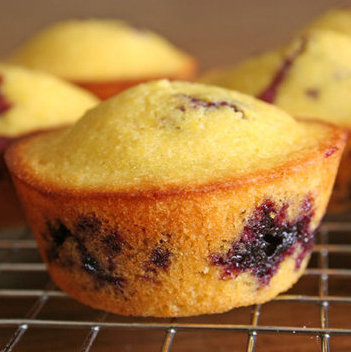 A delicious twist on blueberry muffins [127] brings blueberries and cornbread together for a mouthwatering combo.
Sweet Pizza Pie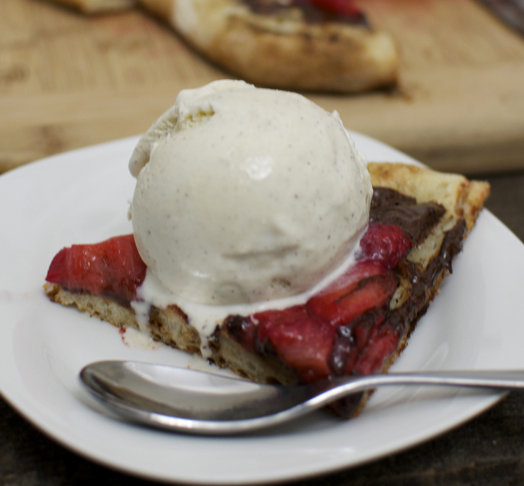 Fire up the barbecue for this sweet pizza pie dessert [128]. Who doesn't love chocolate with strawberries?
Southern Take on Iced Tea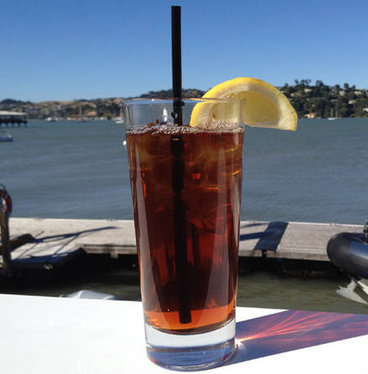 Refresh yourself with a cold glass of iced tea [129] on a hot Summer day.
Cilantro-Lime Corn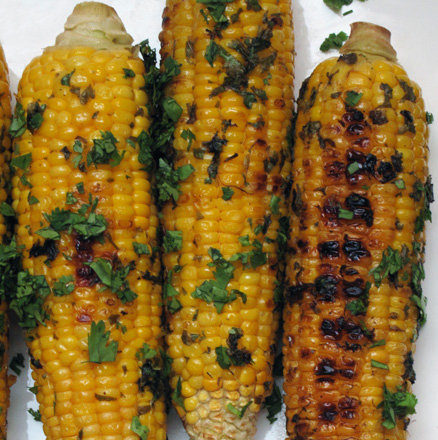 Summer is quickly coming to an end up so fit in some last-minute grilling and try this cilantro-lime corn [130].
Bacon and Spinach Quiche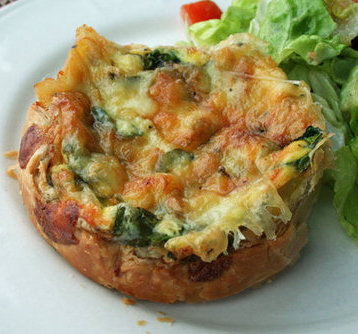 A flaky crust topped with bacon and spinach make for a flavorful quiche [131].
Fish With Peach Salsa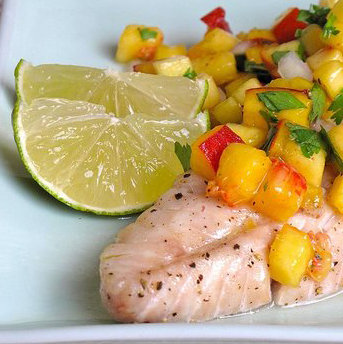 Add some fruity flavor to your fish with this peach salsa [132].
Toasted Farro Summer Salad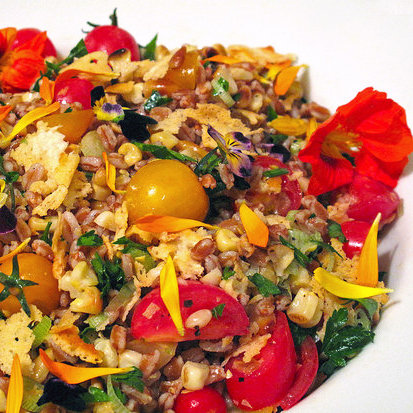 Greens go summertime with this nutty toasted farro salad [133].
Blueberry-Nectarine Dutch Babies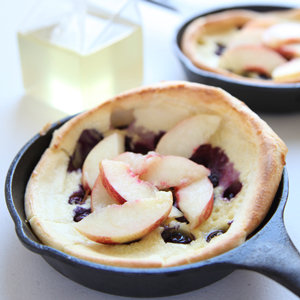 Go beyond lemon juice and powdered sugar by topping Dutch baby pancakes [134] with a ginger syrup and seasonal fruit like blueberries and peaches.
Blood-Orange Sorbet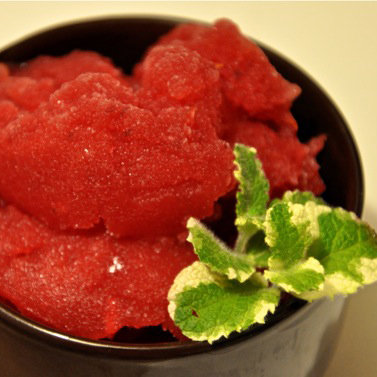 With a playfully bright color and a refreshing flavor, there's no dessert quite like blood-orange sorbet [135].
Tuna Tartare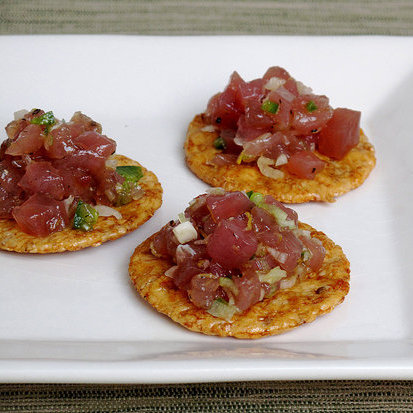 Tuna tartare [136] toppled on soy-glazed rice crackers gives you an Asian-inspired taste of the seaside.
Grilled Flatbread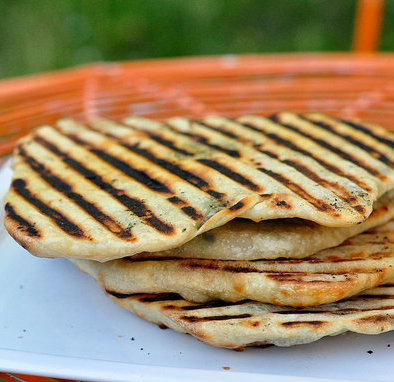 Filled with herbs, garlic, and cheese, this grilled flatbread [137] side will undoubtedly satisfy any carb craving that comes your way.
Baked Egg in a Ham Shell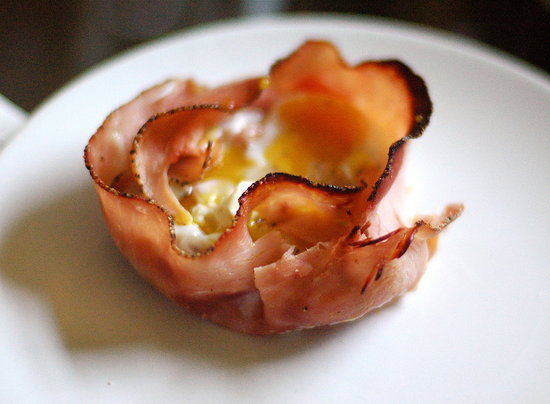 Add a touch of creativity to your mornings with this hearty and aesthetically pleasing baked egg in a ham shell [138] dish.
Pomegranate-Mango Guacamole
Whether its on a tortilla chip or a taco, this chunky and crunchy pomegranate-mango guacamole [139] is divine.
Chicken With Bell Pepper Ragout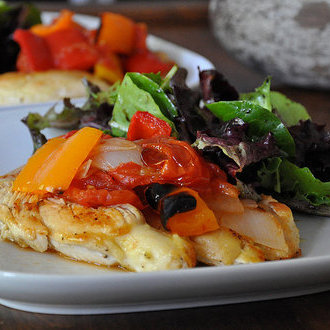 This fast and easy chicken with bell pepper ragout [140] dinner has a crisp texture and a plethora of flavors.
Pita Sandwich With Feta Cheese and Mint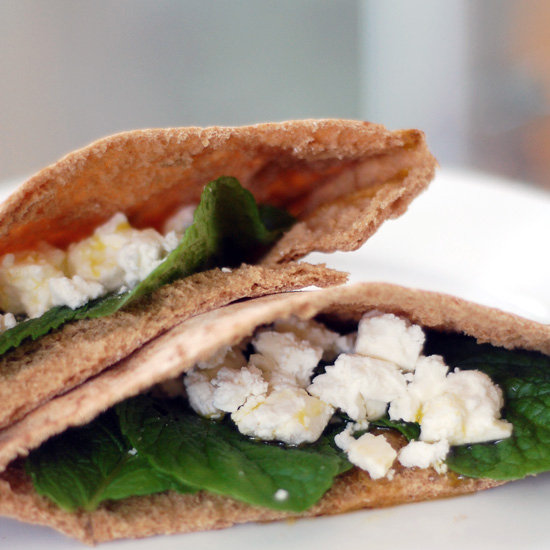 The unlikely flavor combination of feta and mint in this pita sandwich [141] recipe will surely please your palette.
Pimm's Cup Cocktails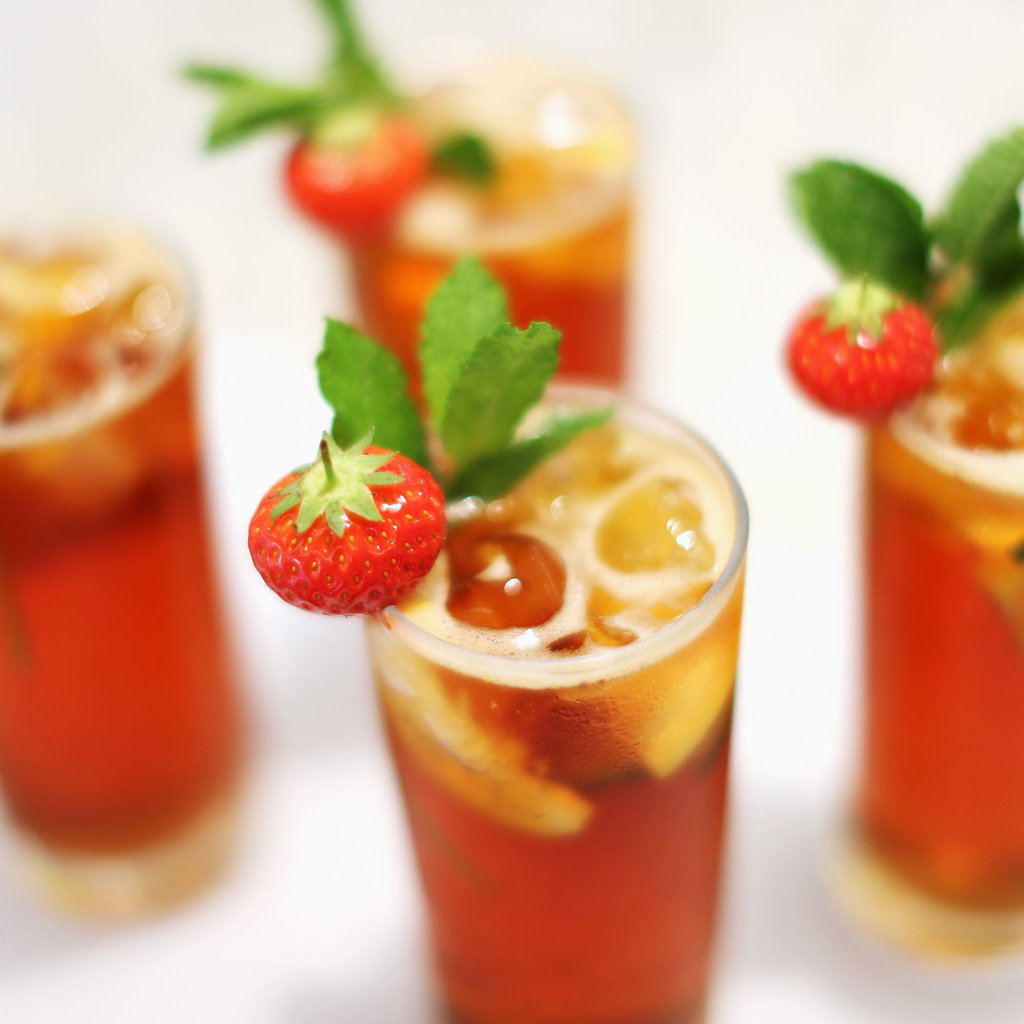 Toast the London Olympics farewell with classic British Pimm's Cup cocktails [142].
Blueberry-Cornmeal Griddle Cakes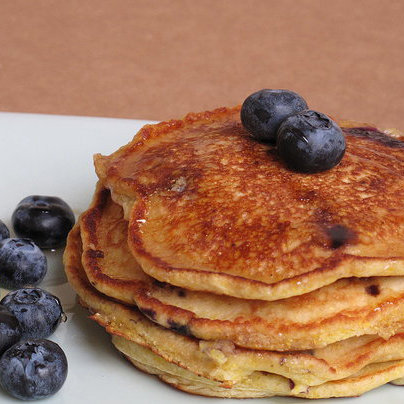 Start your morning off right with these healthy blueberry-cornmeal griddle cakes [143].
Grilled Caesar Salad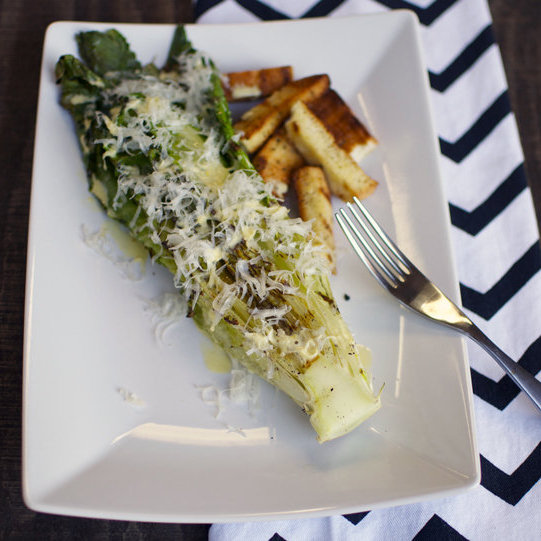 This grilled Caesar salad [144] contains an unconventional (but unbelievably delicious) charred flavor.
Blackberry Jalapeno Glazed Pork Tenderloin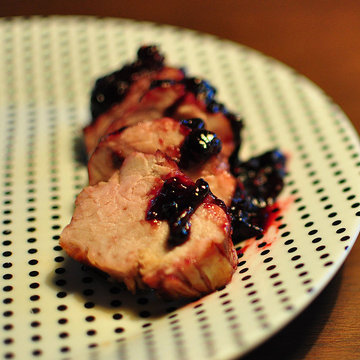 This pork tenderloin with spicy blackberry glaze recipe demonstrates perfectly why you can't go wrong with a pork and fruity sauce combo.
Honey Whipped Cream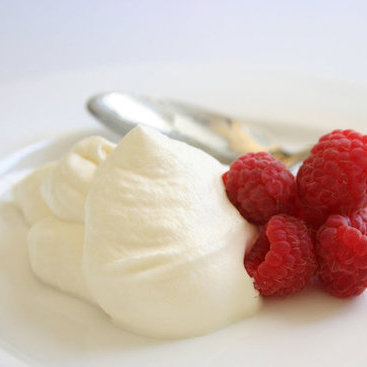 Sweet Summer fruit has never tasted more heavenly than with a dab of fluffy, aromatic honey whipped cream [145].
Watermelon and Feta Skewers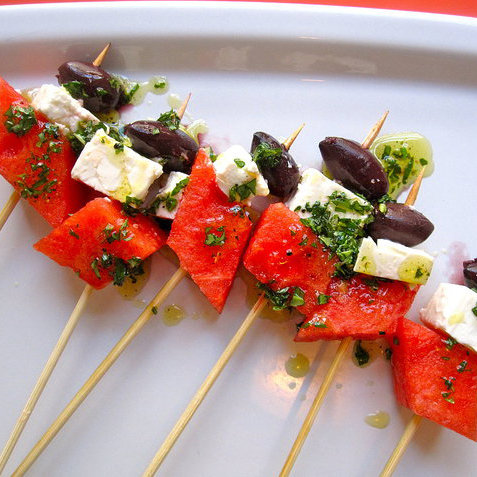 The recipe for these fruity and salty watermelon and feta skewers [146] is so uncomplicated it almost shouldn't be called a recipe!
BBQ Veggie Tacos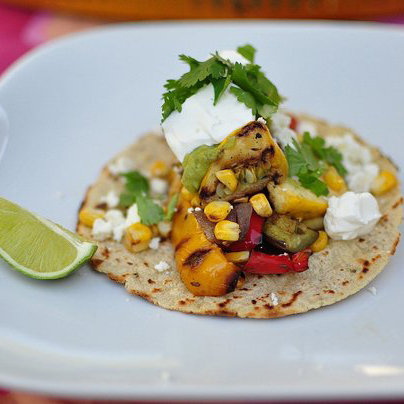 BBQ veggie tacos [147] are an unbeatable light combo on meatless Monday and taco Tuesday.
Jam Cocktail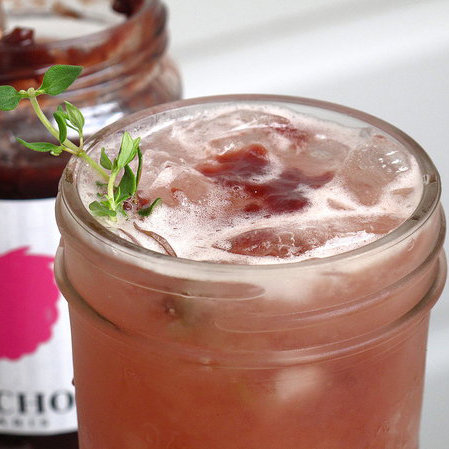 This satisfying jam cocktail recipe [148] is flexible, so feel free to pick and choose which ingredients you want to use!
Small Victorian Sponge Cakes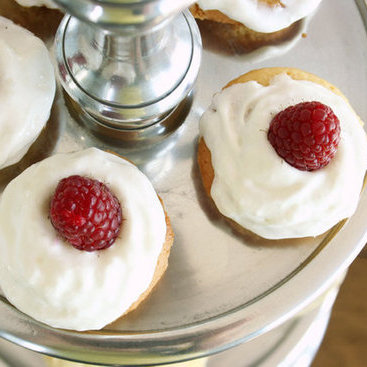 Light, airy, and with a rich flavor of butter, the regal qualities of these mini Victorian sponge cakes [149] are endless.
Quinoa and Mango Salad
Let's go vegan with this colorful quinoa and mango salad [150] drizzled with a mint-orange vinaigrette.
Salty Chocolate Pretzel Clusters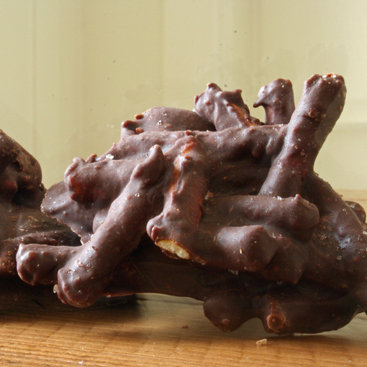 Try your hand at homemade caramel and tempered chocolate with this straightforward salty chocolate pretzel clusters [151] recipe.
Salami Chips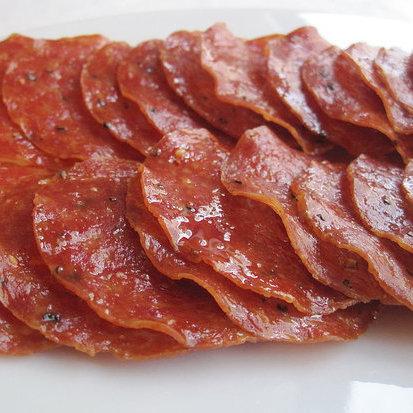 Like bacon, crispy salami chips [152] are so simple to make and serve as a game-changing ingredient when put in a burger.
Mushroom and Brie Bruschetta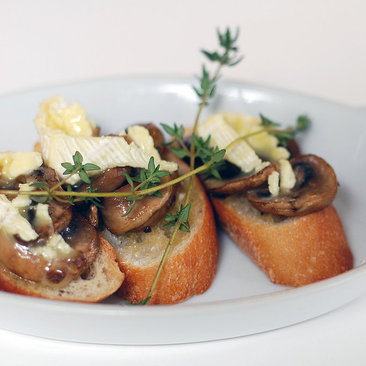 While mushroom and brie bruschetta [153] is flavorful on its own, what makes it a standout appetizer is the addition of fresh thyme.
Grilled Clams With Basil Breadcrumbs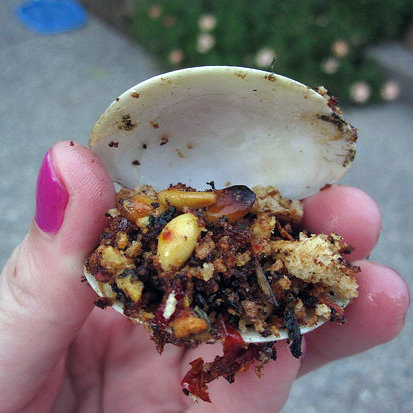 Fire up the grill for finger-licking-good grilled clams with basil breadcrumbs [154].
Avocado Coconut Popsicles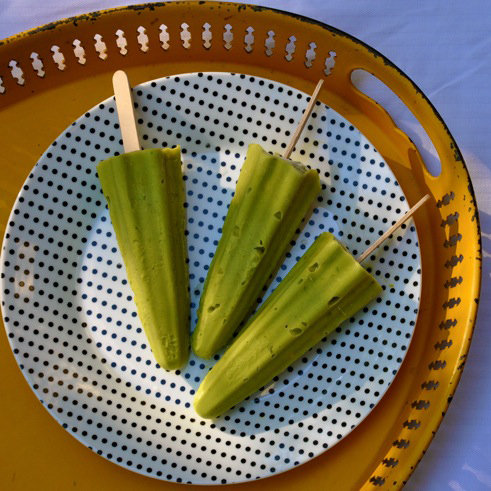 Move over guacamole, there's a new avocado-based recipe in town! Nutty and rich, you can't go wrong with these avocado coconut popsicles [155].
Mediterranean Pasta Salad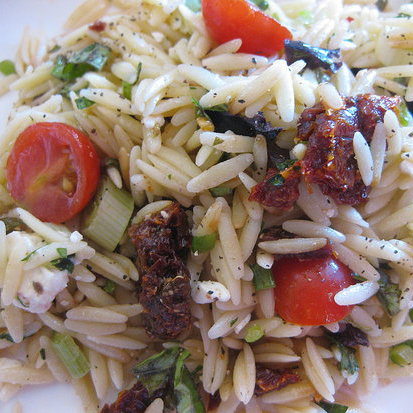 Venture into the realm of Mediterranean cuisine with this picnic-perfect orzo pasta salad [156].
Blackberry and Cabernet Caipirinha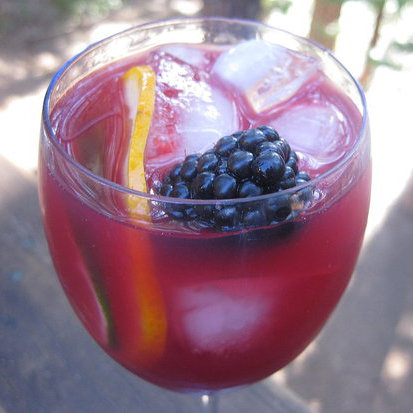 A glass of this blackberry and cabernet caipirinha concoction [157] is concentrated with wildly fruity flavors and potent rum from Brazil.
Stuffed Poblano Peppers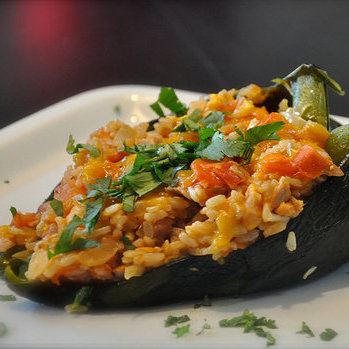 Awaken your tastebuds with spicy stuffed poblano peppers with chicken, rice, and cheddar cheese [158].
Milk Chocolate Almond Spread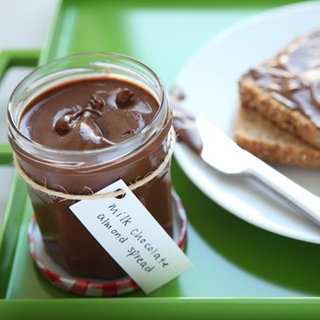 What's not to love about almond nutella [159]? Rich, creamy, and smooth, this is one dangerously delicious spread that we recommend you try!
Roasted Apricot and Figs on Bread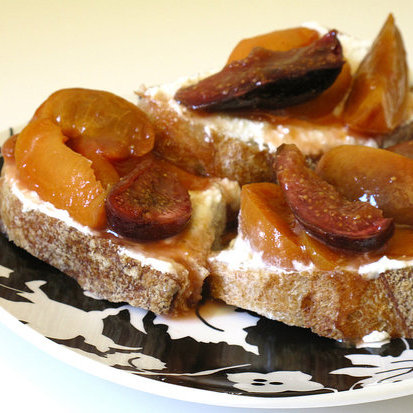 Satiate your sweet tooth with seasonal yet affordable roasted apricots and figs on bread [160].
Smoked Salmon Salad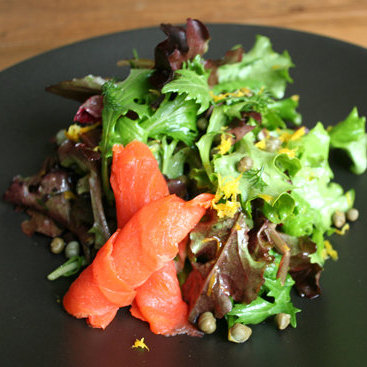 Give your oven a rest and toss this simple group of ingredients together for a smoked salmon salad [161].
Informal Croquembouche (Cream Puffs)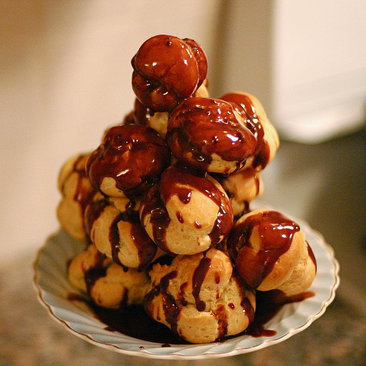 Cap your next meal off with these airy, chocolate drizzled cream puffs [162].
Cream of Tomato Soup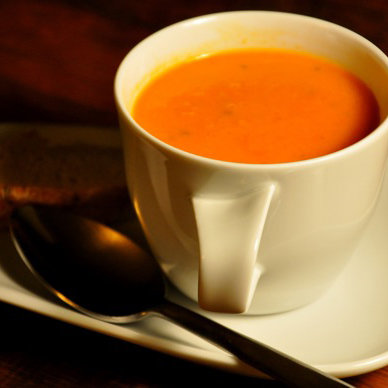 Each spoonful of this classic tomato soup [163] is equally as fresh and flavorful as it is satisfying.
Frozen Strawberry Margarita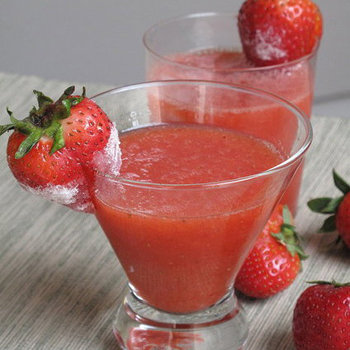 Try these fruity strawberry margaritas [164], which are made with classic elements and one game-changing secret ingredient.
Asparagus Ribbon Pizza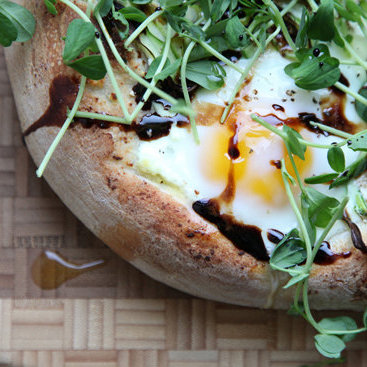 Asparagus ribbon pizza [165] has Spring vegetal flavors that will have you craving for more until next year's asparagus season comes around.
Corn And Cheese Cakes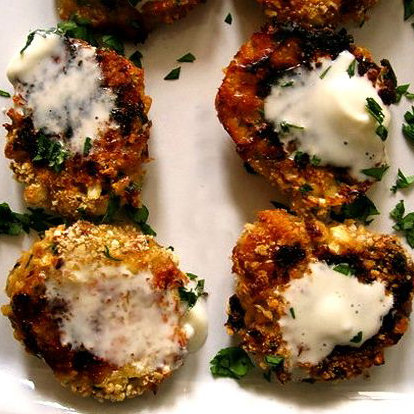 You won't regret biting into this rich corn and cheese cake [166] hors d'oeuvre!
Classic British Scones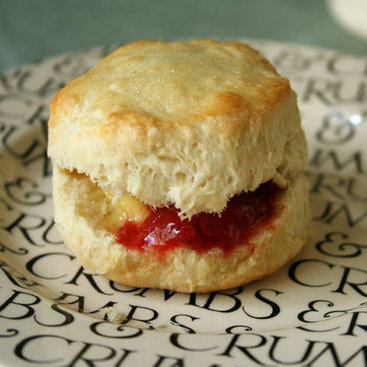 Have yourself a tea break with these crumbly and creamy British scones [167].
Chicken Paillard with Ponzu Dressing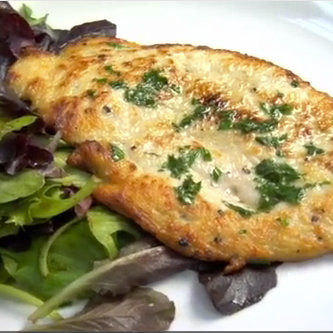 Allow celebrity chef Marlon Alexander to introduce you to the most elegant chicken dinner [168] you'll ever make in under 15 minutes.
Garden and Tonic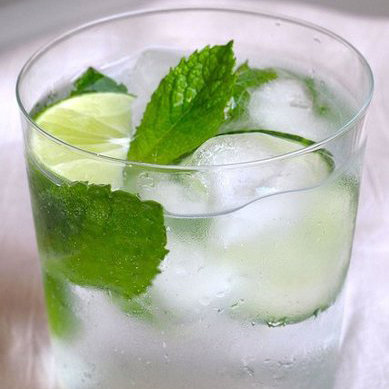 Refresh yourself with a garden and tonic [169] — a spritzer cocktail that's arguably better than the classic gin and tonic.
Heirloom Tomato and Burrata Salad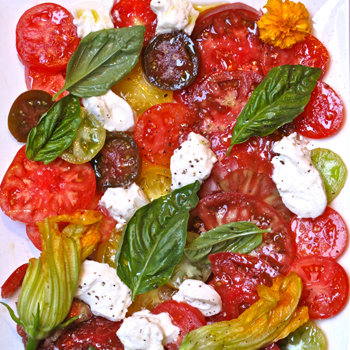 Indulge in a colorful platter of juicy tomatoes drizzled with Italian olive oil [170].
Grilled Bananas Foster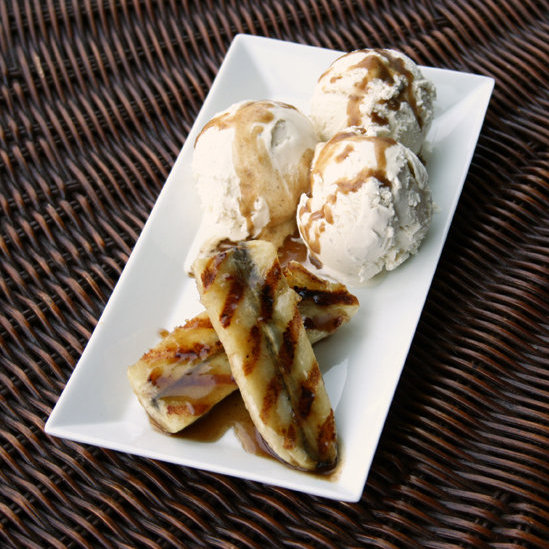 Entertain (and satisfy) your guests as you set fire to the rum-laden sauce of this special occasion dessert [171].
Roasted Beet and Garlic Soup with Chèvre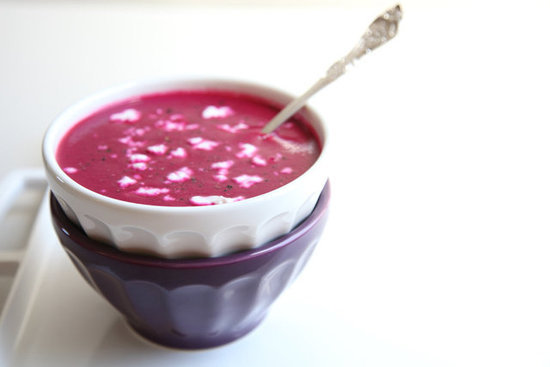 Earthy puréed soups like this roasted beet and garlic soup [172] highlight the bounty of the season.
French Toast Strata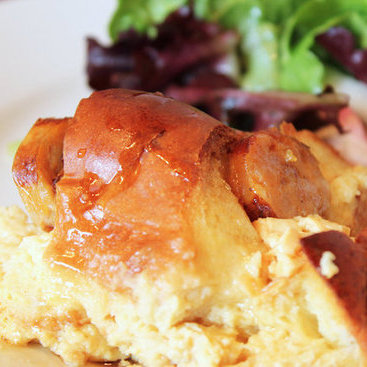 The casserole of breakfast fare, the french toast strata [173] gives you a taste of many of your morning faves.
Hawaiian Ceviche with Pineapple Salsa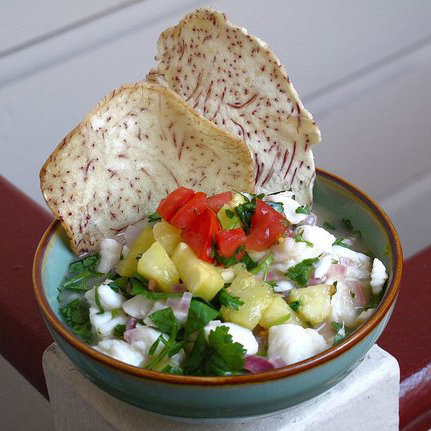 With Summer in full swing, try this healthy tropical ceviche [174].
Garlicky Arugula Pasta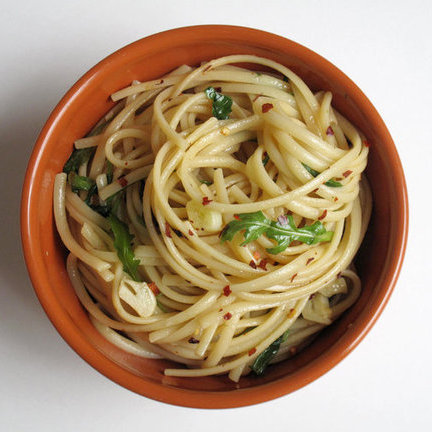 While this garlicky arugula pasta [175] has a minimalist recipe, its taste is anything but simple.
Grilled & Stuffed Jalapeños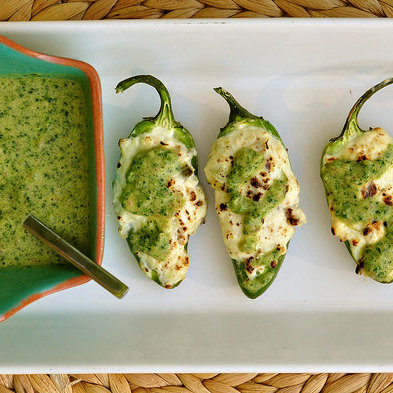 Spice up your next party with these amazing grilled jalapeño appetizers [176].
Key Lime Pie Pops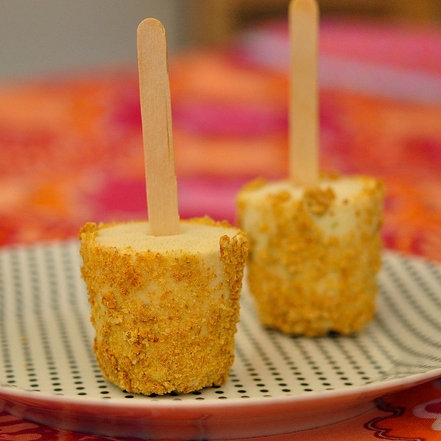 Crunchy and creamy key lime pie pops [177] are a perfect modern update to the classic key lime pie.
Avocado Toast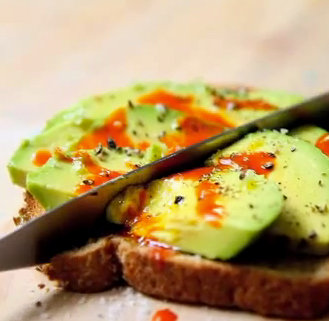 Whether you're in a hurry or just looking for a scrumptious breakfast, you can't go wrong with a slice of avocado toast [178].
Gin New-Fashioned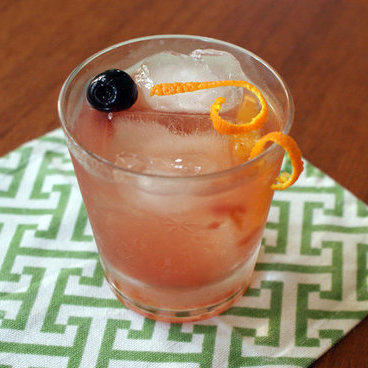 Get your Summer jams on and try this gin and marmalade cocktail [179].
Grilled Red, White, And Blue Pizzas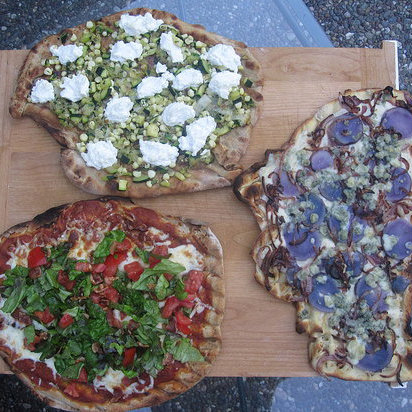 In honor of the Fourth of July, here's a trio of recipes for red, white, and blue grilled pizzas [180].
Summer Fruit Salad With Mint Sugar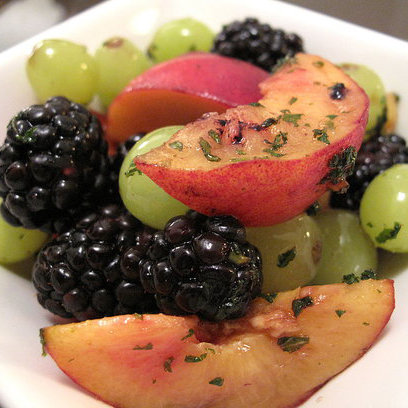 Take advantage of Summer's fruits with this colorful and naturally sweet fruit salad [181].
Grilled Gourmet Sausage Sandwich on Olive Bread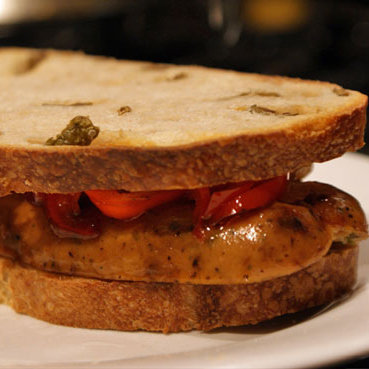 Pair artisan bread with a gourmet sausage of your choosing in order to create a grilled gourmet sausage sandwich [182] that tastes like Summer.
Carbonara Potato Skins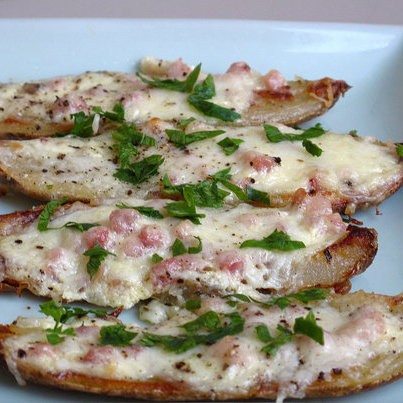 The velvety and slightly crispy texture of these carbonara potato skins [183] make this appetizer a guaranteed crowd-pleasure.
Marshmallow Caramel Popcorn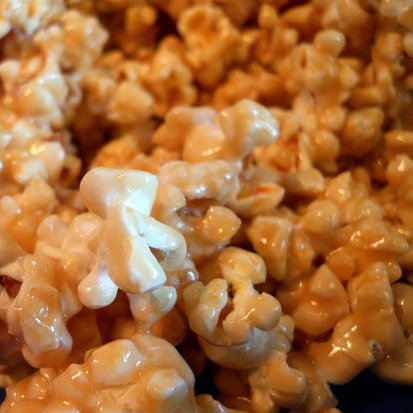 Snack on popcorn like never before with this sweet and gooey marshmallow caramel popcorn [184] recipe.
Scallion-and-Brie-Stuffed Burgers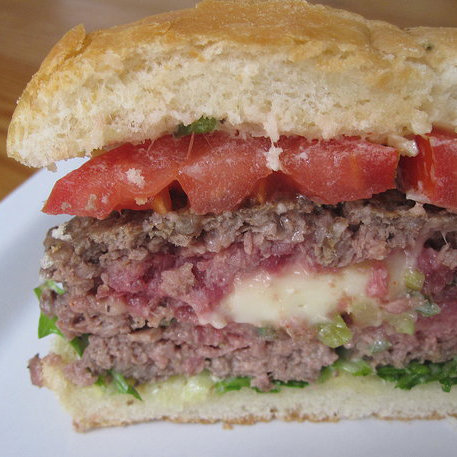 With a little bit of heat and a lot of French cheese, this scallion-and-brie burger combo [185] will have you swooning.
Mixed Fruit Tiramisu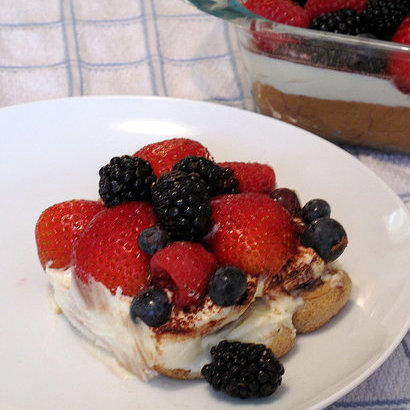 This mixed fruit tiramisu [186] dessert is easy to make but even easier to consume.
Cherry, Smoked Blue Cheese, and Almond Salad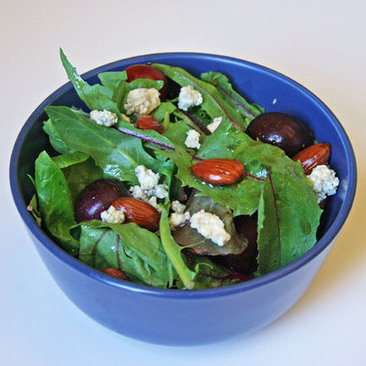 This red, white, and blue cherry salad [187] combines smoked flavors with sophisticated ingredients.
Korean Kalbi Short Ribs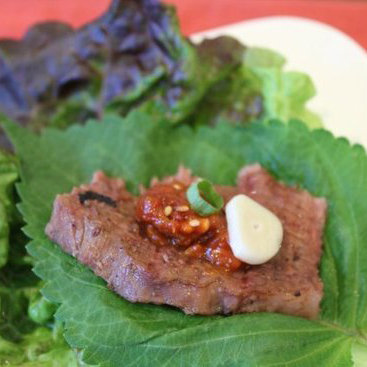 If you're a fan of succulent marinades and charcoal-charred meats, then check out this Korean Kalbi Short Ribs [188] recipe.
Fourth of July Flag Cake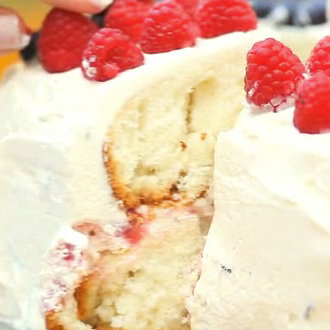 With Independence Day just around the corner, there's no better time to create this patriotic and impressive flag cake [189].
Pork Carnitas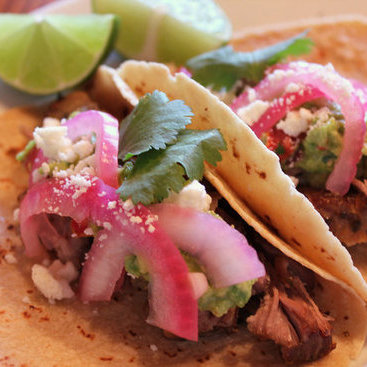 Serve these carnitas with fragrant undertones [190], as they are sure to be a crowd favorite.
Easy Iced Tea
This Southern take on iced tea [191] is the perfect go-to beverage on a warm Summer day.
Blueberry Mini Marshmallows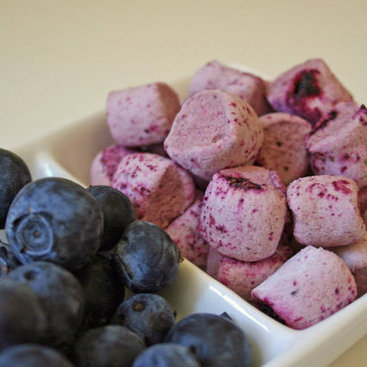 It's hard to resist these light and fluffy homemade marshmallows [192] with a seasonal twist.
Spinach Pesto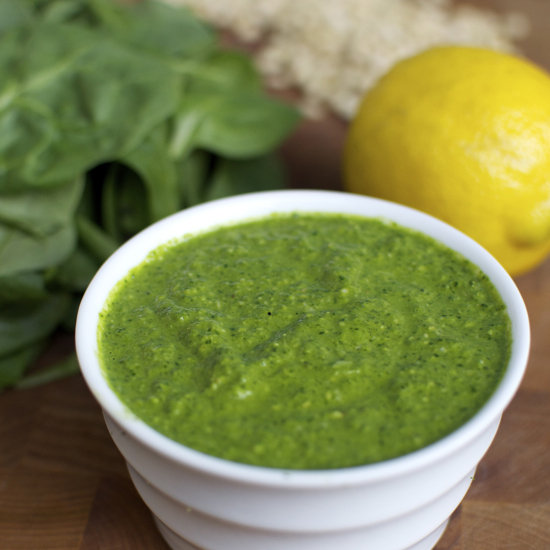 Replace your typical condiment of choice with this spinach pesto [193] sauce. It's slightly buttery and can be used in a variety of ways!
Cheesy Mac and Rib Melt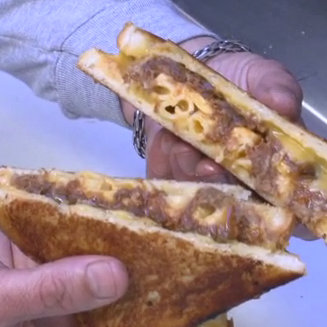 Here's the lowdown on how to make LA's Grilled Cheese Truck's bestseller, the cheesy mac and rib melt [194].
Mint Chip Ice Cream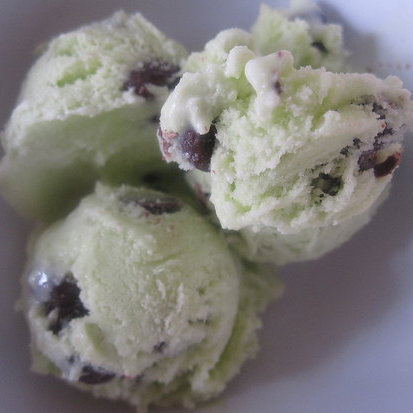 With the help of an ice cream maker, churn up a fresh and creamy batch of homemade mint chip ice cream [195].
Chicken Smothered in Raspberry BBQ Sauce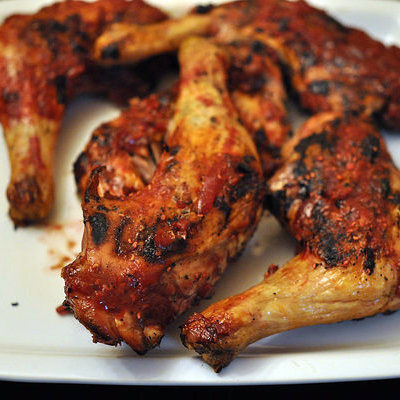 With Summer right around the corner, try out this delectable barbecued chicken and raspberry [196] dish.
Muffuletta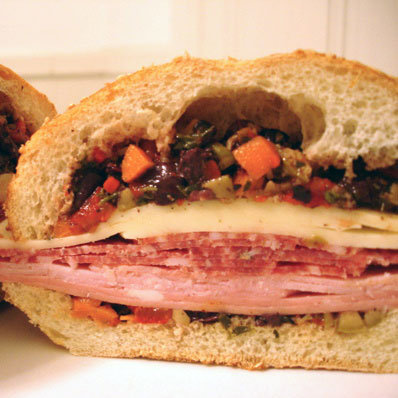 This New Orleans sandwich [197] is piled high in great ingreds.
Tequila Sunrise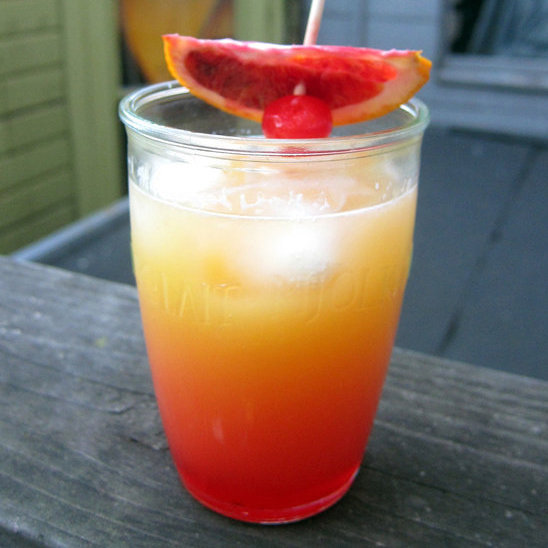 Let loose over the weekend with this tequila-based cocktail [198]. It has a stunning appearance yet definitely packs a punch.
Melon, Mozzarella, and Serrano Ham Skewers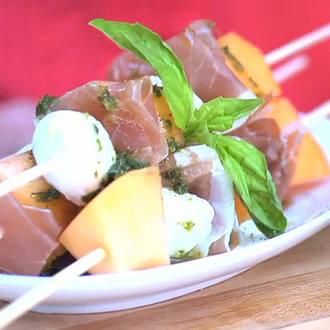 These simple and elegant appetizer skewers [199] contain a symphony of flavors.
Chocolate-Covered Strawberries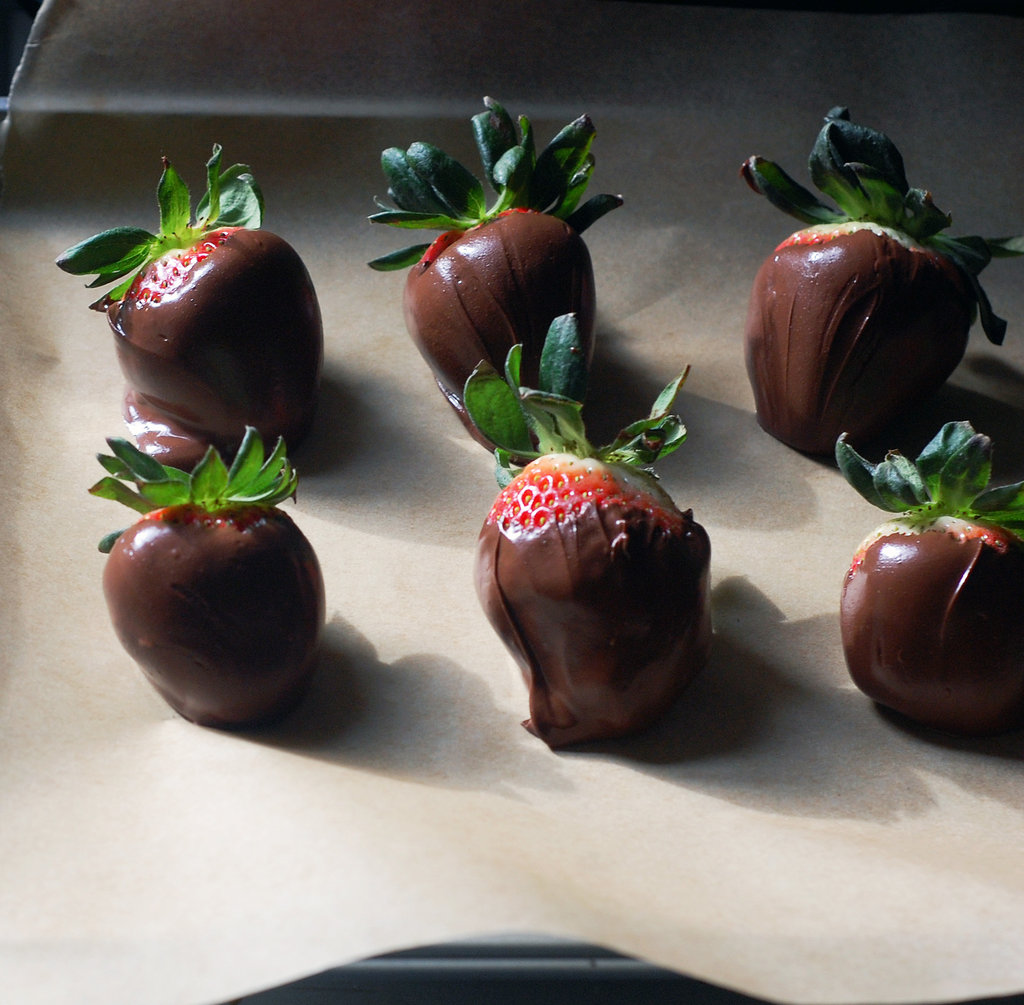 Why wait for a special occasion to make chocolate-covered strawberries [200]? With its simple recipe, this decadent dessert should be enjoyed regularly.
Spiced Burger With Cucumber Yogurt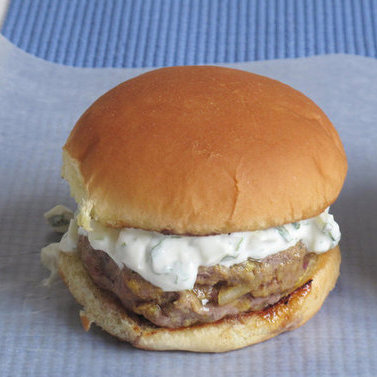 This one-of-a-kind Indian-inspired spiced burger [201] has a great balance of flavors and textures.
Mexican Grilled Corn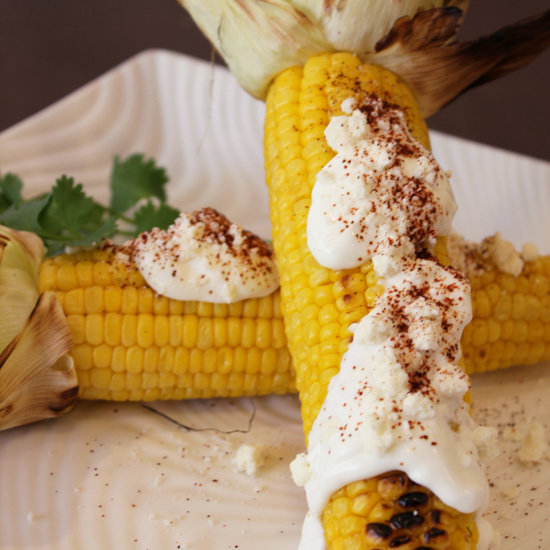 Enjoy Mexican street-style grilled corn with crema, chile, and cheese [202] at the comfort of your home.
Peanut Butter Oatmeal Raisin (and Bean!) Cookies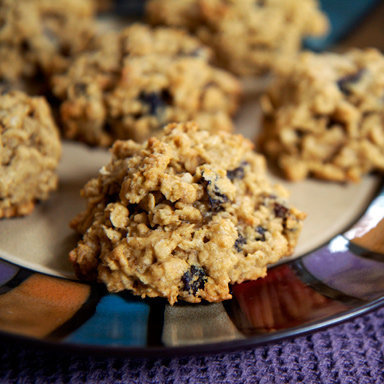 This peanut butter oatmeal raisin cookie recipe [203] is a healthy dessert alternative that everyone will enjoy!
Pancetta and Fava Bean Pasta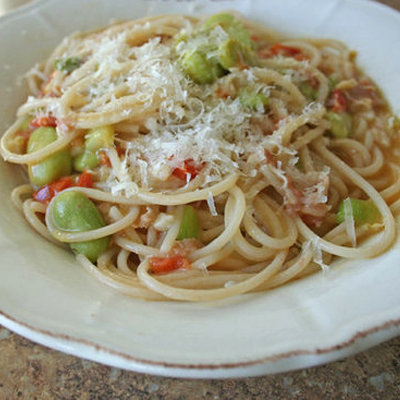 Impress your guests with this incredibly flavorful yet simple fava bean pasta [204].
Broccoli Soup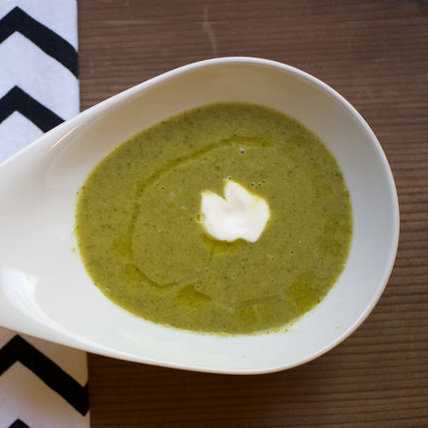 Fresh and easy, here's one Michelle Obama veggie soup recipe [205] that you will want to try!
Seared Scallops in White Wine Butter Sauce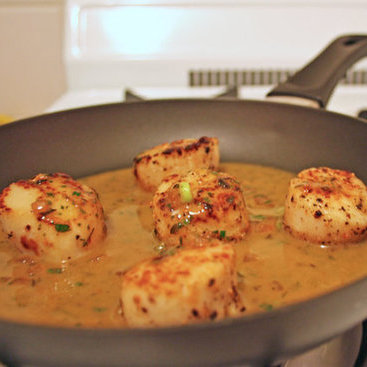 While these seared scallops [206] may call for sophisticated ingredients, they're actually incredibly easy to make!
Fenugreek Goat Cheese Salad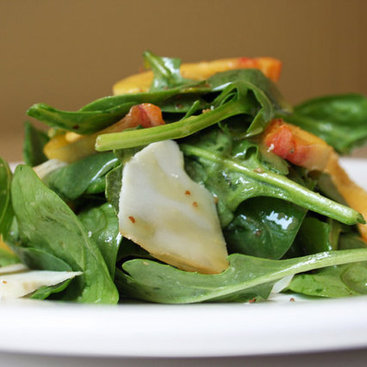 Experience fenugreek seasoning like never before when you make this fruity and tangy goat cheese and peach salad [207].
Texas Hill Country Chili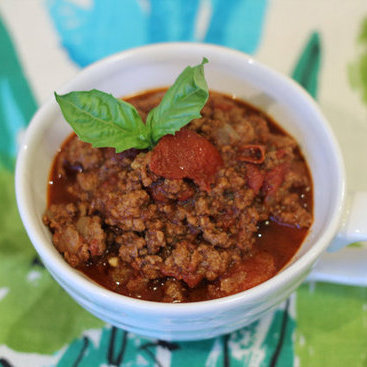 This Lyndon Johnson chili recipe [208] is an American favorite.
Grilled Pound Cake With Rose Whipped Cream, Pistachios, and Cherries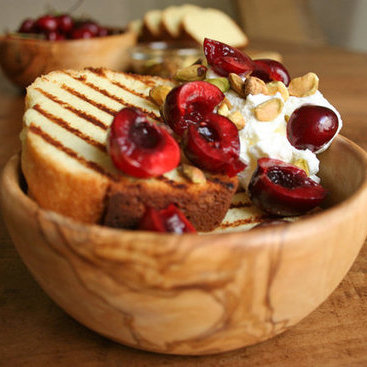 You're in for a real treat with this unconventional summertime grilled pound cake recipe [209]!
Spicy Scallops With Cappelini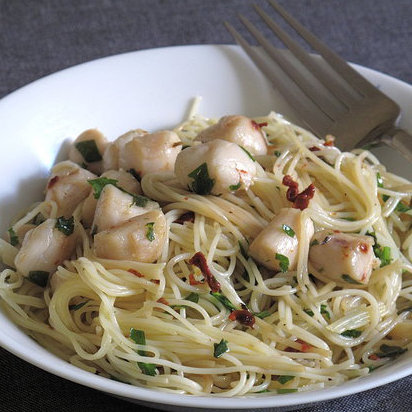 Switch things up for a night with this quick and easy scallop pasta recipe [210].
Caramelized Leek, Goat Cheese, and Bacon Dip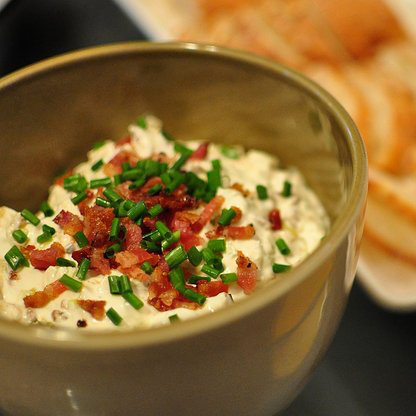 Treat yourself to this unique and divine bacon and caramelized leek dip recipe [211]!
Jalisco Flower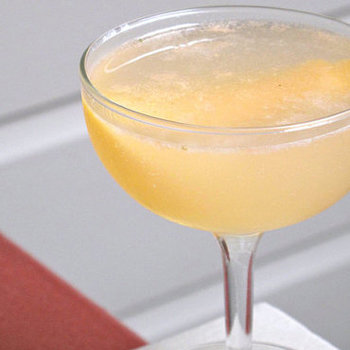 This champagne cocktail [212] will awaken your taste buds with its sweet-sour flavor!
All-American Apple Cobbler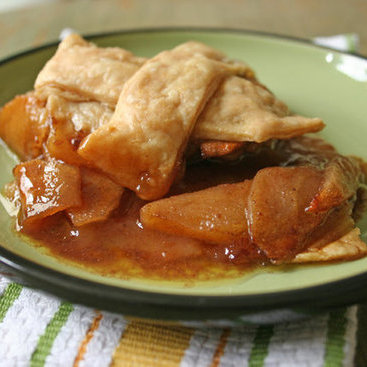 You can't go wrong with this sweet Michelle Obama apple cobbler [213] recipe!
Grilled Chicken Salad With Herb Vinaigrette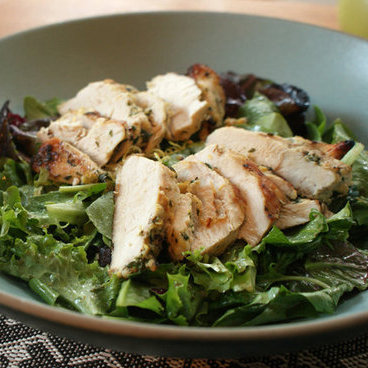 The grilled chicken salad [214] is a great go-to recipe if you're in the mood for a simple yet delicious meal!
Fruit and Oatmeal Bars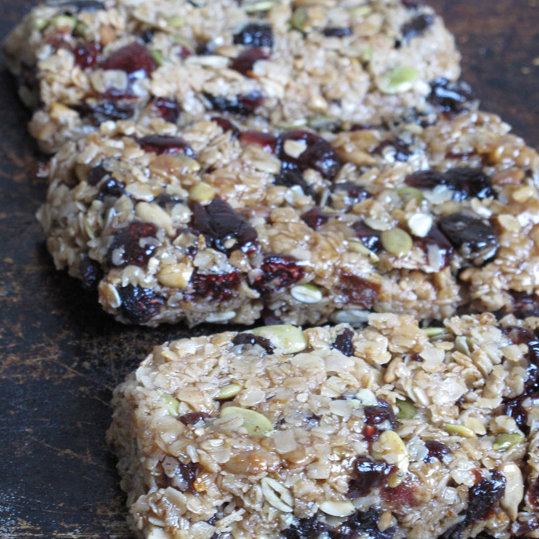 These flavorful homemade granola bars [215] taste dramatically different from the store-bought variety.
Salty Chocolate Pretzel Clusters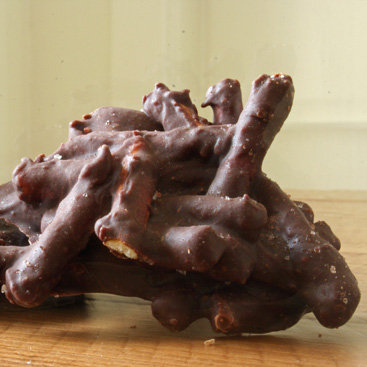 Looking for a new culinary challenge? Tackle salty chocolate pretzel clusters [216]. They're not that hard — we promise!
Turkey Club Sandwich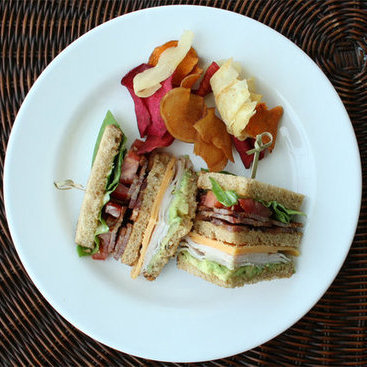 This delicious turkey club sandwich [217] gives the classic club a run for its money.
Vegan Almond Thumbprints With Chocolate "Buttercream"
Enjoy these palatable vegan almond cookies [218] on a sunny Spring day.
Avocado With Strawberry Salsa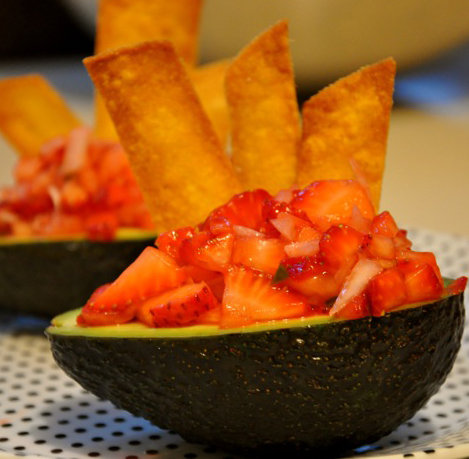 Snacking on this strawberry-salsa-filled avocado [219] will satisfy your cravings for both sweet and salty grub.
Greek Salad Bites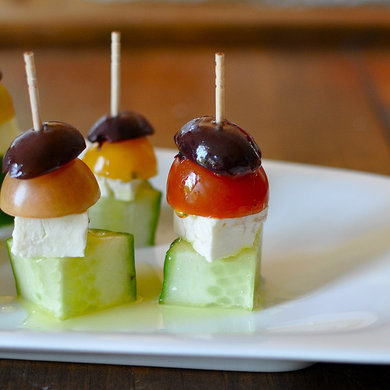 These savory Greek salad bites [220] are incredibly easy to make!
Blueberry Cornbread Muffins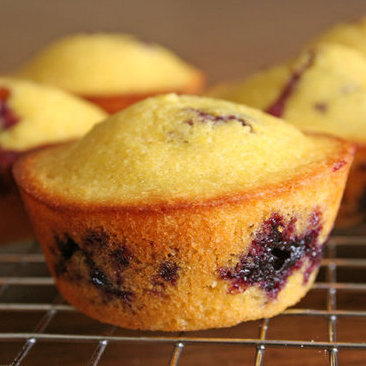 Kick-start your morning with a Texan take on blueberry corn muffins [221].
Lemon Buttermilk Bundt Cake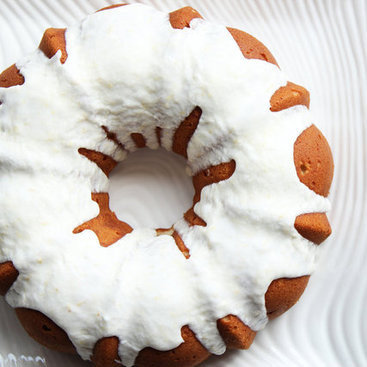 An impressive lemon buttermilk bundt cake [222] is a beautiful dessert for late Spring festivities.
Overnight Pain d'Epi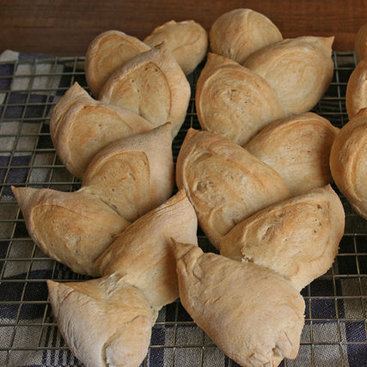 Pain d'Epi [223] is a pull-apart baguette that will have everyone at your table impressed.
Salmon With Green Beans and Spinach Pesto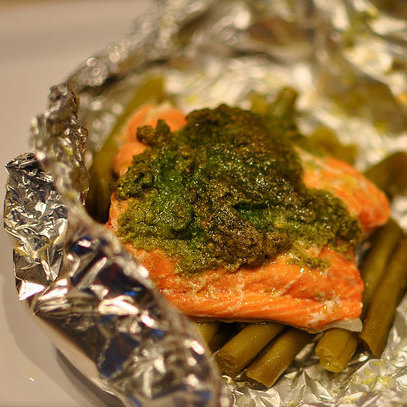 You won't believe how easily this elegant simple salmon recipe [224] from Jamie Oliver [225] comes together.
Crisped Prosciutto and Avocado Crostini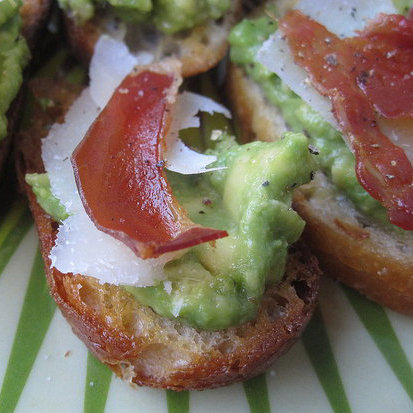 Take a twist on the classic crostini with these cute crisped prosciutto and avocado crostini [226] topped off with a little Manchego cheese.
Grilled & Stuffed Jalapeños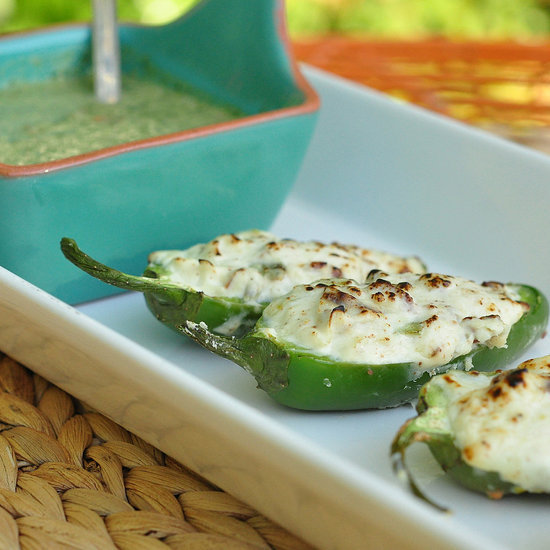 Kick off your night with a tasty app! These beautiful grilled jalapeño poppers [227] will have everyone asking for seconds.
Pollo Asado Negro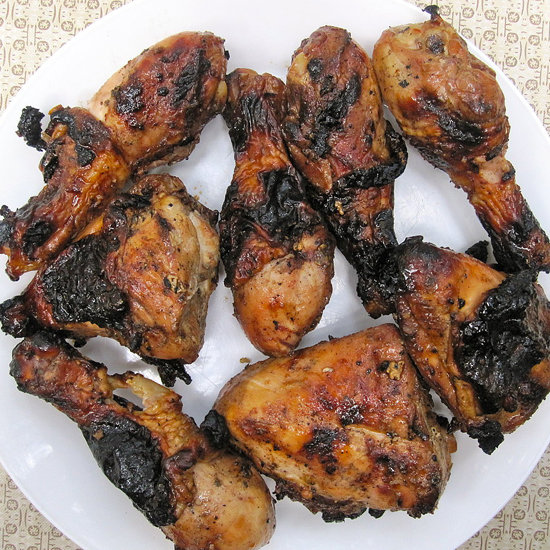 If you want to give your standard chicken a Latin flavor, brown sugar-crusted chicken [228] with Venezuelan flare should you your pick.
Grilled Flatbread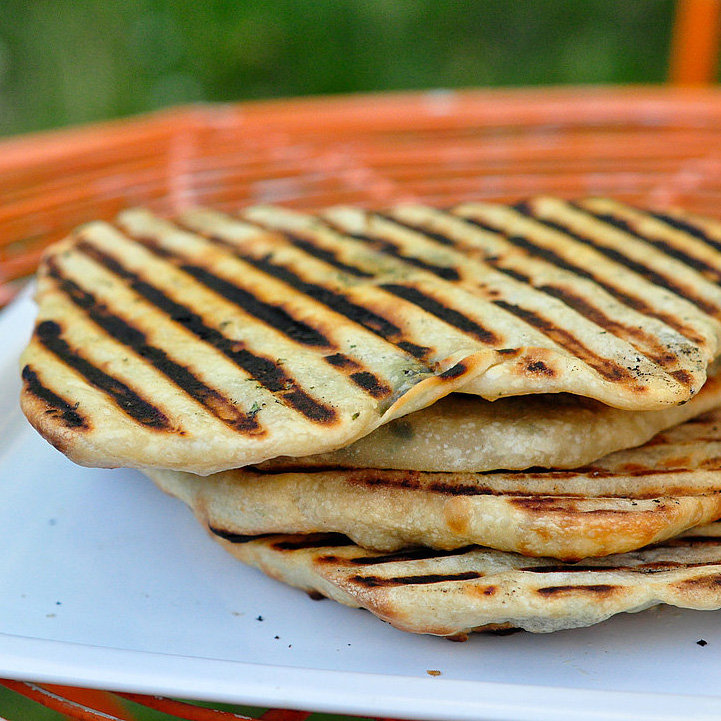 Get fresh and tasty grilled flatbread [229] right off your BBQ!
Apricot Tart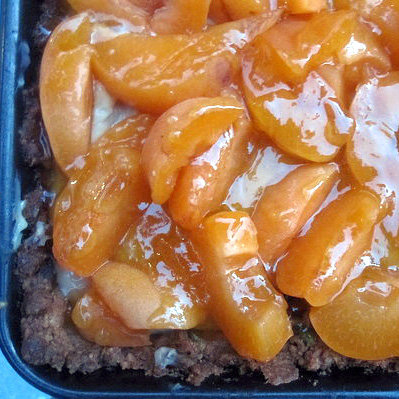 It's finally apricot season! Enjoy the fruit in simple dessert preparations like a no-bake tart [230].
Avocado and Spinach Panini
Make the most out of avocados by featuring them in a delicious panini [231].
Grilled Shrimp
These peel-and-eat grilled shrimp [232] are best enjoyed outside with a cold glass of white wine.
Ramp Risotto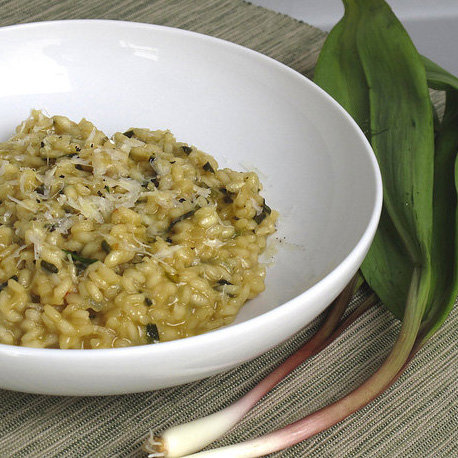 If you manage to get your hands on ramps this season, be sure to make this risotto [233]!
Moist Yellow Cake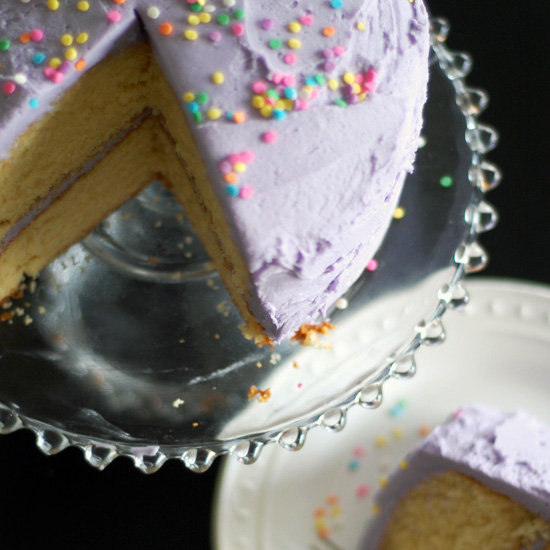 Find a reason to celebrate and whip up this moist yellow cake [234].
Moscow Mule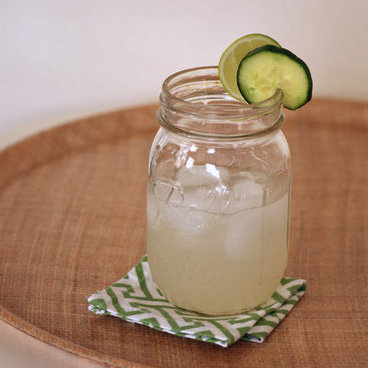 Thirsty Thursday just got so much better with this Moscow Mule cocktail [235].
Strawberry Ice Cream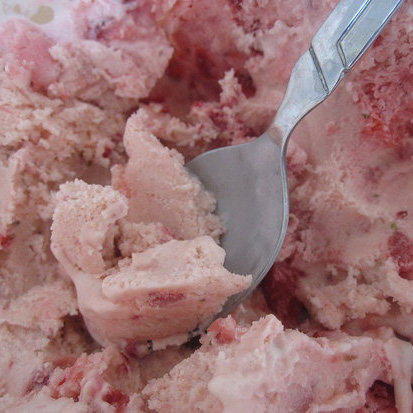 These warmer days call for delicious homemade strawberry ice cream [236].
Swiss Chard and Walnut Coca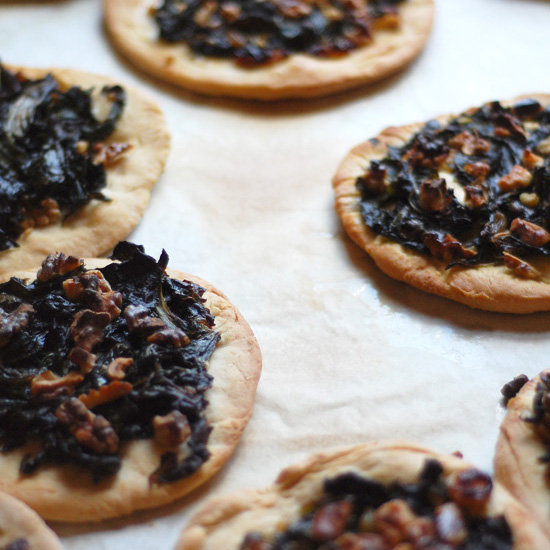 This Spanish pizza [237] features Swiss chard and walnuts, making it incredibly satisfying
Smoked Salmon Salad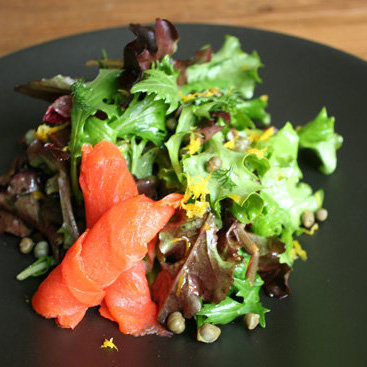 Keep it simple, healthy, and full of flavor with a smoked salmon salad [238].
Black Bean Omelet
Sunday is all about rest and relaxation, especially if you celebrated Cinco de Mayo. Fill up with a satisfying but healthy black bean omelet [239].
Chicken Tacos With Greens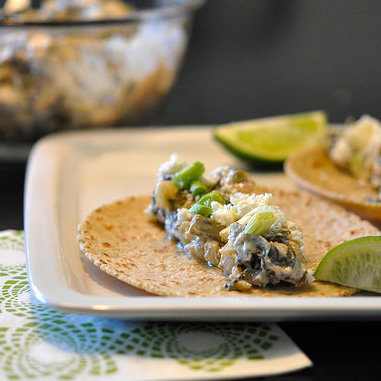 For your Cinco de Mayo celebration, shake things up a little bit by adding greens to your tacos [240].
Mint Julep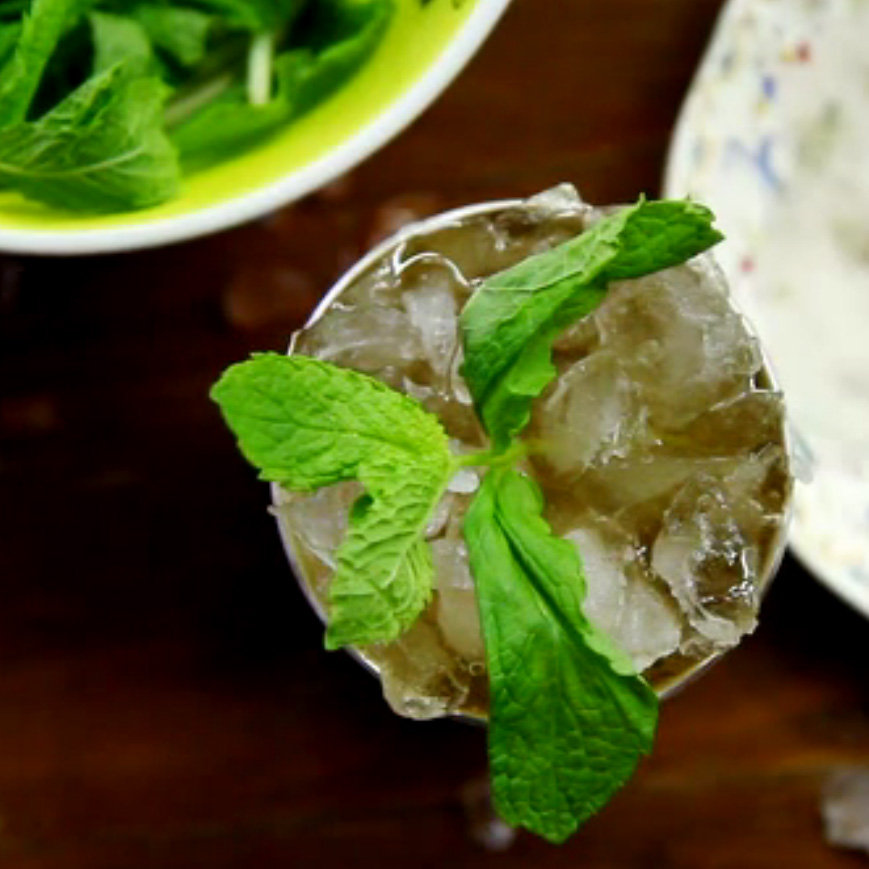 Saddle up for a day of watching the races with a mint julep [241] or two.
Chocolate Cupped Cupcakes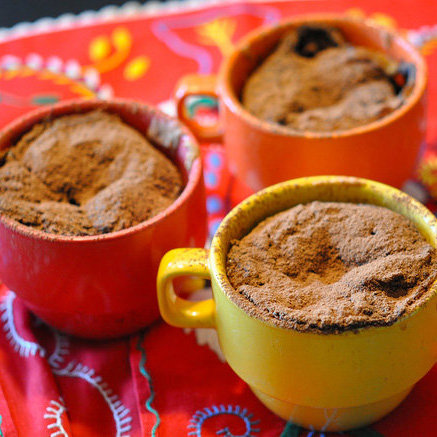 This gooey cupped cupcake [242] is indulgent and even a little bit sinful, but we are all about it.
Chicken and Roasted Spring Vegetables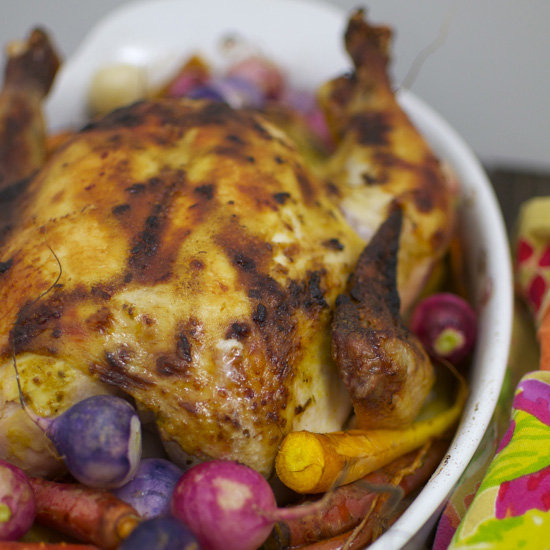 A whole roast chicken [243] is an easy meal for any weeknight. Try this version that incorporates a mustard sauce and colorful roasted Spring vegetables.
Red Quinoa Salad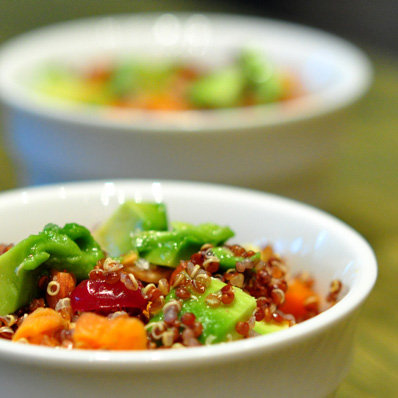 A brightly colored red quinoa salad [244] will have you feeling great for the rest of the week.
Strawberry, Banana, and Aloe Vera Smoothie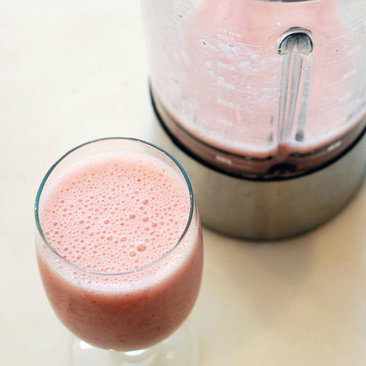 Get your week off to a good start with a healthy and refreshing aloe vera smoothie. [245]
Raspberry-Swirl Greek Frozen Yogurt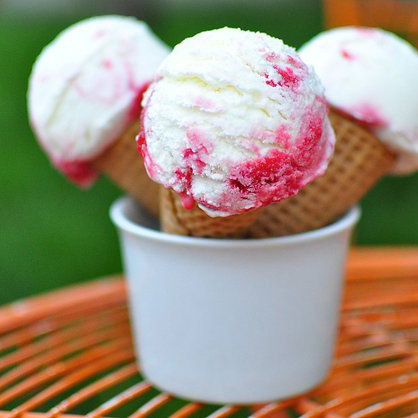 Welcome the warm weather with a cool scoop of homemade raspberry-swirl Greek frozen yogurt [246].
Fizzy Gin and Lavender Lemonade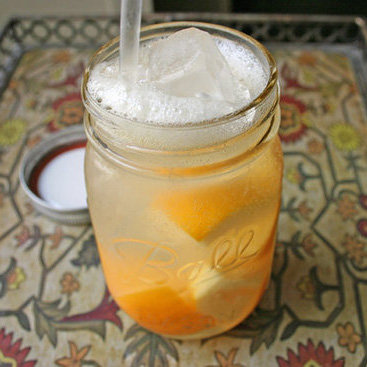 Go on, you deserve it. Make a fizzy gin and lavender lemonade [247] and your weekend will get a whole lot better!
Tuna Tartare on Rice Crackers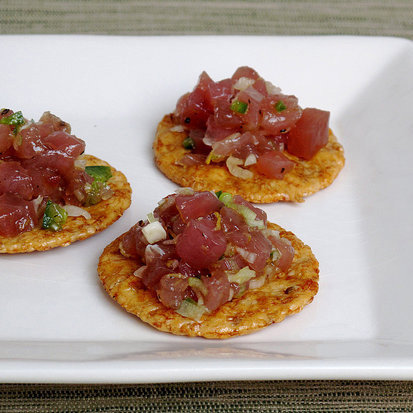 End your work week with a stiff cocktail and a savory appetizer, like tuna tartare on rice crackers [248].
Warmed Fiddlehead Salad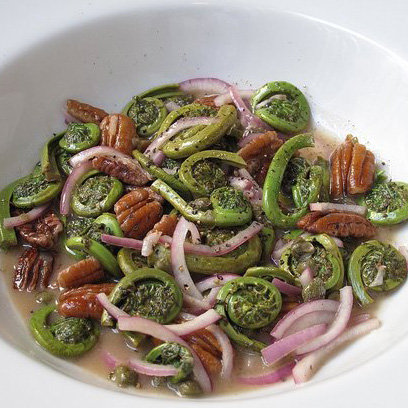 Venture out of your comfort zone and with a Spring salad [249] made of fiddleheads.
Crunchy Breadsticks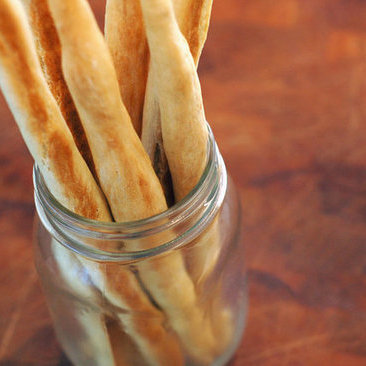 Make a batch of crunchy breadsticks [250] and you'll be snacking on them for the rest of the week!
Zesty Taco Salad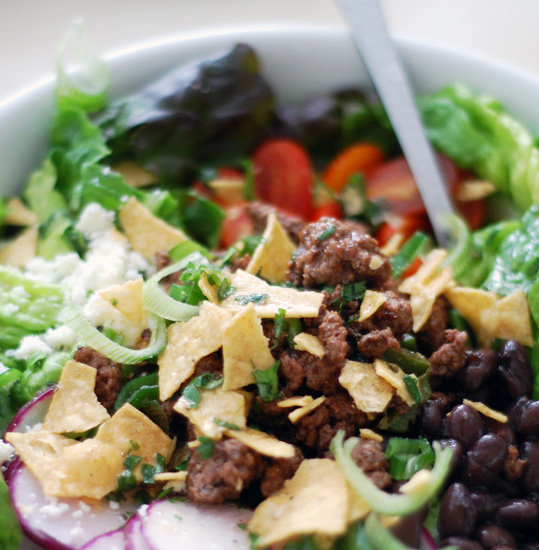 For a fast and easy meal that won't leave you feeling overly stuffed, try a zesty taco salad [251].
Ribboned Vegetable Salad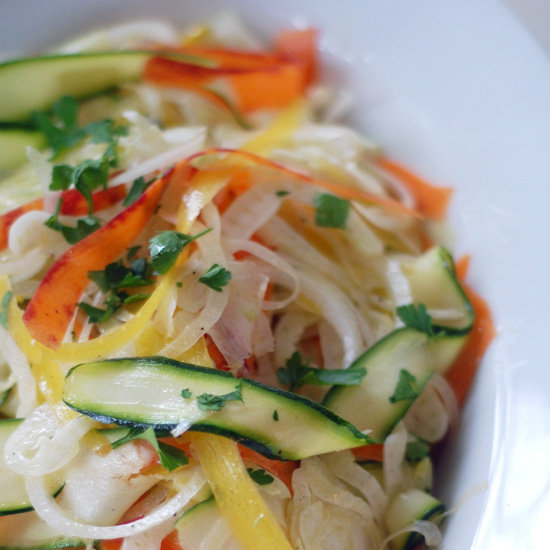 If you're tired of the same old green salad standby, shake things up with a ribboned vegetable salad [252].
Bloody Mary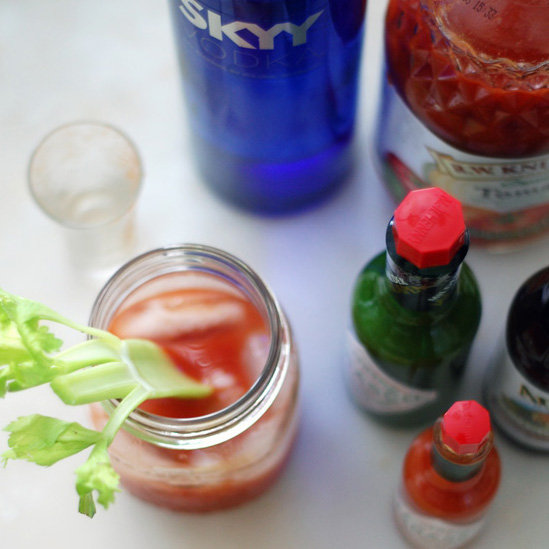 It's Sunday. That means it's a day for kicking back and relaxing with a bloody mary [253] in hand.
Bacon and Egg Sandwich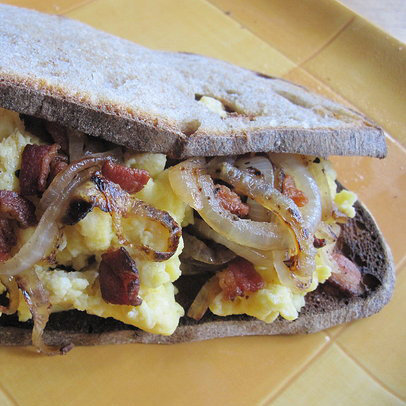 This finger-licking good bacon and egg sandwich [254] also doubles as a hangover cure.
Lamb Romesco Pizza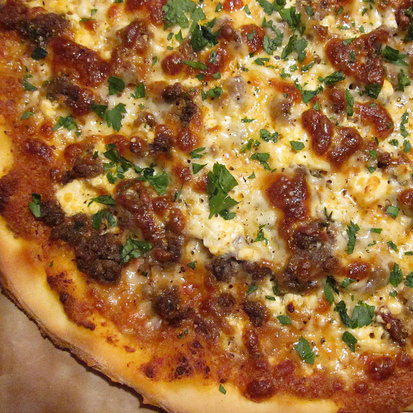 Enjoy a satisfying lamb pizza [255] to start your weekend off the right way.
Asparagus With Grated Egg and Vinaigrette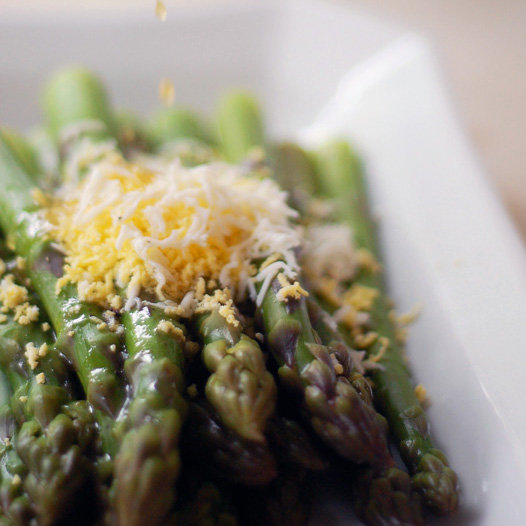 This light side dish of asparagus with grated egg and vinaigrette [256] is bright and festive.
Pita Sandwiches With Mint and Feta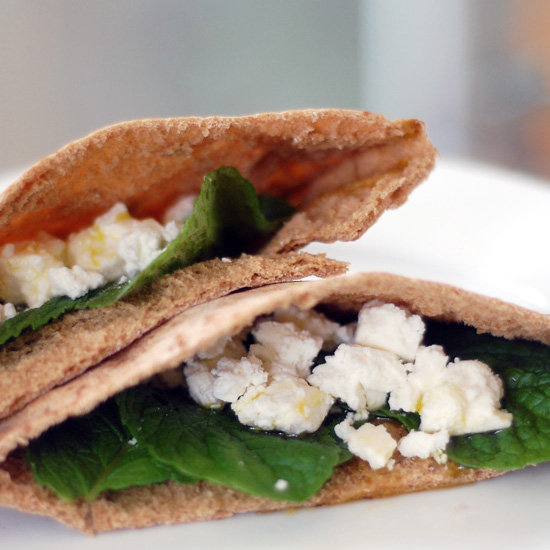 These pita sandwiches with mint and feta cheese [257] make a flavorful afternoon snack.
Waldorf Salad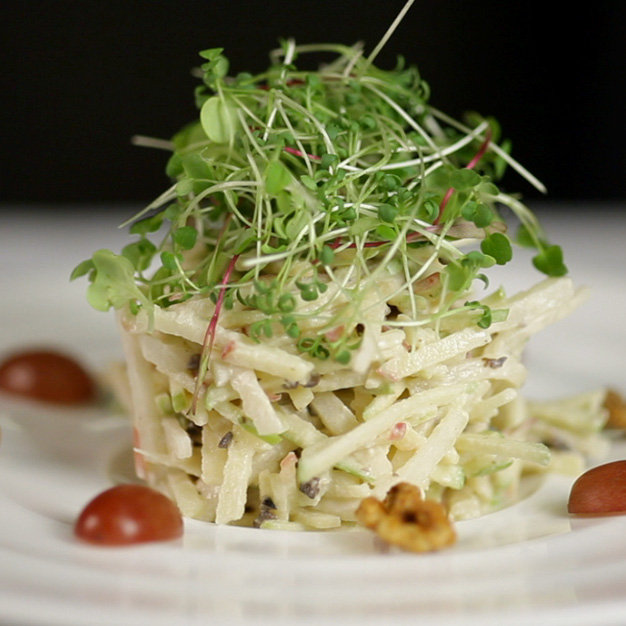 Now that the days are starting to warm up, make a light and refreshing Waldorf salad [258] to enjoy them.