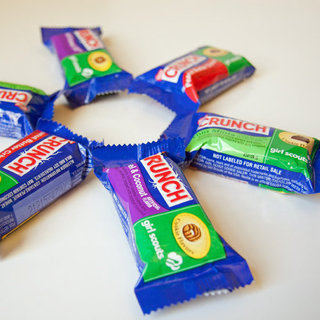 Jun 6 2012 - 11:24am
We did a double take when we received these Nestlé Crunch Girl Scout candy bars. And we weren't the only ones; today, the PopSugar editors couldn't keep their eyes off of these bars, strategically positioned at the edge of my desk to lure taste testers.
The Girl Scouts of America are celebrating their 100th anniversary, and they have developed the first candy bar partnership ever with Nestlé Crunch. The bars hit stores nationwide as of June 1, but get them while you can, because when the limited-edition candy bar is gone, it's gone. Nestlé anticipates the bars will sell out by September. While there's no mention of the proceeds that Nestlé Crunch is giving the nonprofit to form the partnership, we think it must have been astronomical if the Girl Scouts were willing to reveal their secret recipes!
We had the privilege of trying all three flavors: Caramel & Coconut, Peanut Butter Crème, and Thin Mints. Take a look at our review, and find out if we deem the unexpected partnership a success!