Savory Watermelon Dishes
4 Savory Ways to Enjoy Watermelon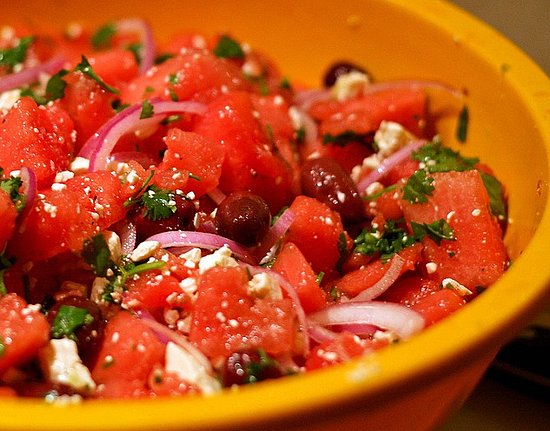 The simplest preparation of ripe watermelon, fresh from the fridge and sliced into wedges, is arguably the best way to eat it. But I'm going to play devil's advocate and recommend that you do something unexpectedly delicious with watermelon. Fresh popsicles or another sweet treat are awesome uses of watermelon, but they are a little too common. To really blow your friends and family away, incorporate the juicy pink flesh of watermelon into a savory dish. Here are four to try:
Salad: Arugula (or some other green, like watercress), feta, and watermelon salad has popped up on so many restaurant menus it could practically be considered a classic salad! Other salad ingredients that pair well with watermelon are jicama, mint, red onion, olives, tomatoes, goat cheese, radishes, basil, cucumber, avocado, and fennel. Try adding watermelon slices to Caprese salad: it tastes wonderful with balls of fresh mozzarella.
Seafood: The brightness of watermelon complements many kinds of seafood from squid to swordfish to crab.
Cocktail: When pureed and strained, watermelon juice is a refreshing ingredient in many cocktails, specifically drinks that have a little spice like this chipotle-rimmed tequila beverage.
Grill it: Earlier this Summer, Mark Bittman, columnist at The New York Times, blew me away with his recommendation for grilled watermelon burgers! If that's a little too adventurous for you, grill watermelon and add it to a salad.
Do you use watermelon in savory dishes? Share your techniques with us below!