Scrumptious Strawberry Shortcake
Ever since I spoke to Pat and Gina Neely, I've wanted to make their famous strawberry shortcut cake. Last weekend, I finally got around to making this divinely delicious dessert that combines vanilla cake with fresh strawberries, whipped cream, and strawberry gelatin.
Gina's recipe uses a store-bought cake mix, but I had extra time so I made a vanilla cake from scratch. Thanks to the strawberry jello, the cake is super moist and insanely luscious. If you need a Spring dessert to feed a crowd, I highly recommend this cake. To check out the recipe, read more.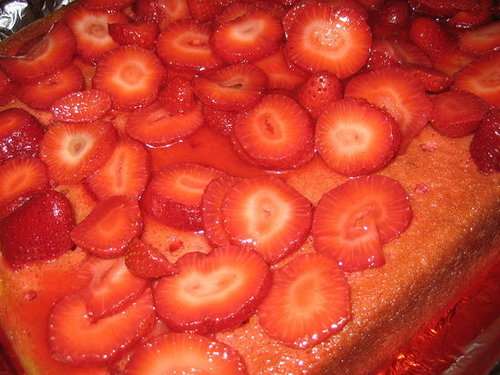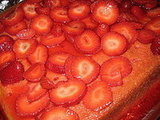 Ingredients
For cake
1 cup (2 sticks) unsalted butter, room temperature, plus more for pan
2 cups cake flour (not self-rising)
1 3/4 cups all-purpose flour
2 teaspoons baking powder
3 1/4 cups sugar
3/4 teaspoon salt
1 tablespoon pure vanilla extract
1 cup large egg whites, about 8, room temperature
1/2 cups milk, room temperature
For topping:
3 cups fresh strawberries, sliced
2 tablespoons cognac
1/4 cup sugar
1 cup heavy cream*
1/4 cup confectioners' sugar
1 teaspoon vanilla extract
1 (3-ounce) package strawberry flavored gelatin (recommended: Jell-O)
Fresh strawberries, for garnish
Directions
Make cake: preheat oven to 325 degrees. Butter a 9-by-13-inch cake pan; line bottom with parchment paper. Sift together flours and baking powder; set aside.




In the bowl of an electric mixer fitted with the paddle attachment, cream together butter and sugar until light and fluffy. Add salt and vanilla, beating until combined.
With mixer on low speed, gradually add egg whites, scraping down sides of bowl as necessary. Add reserved flour mixture in 2 parts, alternating with the milk, and scraping down sides of bowl between each addition.
Mix until combined. Increase speed to medium-high for 20 seconds. Transfer to prepared pan. Bake until a cake tester inserted in the center comes out clean, about 45 minutes. Transfer to a wire rack to cool completely.
Meanwhile, in a medium bowl, combine strawberries, cognac and sugar. Let macerate 20 minutes. Invert and release cake onto a decorative platter.
Whip cream with confectioners' sugar and vanilla at medium-high speed until it reaches stiff peaks. Do not over whip.
Mix gelatin as directed on box. Refrigerate gelatin mix but do not let it harden, it should cool to a liquid consistency.
Using a straw, poke holes all over the cake. Pour gelatin into holes and spread over the top of the cake.




Spread layer of macerated strawberries on top of cake. Spread layer of whipped cream on top of the strawberries, making pretty swirls and ripples. Garnish with fresh strawberries. Refrigerate for at least 4 hours.
Serves 10-12.
*I found that 1 cup of whipped cream was NOT enough to cover the entire cake. In the future I will double the amount of whipped cream and confectioners' sugar to ensure that all sides of the cake are covered in whipped cream.
Information
Category

Cake, Desserts

Cuisine

North American