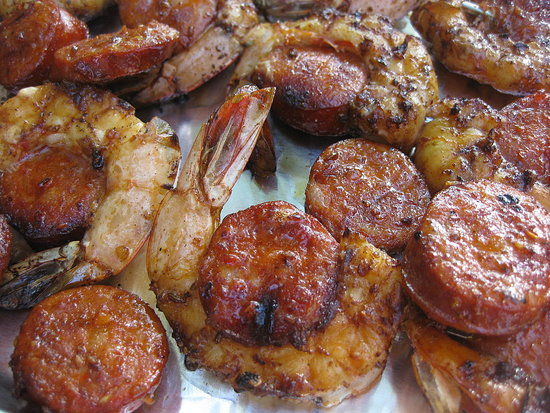 There's something so satisfying about the combination of briny, salty seafood and hearty, juicy meat. While this marriage — surf and turf — is nothing new, it gets cleverly updated in this simple recipe. The shrimp is tossed in a mixture of garlic, chile powder, and caraway seeds. Although caraway seeds aren't the first ingredient that comes to mind when making a quick marinade for shrimp, they enhance the flavor of the shrimp to better complement the chorizo. When grocery shopping for this dish, look for large shrimp, otherwise they won't fit around the chorizo slices. If you can't find chorizo, substitute linguiça or another spicy, robust sausage. To throw these babies on the barbie, get the recipe and read more.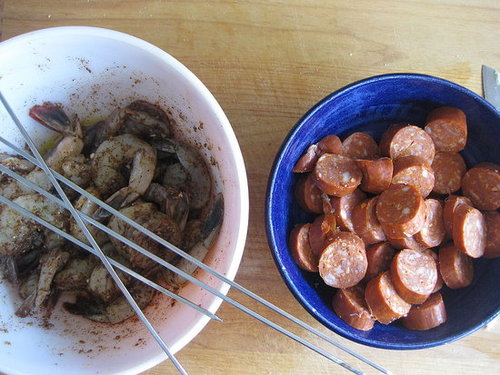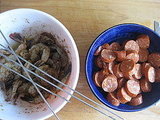 Ingredients
2 large garlic cloves, thickly sliced
2 teaspoons sea salt
2 teaspoons caraway seeds
2 tablespoons pure chile powder, such as ancho
1/4 cup extra-virgin olive oil
2 pounds large shrimp, shelled and deveined
8 small chorizo (about 1/2 pound total), sliced 1/2 inch thick
Directions
On a cutting board, using the flat side of a chef's knife, mash the garlic and salt to a coarse paste. Add the caraway seeds and finely chop them.
Transfer to a large bowl and stir in the chile powder and olive oil. Add the shrimp and toss to coat.
Meanwhile, bring a small saucepan of water to a boil. Add the chorizo and cook over high heat for 5 minutes. Drain and pat dry. Let cool slightly.
Tuck a chorizo slice in the crook of a shrimp and thread onto a skewer; the shrimp should be attached at both ends. Push it to the end of the skewer and repeat with two more shrimp and chorizo slices. Using more skewers, repeat with the remaining shrimp and chorizo.
Grill the kebabs over a hot fire, turning once or twice, until charred and the shrimp are cooked through, about 5 minutes. Serve immediately.
Serves 6.
Information
Category

Appetizers, Seafood

Cuisine

Mediterranean/Middle Eastern