Although I've made hummus with canned garbanzo beans a bunch of times, recently, I decided to experiment with a dried variety. The resulting hummus was delicious and incredibly rich with a perfect texture. Using the dried beans seemed to make it fuller and more luxurious than other any other hummus. You do, however, need to let the beans soak overnight, so don't wait until the last minute to make the puree. Served with crisp pita chips, this hummus was a scrumptious start to a Mediterranean meal. To look at the recipe, read more.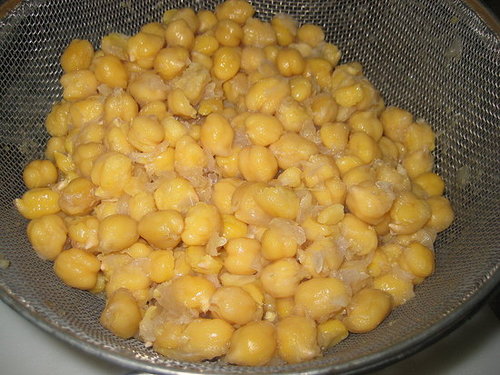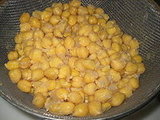 Ingredients
1/2 pound dried chickpeas
1 tablespoon baking soda
7 large garlic cloves, unpeeled
1/2 cup extra-virgin olive oil, plus more for drizzling
1/4 teaspoon ground cumin, plus more for garnish
1/2 cup tahini, at room temperature
1/4 cup plus 1 tablespoon fresh lemon juice
Salt
Paprika, for garnish
1/4 cup chopped parsley
Pita bread, for serving
Directions
In a medium bowl, cover the dried chickpeas with 2 inches of water and stir in the baking soda. Refrigerate the chickpeas overnight. Drain the chickpeas and rinse them under cold water.
In a medium saucepan, cover the chickpeas with 2 inches of fresh water. Add the garlic cloves and bring to a boil. Simmer over moderately low heat until the chickpeas are tender, about 40 minutes.
Drain, reserving 10 tablespoons of the cooking water and 2 tablespoons of the chickpeas. Rinse the chickpeas under cold water. Peel the garlic cloves.
In a food processor, puree the chickpeas with 1/2 cup of the reserved cooking water, 1/4 cup of the olive oil and 6 of the garlic cloves. Add the cumin along with 1/4 cup each of the tahini and lemon juice and process until creamy. Season the hummus with salt and transfer to a serving bowl.*
Wipe out the food processor. Add the remaining 1/4 cup of tahini, 1/4 cup of olive oil, 2 tablespoons of reserved cooking water, 1 tablespoon of lemon juice and garlic clove and puree.
Using a ladle, make an indent in the center of the hummus. Spoon in the tahini-lemon mixture. Sprinkle the hummus with the cumin and paprika.
Garnish with the reserved whole chickpeas** and the parsley, and serve with pita bread.
Makes about 4 cups.
Make ahead: the ungarnished hummus and cooked chickpeas can be refrigerated separately for up to 2 days.
*I thought the hummus was a little bland, so I added in more cumin and tahini, smoked paprika, and fresh ground black pepper. Taste the hummus and season according to your liking.
**I forgot to remove some of the whole chickpeas and did not use them as a garnish.
Information
Category

Appetizers, Dips

Cuisine

Mediterranean/Middle Eastern