May 7 2010
When I saw OnSugar blogger Faith, Hope & Chocolate's recipe for strawberry lemonade, the first thing that came to mind was: I wonder how that combination would work in a cocktail? Since there's a farmers market downstairs from Sugar headquarters every Thursday, I stopped by to pick up some fresh, plump berries. Then, I went home to experiment. The resulting libation is vibrantly colored and delicious.
If you love strawberries you'll definitely be a fan of this easy sipper. I combined vodka with lemon juice, muddled strawberries, and simple syrup. The whole thing is shaken and then strained into a chilled glass. It's a seasonal, slightly girlie drink that's delightfully balanced and ends up somewhere between too sweet and too potent. This strawberry vodka cocktail is just the thing to kick-start your weekend, so cheers! Grab a glass and get the recipe.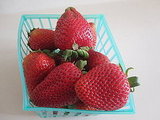 Ingredients

3 strawberries, chopped
1 1/2 tablespoons Simple Syrup
2 ounces vodka
1 1/2 tablespoons fresh lemon juice
Ice
strawberry or lemon wheel, optional for garnish

Directions
Put the strawberries and simple syrup in the bottom of a cocktail shaker. Muddle well.
Add the vodka, lemon juice, and ice. Shake hard for 45 seconds and strain into a chilled martini, coupe, or old-fashioned glass.
If desired, garnish with a strawberry and lemon wheel. Enjoy immediately!
Makes 1 drink.