Sunday BBQ: Savory Tofu-on-a-Stick
When I'm in the mood for a light meal, I look for flavorful vegetarian options. These grilled tofu sticks — a play on the traditional corn dog — are the perfect alternative.
To give them a spicy kick, the tofu sticks are marinated overnight in a sweet-hot mustard. They're grilled, rather than deep-fried, like most corn dogs, so they're actually good for you.
If you are not a fan of tofu, you could substitute something else. Try marinating tempeh or portobello mushrooms. To get the recipe, read more.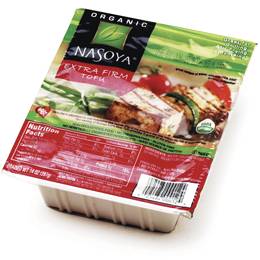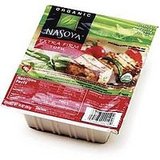 Ingredients
1 16-ounce package firm or extra firm tofu
1/2 cup sweet and hot mustard
1/2 cup seasoned bread crumbs
Pinch of chili pepper, or to taste
Spray can of olive oil
Directions
Place block of tofu on cutting board. With a sharp knife, cut into three equal sections lengthwise. Cut each section in half lengthwise so that you end up with six "tofu sticks."
Arrange several layers of paper towels on a plate and place tofu sticks on top. Place several layers of paper towels on top of sticks and press down to remove excess moisture from tofu.
Place tofu sticks in a container large enough to store them in a single layer. Using a knife or a brush, spread mustard evenly on all sides of the tofu. Cover container and place in refrigerator to marinate for at least three hours or overnight.
After marinating tofu, remove from refrigerator. Place seasoned breadcrumbs on a plate, add chili pepper and mix together with a fork. Place each tofu stick on a skewer.
Holding the skewer, one at a time, place each tofu stick into the breadcrumbs and coat on all sides. Place each skewered tofu stick on a plate after coating.
Lift each tofu stick off the plate using the skewer. Spray all sides of tofu with olive oil. Place back on plate to transport to grill.
Lightly spray grill with olive oil to prevent sticking. Grill sticks over medium heat, turning so that all four sides become browned and crispy. Remove from grill and serve on skewers.
Makes 6 skewers.

Per Serving (158g-wt.): 180 calories (70 from fat), 8g total fat, 1.5g saturated fat, 3g dietary fiber, 17g protein, 14g carbohydrate, 0mg cholesterol, 730mg sodium
Information
Category

Main Dishes, Tofu

Cuisine

North American