Ultimate Oatmeal Cookie Recipe
Ultimate Oatmeal Cookie: Hazelnut Chocolate Chip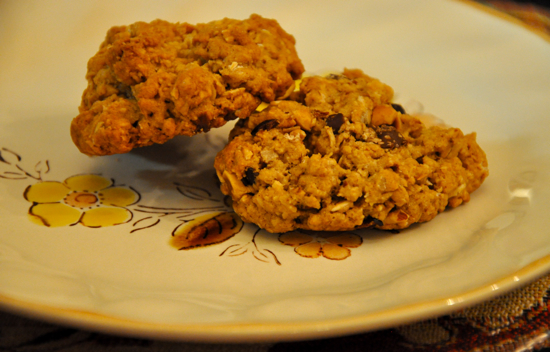 With all of the talk of cookie exchange parties, I couldn't resist making one of my favorites, oatmeal with chocolate chips, hazelnuts and cocoa nibs. I love the texture of oatmeal cookies but can't stand them with raisins so I began experimenting with different additions. It started with only chocolate chips and slowly grew to other ingredients.
After many trials, the conclusion was clear: creamy chocolate chips, roasted hazelnuts, and crunchy cocoa nibs all nestled in a chewy oatmeal cookie. The nibs are not completely necessary, but do provide a more intense chocolate flavor without amplifying the sweetness. They are essential for any chocoholic. If you want to add a little more to your oatmeal cookie keep reading.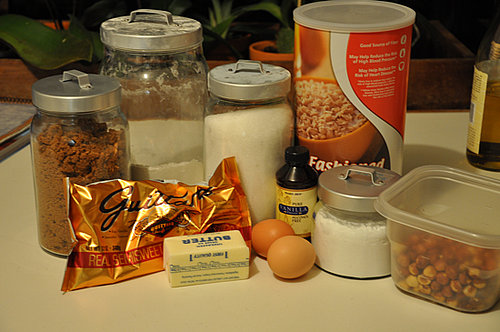 Original Recipe
Ultimate Oatmeal Cookie: Hazelnut Chocolate Chip
Ingredients
1/2 cup (1 stick) plus 6 tablespoons butter, softened
3/4 cup firmly packed brown sugar
1/2 cup granulated sugar
2 eggs
1 teaspoon vanilla
1-1/2 cups all-purpose flour
1 teaspoon baking soda
1/2 teaspoon ground cinnamon (optional)
1/2 teaspoon salt
3 cups Oats (quick or old fashioned, uncooked)
3/4 cup hazelnuts, roasted, finely chopped
3/4 cup Guittard Semi Sweet Chocolate chips
1/4 cup Scharffen Berger Cacao Nibs
Directions
Heat oven to 350°F. On a foil lined cookie sheet, roast the hazelnuts for 10-15 minutes until very fragrant. Let cool slightly, place the nuts in a clean hand towel and gently rub to remove the skin. Finely chop.

In large bowl, beat butter and sugars on medium speed of electric mixer until creamy. Add eggs and vanilla; beat well.

Add oats, flour, baking soda, cinnamon and salt, mix well.

Add nuts, chocolate chip and cocao nibs, mix well.

Drop dough by rounded tablespoonfuls onto ungreased cookie sheets.

Bake 8 to 10 minutes or until light golden brown. Cool 1 minute on cookie sheets; remove to wire rack. Cool completely. Store tightly covered.

Makes about 3 dozen.
Information
Category

Desserts, Cookies
Do you have an amazing cookie recipe? Share it in our great community recipe group, Kitchen Goddess. All you have to do is upload your recipe. We might feature your recipe here on YumSugar!