Vanilla Cupcake Recipe
Get the Dish: Magnolia Bakery Cupcakes
Have you ever wondered how to make a signature dish at one of your favorite restaurants? Well, get excited because our new video series, Get the Dish, teaches you how it's done! When it comes to cupcakes, there's nothing like Magnolia's classic vanilla cupcake. It's the treat that started the cupcake craze — so we went inside their bakery in LA to learn the technique to making perfectly delicious cupcakes. Watch the video now and see how it's done.



To print out the recipe, keep reading.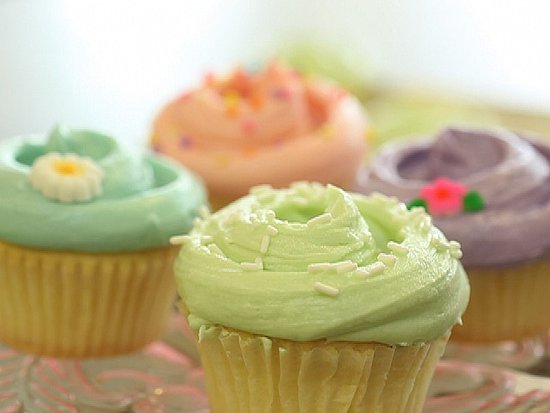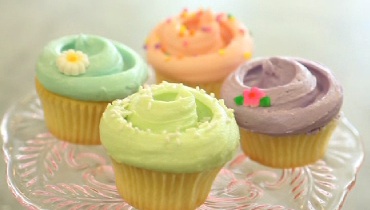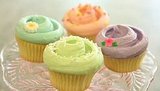 Ingredients
1 cup unsalted butter, at room temperature
4 large eggs, at room temperature
1 cup whole milk
1 teaspoon pure vanilla extract
1 1/2 cups self-rising flour (recommended: Aunt Jemima)
1 1/4 cups cake flour, (recommended: Pure as Snow), spoon flour into a dry measure cup and level off
2 cups granulated sugar
Directions
Preheat oven to 350°F degrees.
Line 2 cupcake pans with paper liners.
Chop the butter into 1-inch cubes and set aside.
Whisk eggs together in a stainless steel bowl, set aside.
Measure and combine milk and vanilla, set aside.
In a mixing bowl, combine the self-rising flour, cake flour, and sugar. Using the paddle attachment, mix for 2 minutes on low speed.
With the mixer on low speed add the butter one cube at a time - use the guard for the mixer and be careful - do not rush. Butter should be in small pieces.
Add 1/2 of the milk and vanilla mixture.
Scrape the bowl and mix on medium speed for 1 minute.
Slowly pour eggs and the rest of the milk mixture into the bowl on low speed.
Scrape bowl and continue mixing for 1-2 minutes.
Scoop the batter into the prepared cupcake pans.
Bake for 23 minutes or until cake tester comes out clean.
Makes 2 dozen cupcakes.


Vanilla Buttercream Frosting
1 cup (2 sticks) unsalted butter, at room temperature
1 teaspoons vanilla extract
1 box (4 cups) confectioners' sugar
2 – 3 tablespoons whole milk
Cream the butter in a large mixing bowl. Add the vanilla.
Gradually add sugar one cup at a time. Scrape down sides of bowl often. When the mixture starts to thicken and appears dry add 2 tablespoons of milk.
Beat on medium speed until smooth and creamy about 2-4 minutes. Add more milk as needed if you want a thinner consistency. If desired, add a few drops of food coloring and mix thoroughly.
Store the icing at room temperature. Icing can be stored in an airtight container for up to 3 days.
Information
Category

Desserts, Cupcakes

Cuisine

North American
Disclaimer: the recipe in the video is the same one that Magnolia Bakery uses in-house, but it shows a mixing method that is more appropriate for larger batches. Home bakers should follow the above recipe for best results.