Vegetarian Stuffed Mushroom Recipe
Start Your Holidays With Red and Green Stuffed Mushrooms
If you're an avid hostess like me, a good stuffed mushroom appetizer recipe is a must. Stuffed mushrooms are a classic and crowd-pleasing hors d'oeuvre that can easily be made in advance. While some recipes incorporate pork products like sausage, mushrooms are meaty enough on their own, so I prefer to make them vegetarian-friendly.

My stuffing is a festive red and green mixture of wilted spinach, chopped sun-dried tomatoes, and lots of garlic. Parmesan cheese provides a scrumptious saltiness, while breadcrumbs add a slight but necessary crunch. Since mushrooms release a lot of liquid when cooking, it's important to partially bake them before stuffing; this will ensure that nothing gets too soggy. Ready to learn the method for stuffed mushrooms? Keep reading.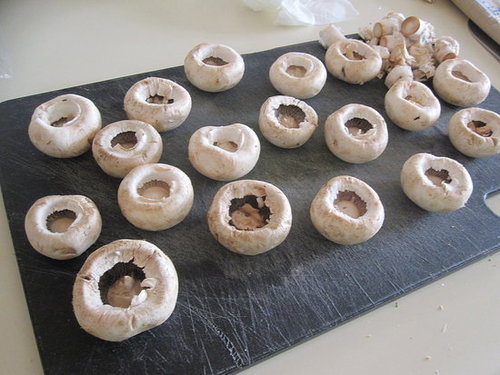 From Katie Sweeney
Stuffed Mushrooms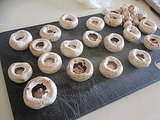 Ingredients
28 white mushrooms, caps wiped clean and stems removed and reserved
1 tablespoon olive oil
1/2 cup onion, finely diced
2 garlic cloves, minced
1 1/2 cups fresh spinach, chopped
1/3 cup sun-dried tomatoes, chopped
3 tablespoons heavy cream
1/2 cup parmesan cheese, finely grated
salt and freshly ground black pepper, to taste
1/4 cup breadcrumbs
Directions
Preheat the oven to 375°F. Place the mushroom caps, stem side down, on a large baking sheet. Bake for 10-12 minutes until the mushrooms are soft, slightly darker in color, and have released their juices. Let cool slightly.
Meanwhile, make the filling: finely mince the reserved mushroom stems. Add the olive oil to a large saute pan set over medium heat. When it's hot, add the onion and chopped mushroom stems. Saute until soft and translucent, taking care not to burn, about 8 minutes.
Add the garlic and cook for 2 minutes until fragrant. Add the chopped spinach by the handful, stirring to wilt.
When all the spinach has been wilted in, add the sun-dried tomatoes and heavy cream. Simmer for 3 minutes to let the flavors combine.
Remove from the heat and add half of the parmesan cheese. Season liberally with salt and pepper.*
When the caps are cool enough to handle, spoon a heaping teaspoon of stuffing inside each mushroom. Sprinkle with the breadcrumbs and remaining parmesan cheese.
Place the stuffed mushrooms, stuffing side up, on a baking sheet. Bake for 10-12 minutes until the stuffing is hot and the mushrooms are dark brown in color. Serve immediately.
Serves 6-8.


*Make ahead: The stuffing and mushrooms can be prepared one day in advance. Let both come to room temperature before stuffing the mushrooms and baking.
Information
Category

Finger Foods, Appetizers

Cuisine

North American