What to Make With Pesto
Beyond Spaghetti: 8 Things to Do With Pesto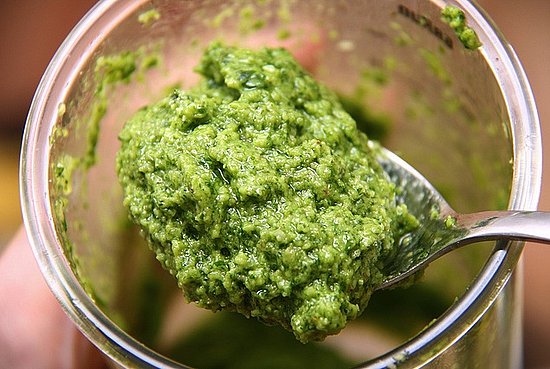 During the Summer, I love to use the bounty of in-season basil to make fresh pesto. The combination of basil, pine nuts, parmesan cheese, and olive oil is always delicious. If you don't have time to blitz your own pesto but want to cook with the sauce, simply pick up some from the local market. Although pesto is wonderful tossed with al dente pasta, there are plenty of other ways to make use of the Italian condiment. To see my suggestions, read on.
Instead of using tomato sauce, top pizza dough with the pesto. Sprinkle with cheese and tomatoes for a scrumptious twist on the classic pizza margherita.
Toss with plump cooked shrimp or serve on top of grilled whole fish.
Make a Summer lasagna, but use pesto in place of tomato sauce.
Grill bread, then top with goat cheese or mozzarella. Drizzle the pesto over the top for a quick but tasty appetizer.
Make pasta salad: throw the pesto, a bunch of veggies, and pasta into a bowl. Mix well to combine, then chill several hours, so the flavors can blend together.
Serve atop grilled lamb chops.
Spread onto a baguette and make a sandwich with roast turkey, avocado, and tomato slices.
Coat mini balls of mozzarella with the pesto. Skewer onto toothpicks with cherry tomatoes and croutons.
What do you like to make with pesto? Share your suggestions below!
Source: Flickr User diekatrin