When planning a festive holiday meal like Thanksgiving, it's fun to think about the colors that will grace the table. The deep greens of vegetables, the vibrant red of cranberry sauce, the rich orange of sweet potatoes. And thanks to a side dish like this wild rice with mushrooms, earthy browns and buttery creams will also be a part of the food rainbow.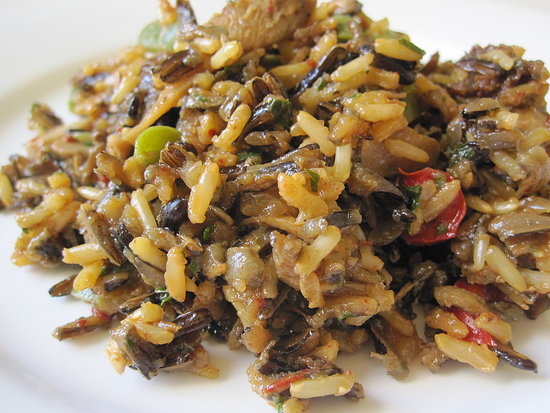 Wild rice takes time to prepare, so consider making this dressing in advance. It's a delicious and easily adaptable recipe, stir in whatever vegetables you have on hand. Cubes of butternut squash or wilted spinach would be welcome additions. Another great thing about this recipe is it's pretty healthful: it's both high in fiber and low in fat. Get the technique here.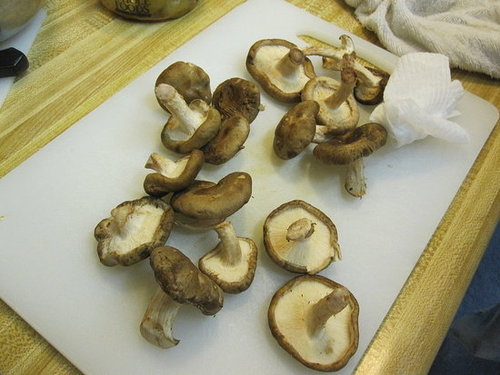 Adapted from Bon Appétit
Wild Rice and Mushroom Dressing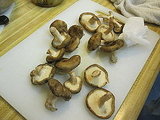 Ingredients
1 cup wild rice
3 tablespoons butter, divided
3 tablespoons extra-virgin olive oil, divided
12 ounces fresh shiitake mushrooms, stemmed, sliced
1 red pepper, chopped
1 large onions, chopped
2 cloves garlic, minced
1 large dried ancho chile, stemmed, seeded, finely chopped
1 cup brown basmati rice
3.5 cups low-salt chicken broth
2 bay leaves (preferably fresh)
1 teaspoon (or more) coarse kosher salt
1/4 cup chopped fresh Italian parsley
Directions
Place wild rice in heavy medium saucepan. Add enough cold water to cover rice by 3 inches. Bring to boil. Reduce heat to medium-low and simmer until rice is almost tender, about 45 minutes. Drain.
Meanwhile, melt 1 tablespoon butter with 1 tablespoon oil in heavy large pot over medium-high heat. Add shiitakes and red pepper; sauté until brown, about 7 minutes. Transfer to large bowl.
Add 1 tablespoon butter and 1 tablespoon oil to same pot; heat over medium heat. Add onions to pot; sauté until golden and very tender, about 20 minutes. Add garlic and chile; stir 1 minute. Add remaining 1 tablespoon butter and 1 tablespoon oil to pot; add brown rice and stir 2 minutes.
Add wild rice, broth, bay leaves, and 1 teaspoon coarse salt; bring to boil. Reduce heat to medium; cover and simmer until all rice is tender and liquid is absorbed, 35 to 40 minutes.
Meanwhile, blanch the green beans in a large pot of boiling water. Boil for 1 minute until they are bright green in color. Transfer with a slotted spoon to an ice-water bath.
Fluff rice mixture with fork. Stir in mushrooms and red pepper, green beans, and parsley. Season to taste with more salt and pepper. Stir briefly over medium heat until heated through. Transfer to large bowl. Enjoy!
Serves 6-8.
Information
Category

Side Dishes, Stuffing/dressing

Cuisine

North American