Zucchini Crostini Recipe
Killer App: Zucchini Crostini
I've never met a crostini I didn't like. Place anything on a small piece of thinly sliced, toasted baguette and I will gobble it up. When this recipe for zucchini crostini arrived in my inbox thanks to a wonderfully informative food newsletter called Tasting Table, I was super excited — more so than I would be if it was any old crostini recipe.

You see, it's really fun to say the words "zucchini crostini." Try it. Say them out loud. I bet you can't help but smile, right? Since funny little things — like rhyming words that describe one of my favorite hors d'oeuvres — make me extremely happy, I knew I would not be disappointed by this recipe. I printed it on the spot and let me tell you: it's amazing!

It's simple to throw together at the last minute (it was a starter at one of my infamous impromptu dinner parties) and downright delicious. It's vegetarian-friendly and although the ingredients are basic, the flavor is rich and complex. I highly recommend you make it, so here's the recipe.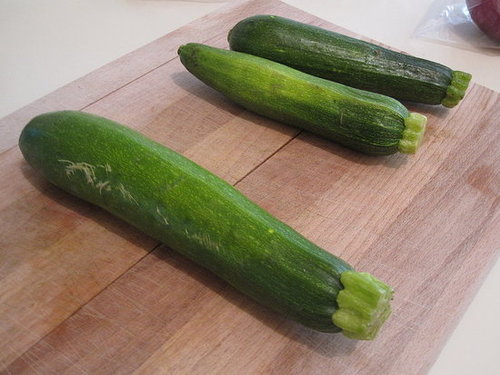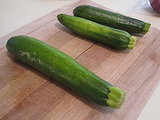 Ingredients
3 medium zucchini (about 1 pound)
2 teaspoons salt, plus more to taste
2 garlic cloves, minced
¼ cup shredded basil
½ cup marcona almonds, toasted and finely chopped
1 tablespoon thyme leaves, chopped
½ cup grated Parmigiano-Reggiano cheese
1 teaspoon fresh lemon juice
½ teaspoon finely grated lemon zest
4 tablespoons extra-virgin olive oil, divided
Freshly ground black pepper
1 loaf ciabatta bread, cut into ¼-inch slices (about 12 slices)*
Directions
Using a box grater, coarsely grate the zucchini. Place the shredded zucchini in the middle of a clean kitchen towel and sprinkle with the 2 teaspoons of salt. Let sit for 5 minutes, then squeeze the towel to remove excess moisture. Repeat until as much liquid as possible has been released, then transfer the zucchini to a bowl.
Add the garlic, basil, almonds, thyme, Parmigiano-Reggiano, lemon juice, lemon zest and 3 tablespoons of the olive oil to the zucchini; toss to combine. Season to taste with salt and pepper and refrigerate for an hour.
Just before serving, drizzle the remaining 1 tablespoon of olive oil over the bread and grill or broil the bread until toasted, then let cool.
Top each slice of bread with about 3 tablespoon* of the zucchini pesto and serve immediately.
Serves 6-8.
*Since I was serving this as an appetizer, I used a baguette, that was cut into 1/4-inch slices. I topped each slice with 1 heaping tablespoon of the zucchini pesto.
Information
Category

Crostini, Appetizers

Cuisine

Italian