In honor of Freaky Friday (today's Friday the 13th!), we've pulled together a list of 13 freaky foods. Even if you don't have triskaidekaphobia (the fear of the number 13), you may be afraid of some of the things on this list. Clearly there are a bunch of other freaky things out there (how about almost anything Andrew Zimmern eats on his show?), so if there's something we're missing, chime in via the comments below.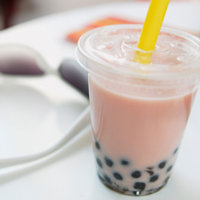 #13: Bubble Tea
I personally love this stuff; however, I've known quite a few folks who are freaked out by the tapioca inside the
tea
. Come to think of it, I know a lot of people freaked out by tapioca in general . . .
#12: Squid ink pasta
I don't have a problem with this lovely pasta dyed with squid ink, but some find eating black pasta to be just a bit too freaky.
Photo: Susannah Chen


Keep reading to see more freaky foods perfect for Friday the 13th.