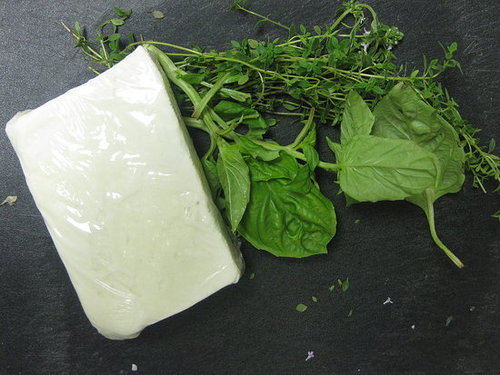 Modified from Bon Appétit
Cherry Tomatoes Stuffed with Marinated Feta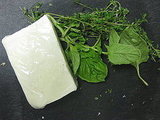 Ingredients
1 7-to 8-ounce package Bulgarian feta cheese, cut into 1/2-inch cubes
1 tablespoon minced shallot
1 small handful lemon thyme
6-8 fresh basil leaves
pinch of red pepper flakes (optional)
1/4 cup or more extra-virgin olive oil
1 pound large cherry tomatoes*
12 pitted Kalamata olives, halved lengthwise
salt
freshly ground pepper
Directions
Toss cubed feta, shallot, herbs, and red pepper flakes (if using) in resealable jar or container. Season with salt and pepper.
Fill with enough olive oil to submerge the cheese, herbs, and shallot. Close the lid tightly and place in the refrigerator. Marinate for 1-2 days.
Cut 12 tomatoes crosswise in half. Scoop out tomato pulp with melon baller or small spoon. Place tomatoes, cut side up, on serving plate.
Stuff hollowed cherry tomatoes with marinated feta. Slide in olive half alongside cheese. Sprinkle with salt and pepper. Can be made 6 hours ahead. Cover and chill.
Serves 8-10.
*I could only find small cherry tomatoes, so I made do with those.
Information
Category

Appetizers, Vegetables

Cuisine

Mediterranean/Middle Eastern