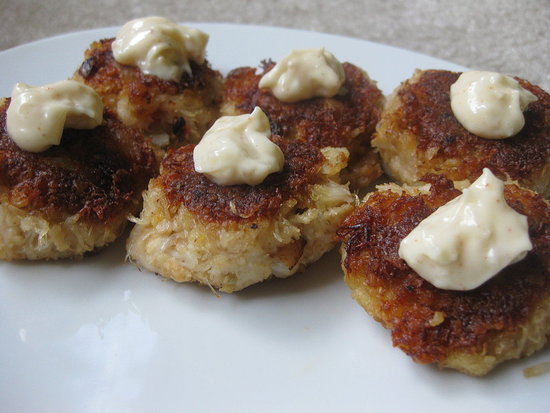 Since your guests are anticipating an array of grilled and classic appetizers that scream Fourth of July, this weekend, why not do something different? Surprise them with a platter of mini crab cakes! They're a luxurious appetizer and all-American favorite.
While I've never met a crab cake I didn't like, when I make them at home, I prefer to use a traditional Maryland-style recipe. My grandfather was born in Baltimore and his cakes are always wildly delicious, but insanely simple. Stirring in too many seasonings takes away from the pure flavor of the crab. Garnished with a dollop of garlicky aioli, these cakes are light and satisfying, and pair with everything from a glass of wine to an icy beer.
They're exceptional with fresh crab; however, if you don't have access to it, Costco sells a stellar can of crabmeat. Get the recipe.