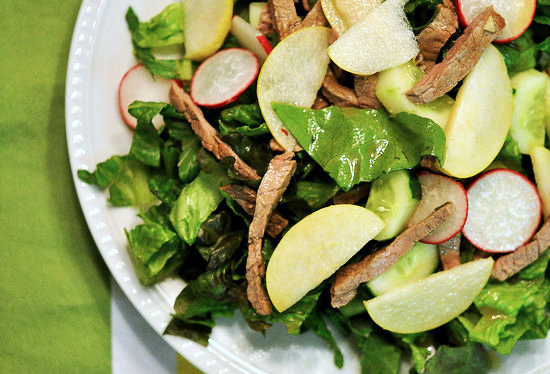 I spent the Summer making
salads
, and while the weather has begun to change, that doesn't mean it isn't a great time for salads full of Fall flavors. At a recent trip to the market, I was thrilled to see one of my absolute favorite Fall fruits: the apple pear.
Apple pears are not a cross between apples and pears, but they have a shape that's similar to an apple with pear-like skin. Apple pears' texture is wonderfully crisp and they have a mild sweet flavor. While they're great eaten alone, they're even better in this Asian-influenced salad.
The fresh mix of cucumbers, radishes, and apple pears pair perfectly with bulgogi-style beef. The salad can easily be prepped ahead of time, then quickly cook the beef and assemble just before serving. If you are ready to embrace Fall, keep reading for the recipe.