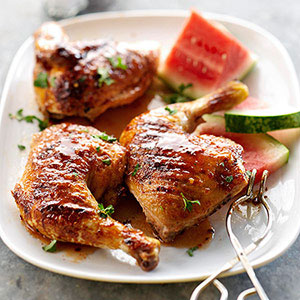 This grilled chicken recipe is perfect for Summer's last hurrah this Labor Day weekend, making good use of two warm-weather favorites: barbecue and watermelon.
At an outdoor BBQ it's not unusual to see seasonal fruit alongside the meaty main dish, but how about dressing your poultry with the juicy bounty? This fresh take on barbecued chicken will surprise your fellow BBQ-goers with its sweet and spicy watermelon glaze.
Get the recipe after the jump.