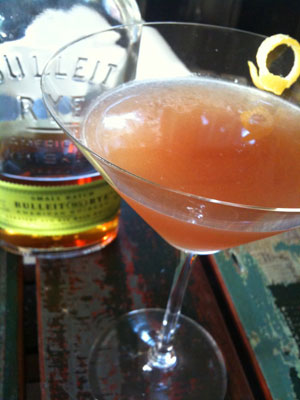 Stocking up on spirits the other day, I noticed that the makers of my favorite bourbon,
Bulleit
, have now added a rye whiskey to their repertoire. Naturally, I had to try it, and had to find something delicious to make with it!
I wanted something that would bring out the flavor of the rye, be easy to drink, and preferably use in-season produce, and I found all that and more in the Easterner. The drink uses freshly squeezed grapefruit juice for tartness, and maple syrup and grenadine for smoothness. For optimal flavor, use your own grenadine; I tried it with both store-bought and homemade syrups, and the homemade won by a long shot. Kick your evening up a notch, after the jump.