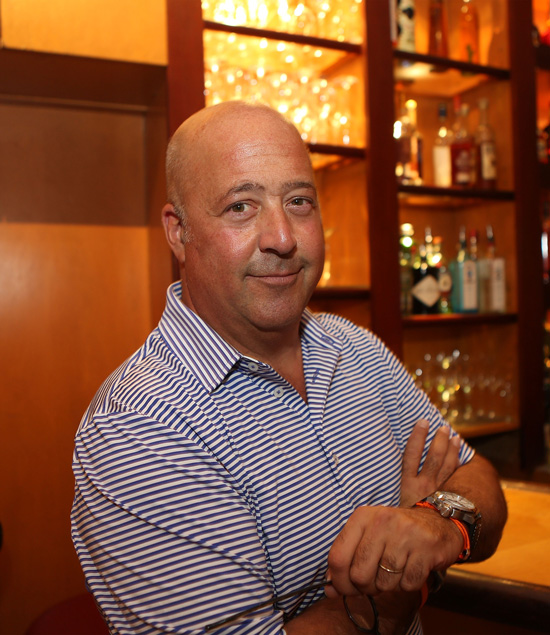 Andrew Zimmern's got a show on the Travel Channel, a food truck, a wife and kids, a new book, nearly a dozen partnerships, and a place on Anthony Bourdain's new book tour. But for a culinary personality juggling so many projects, he's got a surprisingly laid-back attitude about it all. Case in point: at the South Beach Wine and Food Festival, hours before competing in a volleyball tournament, appearing living on Sirius Radio, and judging the festival's Burger Bash, he was sunning shirtless by the pool at the Loews Miami Beach Hotel with friend and fellow chef Michael White. Before burgers but after volleyball, we had a chance to catch up with the TV host when he was at a kickoff event for his new partnership with travel company Traterra.
PopSugar: What have you been up to in South Beach thus far?
Andrew Zimmern: Last night I went to the Q; I had my son with me, and kids weren't allowed in, so we played tag on the beach and smelled barbecue. It was just as good. Today I did a volleyball tournament: my team — the old, fat men — won the tournament, which was just unbelievable. I have this event with Traterra. I believe strongly in what they're trying to do: to bring real travel, not tourism, to everyone. I'm judging Burger Bash tonight. We have a system so you don't have to eat all 34 [burgers]. You divide them, and everybody takes [a flight], and you rate your top two or three, and then everybody tastes them again. The aggregate is you're only eating 16 burgers, or something like that. It's a good system: I judged it [in previous years] when you had to eat all 22. It was terrible. Talk about the meat sweats! We'll go to some fun afterparties tonight. Tomorrow, I'm doing my kids event out in Jungle Island, which is wonderful: it's cooking healthy food with kids. I make them laugh, and we have a good time. I get more out of it than my kid, I'm sure. I've got my event on Sunday, Trucks in the City. We've taken over a corner of the [Miami] Design District, and we're putting 24 of the best trucks from town in one place, and we having a great truck meet-up. And my truck is there, AZ Canteen.
Keep reading for more on what's next for Zimmern.